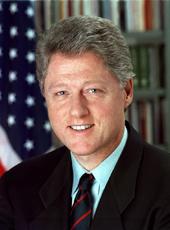 Remarks on the Administration's Economic Strategy and an Exchange With Reporters
The President. Good morning. Today's employment report shows that the economic strategy pursued by our administration has worked for the last 2 years, thanks not only, of course, to our economic policies but also to the dramatic increases in productivity by American businesses and American workers.
The new unemployment rate of 5.4 percent is the lowest in almost 5 years. We have the lowest combined rates of unemployment and inflation in 25 years. The fundamentals of this economy overall are healthier than they have been in a generation.
When I took office, we had had 12 years in which the deficit had quadrupled and investments in our people had been ignored. There was no job growth. That's not true anymore. Our disciplined plan to reduce the deficit, lower trade barriers to American products and services, and invest more in the future of our people through education, training, and technology, is working.
Let me underscore this: As of today the economy has produced 6.1 million jobs since I became President. And if Michael Jordan goes back to the Bulls it will be 6,100,001 new jobs. [Laughter] That includes, I might add, 14 straight months of manufacturing job growth, something almost unheard of in the modern era. And encouragingly for our biggest continuing economic problem, last year we had more highwage jobs coming into the economy than in the previous 5 years combined.
Those are 6.1 million reasons for this country to stay committed to an economic strategy of opportunity and responsibility, disciplined commitment to investment in the future of our people through education, training, and technology, selling our products, and reducing our deficit. We have reduced the deficit by $600 billion, and of course, our new budget proposed another deficit reduction in excess of $80 billion.
It has now been 66 days since the new Congress came to town. We are still waiting for the leadership to propose their budget plan. But now we do see that there is a proposal for massive tax cuts which will benefit largely upper income Americans, tax cuts that will cost $188 billion in the first 5 years, but, if you look at the 10-year figure, will cost $700 billion. These are more than 3 times the aggregate amounts of the proposals that I made in my budget, which are heavily targeted to the needs of middle class Americans to raise their incomes, educate their children, provide for the basic health care needs through an IRA, a tax deduction for the cost of education after high school.
And I want to emphasize furthermore, that I think what we ought to be working on now as we look ahead, are things that will continue to increase jobs. That means staying with deficit reduction, staying with investments in education and training and technology, staying with selling American products and things that will raise incomes.
The "GI bill" for American workers does not cost any money, but the Congress could pass it to consolidate all these training programs, to give vouchers to unemployed people and people on low wages. The Congress could pass the minimum wage increase, which is overdue and which will have an impact in raising incomes.
But the fundamental strategy is sound. We are producing jobs. Now we have to raise incomes. We have to stay with this strategy. There are 6.1 million arguments for why it is the right strategy.
Thank you.
Q. What about the capital gains tax? What do you think of that?
Interest Rates
Q. Mr. President, don't these numbers push interest rates up?
The President. Well, Chairman Greenspan hadn't said that yet. Let's—I don't want—every time I say something about the money it turns out to be wrong, so I'm not going to comment on it.
NOTE: The President spoke at 9:45 a.m. in the Briefing Room at the White House.
William J. Clinton, Remarks on the Administration's Economic Strategy and an Exchange With Reporters Online by Gerhard Peters and John T. Woolley, The American Presidency Project https://www.presidency.ucsb.edu/node/221190