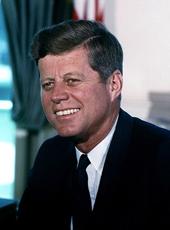 Remarks at the 50th Annual Meeting of the Anti-Defamation League of B'nai B'rith.
Mr. Schultz, Mr. Vice President, Mr. Schary, members of the Supreme Court, ladies and gentlemen:
I am honored to receive this award from an organization which, on its 50th anniversary should itself be receiving an honor for distinguished contribution to the enrichment of America's democratic legacy. Your tireless pursuit of equality of treatment for all Americans has made a lasting and substantial contribution to our democracy.
The men who first shaped the democratic legacy that you honor tonight were filled with a sense of excitement and of wonder at the importance of the events in which they were participating. It was not only, as John Adams exalted, that they were to have the unique opportunity to write a new Constitution and form a new government and begin a new nation; it was also the deep conviction, as later expressed by Walt Whitman, that here we have planted the standard of freedom, and here we will test the capacities of men for self-government.
America was to be the great experiment, a testing ground for political liberty, a model for democratic government, and although the first task was to mold a nation on these principles here on this continent, we would also lead the fight against tyranny on all continents. In short, wrote Jefferson to Adams, "The flames kindled on the 4th of July 1776 have spread over too much of the globe to be extinguished by the feeble energies of despotism." Although Jefferson also foresaw that to attain liberty in other parts of the globe, years of desolation must pass over.
Almost two centuries have passed since a small, weak nation, a beachhead on a continent, began the great experiment of democracy in a world where government by the consent of the governed was extinguished for 2,000 years. As Jefferson prophesied, there have been many years of desolation and destruction. It seems to me that it is our responsibility in this year of change and hope to prove that we are equal to this great inheritance, to make it possible for the four freedoms which Franklin Roosevelt so eloquently described in another time of peril and danger 20 years ago--to make sure that those four freedoms, indeed the great concept of indivisible freedom is made available to all of our people, to all of our citizens, and to bear our part of the burden as we have for so many years in making that great concept available to all people.
This is a great inheritance. It is a proud privilege to be a citizen of the Great Republic, to hear its songs sung, to realize that we are the descendants of 40 million people who left other countries, other familiar scenes, to come here to the United States to build a new life, to make a new opportunity for themselves and their children.
I think it is not a burden, but a privilege to have the chance in 1963 to share that great concept which they felt so deeply among all of our people, to make this really, as it was for them, a new world, a new world for us, and, indeed, for all those who look to us.
That is what this organization has stood for 50 years. That is what this country has stood for 200 years, and that is what this country will continue to stand for.

Thank you.
Note: The President spoke at 9:45 p.m. at the Sheraton-Park Hotel in Washington after being presented the Democratic Legacy Award. His opening words referred to Henry E. Schultz, retiring national chairman of the Anti-Defamation League; Vice President Lyndon B. Johnson; and Dore Schary, motion picture director and playwright, who served as chairman of the anniversary dinner.
John F. Kennedy, Remarks at the 50th Annual Meeting of the Anti-Defamation League of B'nai B'rith. Online by Gerhard Peters and John T. Woolley, The American Presidency Project https://www.presidency.ucsb.edu/node/236681