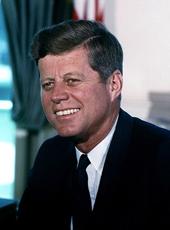 Remarks at the 50th Anniversary Luncheon of the Delta Sigma Theta Sorority
Dr. Noble, Dr. Reeves, Mrs. Green:
I want to express my warmest congratulations to you and to those of you who were among the first founders of this sorority 50 years ago.
This is a year of anniversaries--the 50 years of this sorority, the 100 years of the Emancipation Proclamation--and I think it is appropriate that we look to the past as a method of stimulating us for the future.
Mrs. Green is going to say a few words, I understand, about education, and this has been a matter of particular interest to this sorority, and I think it is most appropriate that this should be so.
We are going to have in this decade nearly eight million young men and women coming into the labor market who have not finished school, who are unprepared, who have no real skills at a time when the great need in America is for skill. We are going to have them pouring out of our schools and they are going to be looking for work, and either they are not going to find it or they are going to find it under poor condition. This places a particular burden upon the minority groups--the Negroes, the Puerto Ricans, and others. And what is unfortunate is that coming out with inadequate education they get jobs with inadequate compensation; they live in poor housing; they bring up their children and their children have an inadequate education and find poor jobs and, therefore, it is passed on from mother to son, to child, generation after generation.
There are a good many millions of Americans who live in a family atmosphere which denies them equality of opportunity, not by law, although of course that is done too much in the United States, but by the very force of economic pressure upon them. So that in addressing yourselves to this problem, making this the point of the spear so far as your efforts in the last 50 years, I think you are dealing with the most important matter before us domestically.
This sorority has raised over $600,000 for scholarships, and I hope that it will stimulate others to concern themselves and the American people. It is one of the matters which we are going to be working on in this session of Congress. We have not been as successful as we wished to have been in the past, but we will stay at it, because a free society places greater burdens upon every citizen than any other kind of system. It requires an ability to make a choice, to have those qualities of judgment and self-restraint which permit a democracy to operate.
We want our citizens to be the best educated in the world, and it can be done by private groups such as you, by families, by local communities, by cities, by States, and by the National Government.
Here in the District of Columbia we have great needs which we will attempt to meet better this year than ever before in the past. But still great needs exist. This is the capital not only of the United States but the capital of the leading nation of the free world and we cannot afford to have this be anything but an ornament to our society. There is no sense in having wide boulevards and beautiful buildings if the children who live in this city do not have an opportunity to develop their talents. They may not all have talents, but at least those who have talent should have the opportunity to develop it. That is what the essence of freedom is. We do not have that satisfactorily yet in this country.
So I think at this anniversary we look to the past and recognize the extraordinary contribution that this sorority has made. But I think all of us say that there is a good deal left undone, and to the finishing of these tasks we commit ourselves not only in the next 50 years but, more importantly, in the next 12 months.
I want to express my best wishes to you all and express my admiration for what you have done and my appreciation to you as President for your services to the country.
Thank you.
Note: The President spoke at the International Inn in Washington. His opening words referred to Dr. Jeanne L. Noble, national president of Delta Sigma Theta, a Negro women's sorority rounded at Howard University; Dr. Elizabeth Reeves, chairman of the luncheon; and Mrs. Edith Green, U.S. Representative from Oregon.
John F. Kennedy, Remarks at the 50th Anniversary Luncheon of the Delta Sigma Theta Sorority Online by Gerhard Peters and John T. Woolley, The American Presidency Project https://www.presidency.ucsb.edu/node/237022