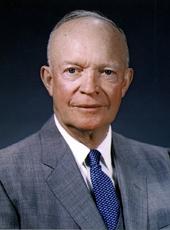 Remarks to the 44th National Council of the Boy Scouts of America.
Ladies and gentlemen:
It is a very pleasant privilege I have, to come to this meeting to bid you welcome to your Nation's Capital City on behalf of the administration--on behalf of the entire Government, each of whose members I know would like to have me speak for them. We not only hope that you have a very profitable convention, but a very enjoyable time during your visit.
I am privileged to perform this function occasionally. Never have I done so on an occasion where my sentiments were more deeply intertwined than they are on this occasion and with this group. It is one of the honorary positions a President of the United States has, to be an honorary president of your organization. I have been a member of the Executive Council, although I am sorry to say other things have seemed to keep me from working very hard at it for a number of years. And it is one position and one office that I did not resign when I became President of the United States.
I am, of course, not going to take advantage of this particular meeting to talk at great length about the work you are doing. In most instances you know more about it than I do, anyway. But there are two thoughts that occurred to me, as I drove over here, that I thought might be of interest. In your work with the youth of America you have, of course, not only certain official connections or quasi-official connections with the Government of the United States, but you are certainly aware that you have the loyal and earnest, moral support of the entire group in all that you do. In the Four-H Clubs and in the Future Farmers, several departments of Government are themselves engaged in work along lines similar to that you undertake.
With respect to this business of juvenile delinquency, only within the last few days I have recommended for Mrs. Hobby's Department an additional $165,000 to help out in this important work.
Before I leave that term "juvenile delinquency," I want to say this one thing: I hate the term, because I don't think we should ever allow conditions to arise and exist that justify the existence of the term. I think we should find terms that are more positive in their meaning and their connotation, something like "youth training programs," or something so that we may have the words "juvenile delinquency" remembered only in the dictionary, and in the obsolete ones at that.
The other thought that occurred to me was born out of a number of experiences of the morning, how governments and political parties are always seeking for a way to express their purposes. And I suppose because I remembered that I was going to have this opportunity, I thought also of the Scout Oath. I submit that it would be difficult for any political party or any government to state its purposes, at home or abroad, in better terms than mere serious, earnest repetition of the Scout Oath--To do my duty by my God and country.
One of my great heroes of American history is Robert E. Lee, and he said something once, I think, which all of us could remember. He said, "We cannot do more than our duty. We would not wish to do less." So, frankly, when we have said or expressed that first phrase of the Scout Oath, we have said about all that is ennobling in human purpose. But it goes on: To be considerate of others, and to obey the law--to be an integral part of society, that means.
To do my part of the job, to be considerate of others, and to obey the law; and finally, as it goes on, you know--To be physically strong and mentally awake. Was there ever a time when the United States needed to be economically and materially stronger, and when we needed to be more vigilant and mentally awake, and morally straight?
This Government, represented in its Legislature and its Executive departments and its Judiciary, has but one great purpose in its relationships with all other nations: to be morally straight--honest--known as a people and a government of integrity, to be wise enough to determine what methods and procedures will best advance the happiness, the spiritual and intellectual and material welfare of all nations. And, of course, to carry that out, to be physically strong, not to waste our strength where it will do no good, or in chasing visions, but to be strong to carry out these great and noble purposes.
It seems to me, then, that you people in working with Scouts, in the sense of this very noble Scout Oath, are doing a very, very great job of providing an America of just a very few short years from now that will be better and stronger in its position in the world, and among ourselves. For these reasons, I say again, the heart of this Government is with you in all that you do. Its interests are your interests. Moreover, where it is possible and proper for the Federal Government to intervene in a more direct way, we do it to help out a movement such as the Scouts and we are delighted to do it.
To each of you my thanks for the compliment of asking me before you, and my very, very best wishes for a fine convention.
Thank you.
Note: The President spoke at the Statler Hotel in Washington.
Dwight D. Eisenhower, Remarks to the 44th National Council of the Boy Scouts of America. Online by Gerhard Peters and John T. Woolley, The American Presidency Project https://www.presidency.ucsb.edu/node/232078