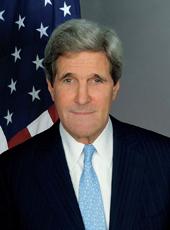 Remarks to the 2004 National Urban League Conference in Detroit
Thank you, Vernon, for that wonderful introduction. He has been enormously helpful in my campaign. I am grateful for Vernon's common sense and experience – and for his leadership as head of my presidential debate team. The issues we're grappling with today are especially important, and I'm happy to discuss them anywhere, any time, with any American.
As all of you know so well-- Vernon is one of America's most effective movers and shakers. I don't have to tell you how he moved and shook up the conscience of America during his tenure as head of this organization during the 1970s. But, then anyone who knows Vernon knows he is not the retiring type! During my twenty years in the Senate, he has constantly reached out to offer quiet counsel, gentle persuasion and sometimes tough criticism. I think he is an American treasure. And I am proud and happy to call him my friend.
Following in the footsteps of the great leaders from George Edmund Haynes, Eugene Kinckle Jones, Lester Blackwell Granger, and Whitney Young, Vernon set a unique standard as head of the Urban League, those who have succeeded him have continued to raise the bar. John Jacobs, Hugh Price and now Marc Morial have continued to challenge this organization and this nation to reach higher, dream bigger and fight harder for the things we all believe in – empowerment, opportunity, responsibility, economic justice, and helping more people move into the mainstream of the American Dream.
Now, more than ever, when it comes to civil rights, social justice, and empowerment, we need to listen to every voice that stands up and speaks truth to power.
I also want to say that for me, this is not just a check-the-box campaign stop. Teresa and I are no strangers to the Urban League or the causes you champion. I am proud of the relationships we have established and the partnerships we have formed, particularly with Esther Bush in Pittsburgh, Henry Thomas in Springfield and Darnell Williams in Boston. As president, I will show up, not just at national meetings during election season. I want you at the table with me in a full partnership to build a stronger America at home and a more respected America in the world. There is no other way to really advance our cause -- that is what my campaign is all about.
In an address at Cadillac Square here in Detroit in 1960, John Kennedy said, I am confident that in November you will make a choice for progress, not for standing still. We want America to move again...If we stand still, freedom stands still."
Those words ring even more true today.
When I look around this city – when I look around neighborhoods and towns and cities across this nation, I see what so many of you see everyday.
We see jobs to be created.
We see families to house.
We see violence to stop.
We see children to teach – and children to care for.
We see too many people without health care and too many people of color suffering and dying from preventable diseases like cancer and AIDS and diabetes.
In too many places, we see freedom standing still.
When we look at what is happening in America today we must ask ourselves, where are the deeds? The Bible teaches us: "It is not enough, my brother, to say you have faith, when there are no deeds...Faith without deeds is dead."
Fifty years ago, Thurgood Marshall, Whitney Young, the National Urban League and America turned faith into deeds when you fought and won Brown v Board of Education. Forty years ago, Lyndon Johnson, Dr. King, the National Urban League and America turned faith into deeds when the nation passed the Civil Rights Act of 1964. And next year the nation will again be reminded that you helped turned faith into deeds 40 years ago to push for the passage of the Voting Rights Act of 1965.
Today we have an administration in Washington that looks at the challenges we face here and around the world and says this is the best we can do. They say what we have now is the best economy of our lifetimes. They have even called us pessimists for speaking truth to power. Well, I say the most pessimistic thing you can say is that America can't do better.
Don't tell us 1.8 million lost jobs is the best we can do, when we can create millions of new jobs. We can change that...and we will.
Don't tell us unemployment is not a problem, when we see that African American unemployment is now above 10 percent – double the rate for whites. It is unacceptable in the wealthiest nation on earth that we tolerate vast and growing pockets of poverty – from the hills of Appalachia to the streets of Detroit. Raising the minimum wage and making life better for the working poor is part of my vision for a stronger America. We can change that...and we will.
Don't tell us crumbling and overcrowded schools and underpaid teachers are the best we can do. We have the means to give all our children a first-rate education. We can change that...and we will.
Don't tell us we have to accept racial profiling, hate crimes or the assault by right-wing judges on our precious civil rights progress. We can change that...and we will.
Don't tell us that in the strongest democracy on earth, a million disenfranchised African Americans and the most tainted election in history is the best we can do. We can change that...and we will.
Don't tell us in the richest country in the world, that we can't do better than 44 million people uninsured. Nearly 60 percent of Hispanics and 43 percent of African Americans lacked health insurance for all or part of the last two years. We can change that...and we will.
W.E.B. Dubois talked about the two Americas years ago. He called it "a nation within a nation."
Our job, between now and November is to end the division between the fortunate America and the forgotten America.
John Edwards and I have talked about closing that gap for many years now. We must come to together to build one America.
During the course of this campaign I've met young people who want nothing more than to be able to find a job in the place they were raised. I've met steelworkers and mineworkers and autoworkers who have seen their jobs and equipment unbolted before their eyes and shipped overseas. Some have even had to train their foreign replacements. I've spent time with seniors who have worked for a lifetime but can't pay for their medicines or hardly make ends meet. And I have talked with parents full of hope and ambition for their children but they don't know what to do about classrooms that are overcrowded and teachers who are underpaid. And they are worried that they won't be able to afford to send their kids to college.
My faith teaches me, "Where your treasure is, there your heart will be also." Let me tell you where my heart is: it's with the middle class who are the heart of this country; it's with the working families who built this country; it's with the veterans who saved this country; with the cops and firefighters and soldiers who protect this country; and it is with the children who are the future of this country. They deserve a president who believes in them, who shares their values, and who with every fiber of his being to uphold them.
For four years, we have heard a lot of talk about values. John Edwards and I have the vision and values to bring out country together again and build stronger communities. For us and for you, values are more than just words on a page. They are about the causes we champion and the choices we make.
And I am running for president because I believe that what matters most is not the narrow values that divide, but the shared values that unite all of us in this country.
Let me tell you what values mean to me and John Edwards.
Values mean having an opportunity agenda for metropolitan America. That means bringing capital, small business opportunities and job creation to all of our communities – especially our central cities and the surrounding metropolitan areas.
As president, I will create a small business opportunity fund to ensure that small businesses have all the support they need to grow and thrive – expanding loans to micro-enterprises, increasing the federal government's venture capital investments and expanding loan programs for small businesses. I will also increase federal contracting opportunities for minority-owned small business growth in urban areas. I will maintain support for empowerment zones, New Markets Tax Incentives and the Community Re-investment Act. And I will make sure the New Market Venture Capital Program has the funding it needs to fulfill its promise of meeting the unmet equity needs of low income communities.
I will also give states and metropolitan areas the flexibility to use transportation dollars the way you see fit. And I will provide providing adequate funding for homeland security and port security so that the people in our metropolitan areas are able move about freely, get to good jobs and live without fear.
Values mean helping all Americans lay the cornerstone of the American Dream with the purchase of their own home. The Urban League has a long track record in counseling consumers and fighting to make the dream of homeownership real for millions of people. Yes, it's true, since the 1990s, homeownership has gone up in America. And that's a good thing. But it's not that simple. While homeownership has risen, programs that help hard-pressed families put a roof over their head have been cut. Those are the people we need to help the most. The Administration's budget would cut Section 8 vouchers by more than $1 billion, denying 250,000 families housing assistance. At the same time, he has proposed to entirely eliminate the HOPE VI program, that's been critical to revitalizing distressed public housing.
John Edwards and I understand what you understand: programs like Section 8 and HOPE VI are just the right kind of community-based solutions some people need to get on the road to homeownership. And, when I am president, we will strengthen, not weaken these bridges of opportunity.
Values also means building an America where the middle class is doing better, not being squeezed. That means cutting middle-class taxes so middle-class incomes go up. The wealthiest among us don't need another tax cut, but middle-class families do. Our middle class tax cuts will help families pay for health care and college tuition; they'll help hard-working Americans get ahead.
Creating opportunity also means creating good-paying jobs. More than a million Americans who were working three years ago have lost their jobs. African-American unemployment is now at 10 percent – double the rate for whites. And the new jobs finally being created pay an average of $9,000 less a year.
We value an America that exports products, not jobs. And we believe American workers should never have to subsidize the loss of their own jobs.
We'll close tax loopholes that pay companies to move our jobs overseas – and we'll reward companies that create jobs right here in the good old USA.
Values also mean giving all our children a first-rate education, with smaller classrooms and better paid teachers. Today, we see two school systems in America: one for the well off and one for the left out. For us and for you, values mean opening the doors of opportunity to all our children.
We believe that educating our children is more important than giving another tax break to the wealthiest Americans. This Administration's budget falls $27 billion short of its promise to fully fund No Child Left Behind. John Edwards and I have a plan to invest in our future, provide the needed funding and put a good teacher in every classroom – so that finally and truly, no child will be left behind.
Values mean making health care affordable and accessible for all Americans. In the last four years, four million people have lost their health insurance. Millions more are struggling to afford it. When I am in the White House, we are going to change that. We are going to stop being the only industrial nation on the face of the earth that doesn't understand that health care is not a privilege for the wealthy, the connected or the elected. Health care is a right for all Americans.
We've got a plan to get the waste and greed out of our health care system and help families save up to $1,000 on their premiums.
I know that great things are happening across America to strengthen families, lift up communities and bring opportunity and hope to our young people. Some of these efforts are faith-based, some are community based. They are all making a difference. But for every good thing we're doing there are millions more in need who are not being reached. We need to do more to help our faith-based institutions that are on the front lines helping our families, and working with community-based organizations to meet this challenge. And we need to do it in a way that values our Constitution and also values the role that churches play in our communities across America.
I believe we must do more to give the young people in our cities and metropolitan areas alternatives to lives of hopelessness and alienation. I am glad that the Urban League and this conference have also put that at the top of your agenda. In New York City, 50 percent of black men are unemployed. And New York Times columnist Bob Herbert cited a new study this week showing that "By 2002, one of every four black men in the United States was idle all year long. This idleness rate was twice as high as that of white and Hispanic males." As Herbert put it, "Things fall apart when 25 percent of the male population is jobless."
Or as my mother used to say, "An idle mind is the devil's workshop."
One of the things brewing in that workshop is gangs and gang violence.
During the 1990s, we saw historic drops in crime, including gang violence. But in the last few years, that has turned around. Just between 2000 and 2002, the number of gang-related murders rose by 40 percent. That means that literally hundreds of lives once full of hope and promise have been lost. The response of this administration has been to cut support for cops on the beat and cut support for efforts to prevent gang violence.
We can do so much better – better for the communities that are living in fear because of gang violence, and better also for these young people who have a real future if we just reach out to them.
When I am President, we are going to make it a priority to restore safety to communities wracked by violence. Communities and community-based organizations across America have shown us how. First, we're going to send a strong message to young people: the violence must stop, and if it doesn't, police and prosecutors will hold you accountable, period. We're not doing anybody any favors if we let the current rise in gang violence continue. But second, we also need to send young people a strong, clear message that there is another path, and if they are willing to take that path, we will be there with them – with job training, job opportunities, and drug treatment.
As a former prosecutor, I talked with dozens of young men and women who had taken wrong turns and wound up in real trouble. One of the things that all these young people had in common was they came from backgrounds of abuse, neglect and violence. Many of them had no one to call father. And all of them felt their lives were hopeless.
I believe we have to stop being a nation content to spend as much as $50,000 a year to keep a young person in prison for life – when can spend $10,000 a year to give them Head Start, Early Start, Smart Start, the best possible start in life.
I've said it before, and I'll say it again, this is the most important election of our lifetime. Our health care is on the line. Our jobs are on the line. Our children's future is on the line. America's role in the world is on the line. Our empowerment is on the line.
That is why we can not accept a repeat of 2000. This November, thanks to the efforts of the NAACP, the National Urban League and heightened vigilance across the nation, we are not only going to make sure that every vote counts; we're going to make sure that every single vote is counted.
We learned our lesson in 2000, and I add my voice to those who have vowed: never again.
But this election is more in your hands more than in mine. Over the next four months, we need you to help register voters and get them to the polls.
We can provide a new direction for America if we remember that in all the great movements for civil rights and equal rights, the environment and economic justice for all, we have come together as one America to give life to our highest ideals.
My friends, the America we believe in is calling us to service once again, and we must answer.
The great poet Langston Hughes put it this way:
Let America be America again...Let it be the dream it used to be...for those whose sweat and blood, whose faith and pain, whose hand at the foundry, whose plow in the rain must bring back our mighty dream again.
With your help, in 2004, we can...we must...we will...bring back our mighty dream again.
Thank you and God bless you all.
John F. Kerry, Remarks to the 2004 National Urban League Conference in Detroit Online by Gerhard Peters and John T. Woolley, The American Presidency Project https://www.presidency.ucsb.edu/node/216901