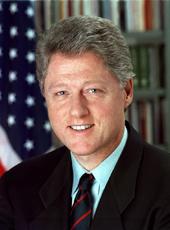 Remarks to the 1999 Stanley Cup Champion Dallas Stars
The President. Thank you very much. Please be seated. I want to welcome Thomas Hicks and his family, Gary Bettman and his daughter to the White House. Robert Gainey, the manager; and to all the Stars, including the captain, Derian Hatcher—I might say, the first American-born captain of a Stanley Cup team.
And I welcome Representative Eddie Bernice Johnson here, who is very proud of this team. We're glad to have you back in the White House. There are a lot of people from Texas here today, including many members of our administration and former members of our administration. I want to welcome you here. I often— I miss it when you don't come by. And now I know how to get you back. [Laughter] So thank you.
As all of you know, we're here to congratulate the 1999 Stanley Cup winner, the Dallas Stars. Ice hockey is a fascinating game, but for those of us who grew up in the South, we know it's normally dominated by people north of the Mason-Dixon line. There was not a skating rink in my hometown until I was over 40 years old.
But the Dallas Stars changed the perception of hockey. They were the first Sun Belt team to win hockey's Holy Grail in the 107-year history of the contest. So now Dallas will be known not just for the Cowboys and Super Bowls but for the Stars and the Stanley Cup.
It occurred to me when I was getting ready for this that hockey is a lot like Washington politics. It's a rough game—[laughter]—with a lot of lead changes. And usually you never know who's going to win until the final moment.
And that is, of course, literally what happened last June in game 6, when the Stars clinched their first Cup—3 overtimes, 111 minutes, all of us, even people like me who don't skate very well, on the edge of our seats. We watched Ed Belfour block shot after shot, MVP Joe Nieuwendyk leading the charge on offense. And I still remember when Brett Hull shoveled the last puck past Dominik Hasek, a man I once met in Buffalo, to capture the win. I would be afraid to try to put anything past the guy. [Laughter] This was a very impressive game to those who are initiated and those who are becoming initiated into the thrills of professional hockey.
Opening and closing the year with a victory over the Sabres, that final game was a perfect ending to a nearly perfect season. The Dallas Stars not only took home the cup but also the president's award with the best record in the league for the second year in a row.
And I want to also acknowledge someone who is not here today, the coach. Every good coach I know, and I've been privileged to know quite a few great ones, always say that the players make great coaches. But great coaches also help the players bring out the best and play as a team.
The Stanley Cup is the oldest athletic trophy in North America. So it's about more than winning. It embodies our fascination with athletics, with determination, with teamwork. All the Dallas Stars earned this Cup. And after seeing Wednesday night's victory over the Devils, I see you're not going to give it up without a fight. I like people who don't give it up—[laughter]— without a fight.
Congratulations to all of you. And now I'd like to ask the commissioner of the National Hockey League, Gary Bettman, to say a few words.
[At this point, NHL Commissioner Gary Bettman, team owner Thomas Hicks, and team captain Derian Hatcher made brief remarks. Mr. Hatcher presented a Stars jersey to the President.]
The President. You may have noticed today that I had this tie on. We had the annual Speaker's Saint Patrick's Day lunch today a day early up on Capitol Hill, so maybe I should just wear this tomorrow. [Laughter] This is great.
Thank you very much. Thank you.
NOTE: The President spoke at 5 p.m. in the East Room at the White House. In his remarks, he referred to Mr. Bettman's daughter Brittany; Dallas Stars general manager Robert Gainey, players Ed Belfour, Joe Nieuwendyk, and Brett Hull, and head coach Ken Hitchcock; and Buffalo Sabres goalie Dominik Hasek.
William J. Clinton, Remarks to the 1999 Stanley Cup Champion Dallas Stars Online by Gerhard Peters and John T. Woolley, The American Presidency Project https://www.presidency.ucsb.edu/node/227577