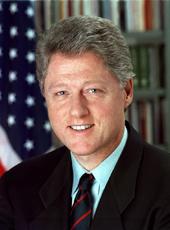 Remarks to the 1997 Stanley Cup Champion Detroit Red Wings
The President. Commissioner Bettman, Coach Bowman. To Denise Ilitch-Lites and all the members of the Ilitch family, please tell Mike and Marian we're thinking about them. Senator Abraham, Congressman and Mrs. Dingell, thank you so much for being here. Congressman Kildee, Congressman Knollenberg, Congressman Levin, Congressman Stupak, former Senator Riegle, former Governor Blanchard, and to the very proud mayor of Detroit, Mayor Archer.
Teddy Roosevelt became famous for many things, but one of them was his great saying, "Speak softly and carry a big stick"—advice the Red Wings have taken literally. [Laughter] No one has to remind anyone else that you are the Stanley Cup champion. You didn't just win the Stanley Cup, you swept a strong Flyers team in four games after finishing with the best record in the league. Your coach's name is engraved on the cup so many times, I'm surprised it's not called the Stanley-Bowman Cup now. [Laughter]
But it's the first Stanley Cup for your captain, Steve Yzerman. Steve, you and your teammates proved that the Red Wings were the best hockey team in the world. And now all of your games will be engraved forever on this historic cup.
There's one member of this team I especially want to mention, because I know how much Vladimir Konstantinov means to everyone here. And I just met him, and I'm thrilled that he's here. Thank you, Vladimir. [Applause] Thank you.
Vladi, we know how hard you are working, and how far you have come since your accident last summer. You are showing every day that you have the heart of a champion, and you're showing even greater courage off the ice.
When I met Vladi in there a few minutes ago, I reminded him that I am term-limited in my present position, and I asked him to take a picture with me. I said, you know, you can't ever tell, I might want to run for office in Russia some day. [Laughter] So he agreed to do it. I expect it to be in the papers in Moscow any day—[laughter]—and I expect my popularity to soar as a result of it. [Laughter] And we thank him so much.
I also want to say, I know we're all thinking about Sergei Mnatsakanov. Our thoughts and prayers are with him and with his family.
Now let me thank the entire team for letting us borrow the Cup to display here at the White House. You've earned it, and I don't expect you to give it up without a fight. So congratulations on your victory, and good luck in 1998.
Thank you. And now I'd like to introduce Senator Levin. Thank you very much.
[At this point, Senator Carl Levin and Denise Ilitch-Lites made brief remarks, followed by Coach Scotty Bowman, who made brief remarks and presented the President with a miniature Stanley Cup replica with the President's name engraved on it.]
The President. Oh, thank you. [Inaudible]
[At this point, Steve Yzerman made brief remarks and presented the President with a personalized Red Wings jersey.]
The President. Oh, isn't it great? Thank you. Thank you so much. Bless you.
NOTE: The President spoke at 5:16 p.m. in the East Room at the White House. In his remarks, he referred to Gary Bettman, commissioner, National Hockey League; Red Wings owners Mike and Marian Ilitch, and their children, Denise Ilitch-Lites, Ronald Ilitch, and Lisa Ilitch-Murray; Debbie Dingell, wife of Representative John D. Dingell; former Senator Donald W. Riegle, Jr.; former Gov. James J. Blanchard of Michigan; Mayor Dennis W. Archer of Detroit; and Red Wings defenseman Vladimir Konstantinov and team masseur Sergei Mnatsakanov, both of whom were seriously injured in an automobile accident a few days after the Stanley Cup finals in June 1997.
William J. Clinton, Remarks to the 1997 Stanley Cup Champion Detroit Red Wings Online by Gerhard Peters and John T. Woolley, The American Presidency Project https://www.presidency.ucsb.edu/node/224953