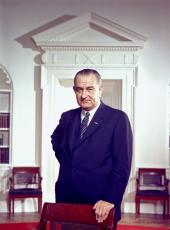 Remarks at the 14th Annual Presidential Prayer Breakfast.
Dr. Graham, my beloved friend Senator Carlson, distinguished guests at the head table, my dear friends:
I am pleased to return again to our annual prayer breakfast and to be among so many of my old friends. In this room this morning we have been privileged to hear one of the great speakers and leaders of our time. He has been heard by some of the great leaders of the most powerful Nation in all the world. Yet not a single one of us is ashamed to say, "I will lift up mine eyes unto the hills, from whence cometh my help."
Just a few blocks from here, on the front of the National Archives, is an inscription, "The past is prologue." As your President, I have had many occasions to realize the truth of that statement. Throughout our long history our Presidents have struggled with recurring problems. The way they handled those problems and their successes or failures can guide us in the actions that we are called upon to take today.
But there are some things that history cannot teach us and among them is how to bear, without pain, the sending of our young Americans into battle, and how to fill the aching void as we wait for the news of their fate, and how to console the wife or the mother or the little children when that news is bad.
These are the times when I recall the wisdom of Abraham Lincoln when he said, "I have been driven to my knees many times by the overwhelming conviction that I had nowhere else to go. My own wisdom and that of all about me seem insufficient for the day." In private prayer at unusual moments, I have found courage to meet another day in a world where peace on earth is still only an empty dream.
The Prophet Isaiah tells us, "They that wait upon the Lord shall renew their strength; they shall mount up with wings as eagles; they shall run, and not be weary; and they shall walk, and not faint."
I believe that with all my heart, but in these troubled times I am sustained by much more than my own prayers. I am sustained by the prayers of hundreds of Americans who daily take the time to look up from their own problems in order to try to give me a little encouragement in mine. Not long ago I received a letter one morning from a mother whose son had been killed in Vietnam. She spoke of the pain and the loss, and the tears that are ever ready to flow, but through all of this were words of encouragement for me from this dear little lady.
In her letter she concluded: "Mr. President, I wish I could tell you all that I feel in my heart. But there just aren't words, so we ask God to bless you and your little family, that He will guide you in all the terrible decisions that you must make. As long as we believe, our strength is in our faith in God and He will never fail us."
So, my countrymen, in those words from that dear mother are to be found the greatness of this Nation and also the strength of its President.
Note: The prayer breakfast of International Christian Leadership, Inc., a nondenominational group of laymen, was held at the Shoreham Hotel in Washington. The President spoke at 9:18 a.m. In his opening words he referred to Rev. William F. (Billy) Graham, who gave the principal address, and Senator Frank Carlson of Kansas, chairman of the board, International Council for Christian Leadership.
Lyndon B. Johnson, Remarks at the 14th Annual Presidential Prayer Breakfast. Online by Gerhard Peters and John T. Woolley, The American Presidency Project https://www.presidency.ucsb.edu/node/238154