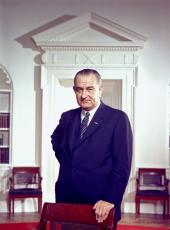 Remarks by Telephone on the Occasion of the Commissioning of the U.S.S. Casimir Pulaski.
I AM proud to participate today in these ceremonies. We are adding a name, that all Americans honor, to our nuclear fleet which all free men so greatly trust. Our birth as a nation was attended by many brave men from many lands. Their names we shall never forget and never cease to revere.
On the scroll of freedom no name is written larger than that of General Pulaski. In his native Poland and on these shores he fought with a valor always so much a part of the Polish people. He reached our country saying, "I came to hazard all for the freedom of America." On October 11, 1779, at the Battle of Savannah he gave his all, laying down his life that our nation might be born in freedom.
In this century, America has sent her sons to hazard all for freedom around the world. Many have not returned, but our sacrifice has not been in vain. In our times the world is safer and freedom is more secure. The hope for peace is brighter and the confidence and ultimate victory for our cause has never been greater than it is now.
In all the history of man, few peoples have been privileged to bear the responsibilities for all mankind which are borne now by this generation of Americans. Those responsibilities require us to run a responsible course through the perilous seas of our times. The U.S.S. Pulaski, which we commission today, is part of our great effort to uphold the trust for peace which rests in our hands.
Today no nation on earth is so strong as ours. That strength is committed to peace and that commitment is both irrevocable and unhesitating. Any who choose to be enemies of peace can trust that America's strength will be ready for use as the ally of peace. All who choose to be friends of peace can likewise trust that America's great strength will be used responsibly by a nation that is deeply conscious of its responsibilities to all mankind.
Note: The President spoke in midafternoon by telephone from the Cabinet Room at the White House. His remarks were carried by loudspeakers on the vessel and at dockside to several thousand persons attending the commissioning of the Polaris-carrying nuclear submarine at the yards of the Electric Boat Division of the General Dynamics Corporation in Groton, Conn.
Lyndon B. Johnson, Remarks by Telephone on the Occasion of the Commissioning of the U.S.S. Casimir Pulaski. Online by Gerhard Peters and John T. Woolley, The American Presidency Project https://www.presidency.ucsb.edu/node/241988