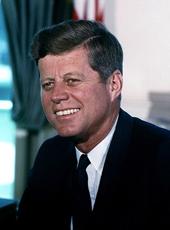 Remarks by Telephone to the Midwestern Democratic Conference at French Lick, Indiana
THE SUCCESS of any political party is important only as it helps advance the interests of our country, and I think this election is most important because I think we have a real chance to provide effective cooperation between the Congress and the Executive to move the United States forward.
And there is no section of the country that will be more important in this election than the Middle West. In the 1958 congressional election we won a number of seats, 23 of them. In 1960, in the presidential election, we lost 15 of them. And I think that it's vitally important that we win these seats back. Time and again we have seen important matters which benefit the entire United States won or lost in the House or Senate by one or two votes. So that every district is important, every House seat, every Senate seat, every Governor seat.
I'm confident that from this conference at French Lick we will go forward with renewed commitments not to our party alone but to our country. This administration has been in office for a year and a half. In that time we have effectively strengthened our policy abroad in a number of areas.
We have developed the Alliance for Progress, which I think has brought a new impetus to the American relations south of the border. And it has been possible for us to visit some of those countries and find a real feeling of friendship for this country, not one of hostility.
We have developed a disarmament agency, and are now working at Geneva to provide an end to this arms race. We have put new emphasis on developing our military force in order that we can bring about successful negotiations. Where a year and a half ago we had 11 combat divisions, we now have 16. We have strengthened our nuclear and our conventional and our antiguerrilla forces. We have made a determined effort in the field of space, and we have placed more money in the space budget than the previous 8 years combined.
We came into office at a time of recession, and we have moved in the last 18 months steadily forward, with steady increases in all sections of the American economy. The difference, perhaps, between the two parties is best expressed in the thought that we're not satisfied, however, with what we've done. We feel we must go forward. We feel that there is an opportunity for patient diplomacy abroad, our efforts to try to work out a peaceful settlement in Laos, our efforts to work out a peaceful settlement in New Guinea, our constant efforts to work out a peaceful solution to the problems of the Congo--all these indicate that in a very dangerous and hazardous world it is necessary for us to have patience and strength and perseverance.
I am glad to have a chance to express my strong support to the efforts that you're making there tonight and at this conference. The Democratic Party traditionally has been identified with progress in this country. And I think it's important for us, and the great hope of the free world, to emphasize progress today, to have a Congress which will work with the Executive in providing a better life for our people, in the cities, on the Presidents the farms, and not merely to stand still, and not merely to oppose, and not merely to say that every new proposal must be defeated.
We have had the same struggle to provide progress for our people in the administration of Woodrow Wilson, and of Franklin Roosevelt, and Harry Truman, and we have it today. The concept of a dynamic, progressive, and forward-looking United States is the concept which has been closely held by the Democratic Party.
I believe that in 1962 the American people, realizing that the world is changing and that we must move forward with strength, will choose once again the Democratic Party, and that we will come to the session in January 1963 with a stronger House and Senate and a stronger position in the Governors' chairs, working for a better America.
I wish you well, and I can assure you that we will be campaigning with you all through the fall. Thank you.
Note: The President spoke from his residence in Hyannis Port, Mass. Prior to his formal remarks he spoke briefly with John Bailey, Chairman, Democratic National Committee; Matthew E. Welsh, Governor of Indiana; and Vance Hartke, U.S. Senator from Indiana.
John F. Kennedy, Remarks by Telephone to the Midwestern Democratic Conference at French Lick, Indiana Online by Gerhard Peters and John T. Woolley, The American Presidency Project https://www.presidency.ucsb.edu/node/236650