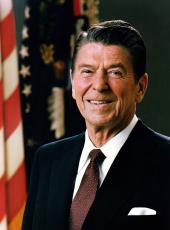 Remarks by Telephone to Crewmembers on Board the Space Shuttle Challenger
The President. Commander Truly?
Commander Richard H. Truly. Yes, sir, Mr. President.
The President. Well, you know, I can't help but ask, since I'm sitting in California, just about where in the world are you now?
Commander Truly. We're over Hawaii, sir.
The President. Over Hawaii and coming this way.
Commander Truly. Yes, sir, coming your way at about 150 miles up.
The President. In about 20 minutes you should be here.
Well, listen, congratulations on a successful and a spectacular night launch. Every one of these launches of the shuttle is a spectacular and a noteworthy event, but this one has certainly its share of firsts. I know it was touch and go with the weather, but you were launched right on schedule, and I think about 250 million Americans breathed a great sigh of relief.
But you've got a lot of firsts there. And, Guy, congratulations. You, I think, are paving the way for many others, and you're making it plain that we are in an era of brotherhood here in our land. And you will serve as a role model for so many others, and be so inspirational that I can't help but express my gratitude to you. And then Bill, at 54, is the oldest astronaut to ever fly in space. You have an especially warm place in my heart. It makes me think that maybe some day I might be able to go along.
I know this has been a busy day, with the successful deployment early this morning of the Indian National Satellite, which I understand will bring a broad range of communication and weather resources to the people of India and serves as a good example of international cooperation in space. But on behalf of all our people, I want to thank you all for your courage, your commitment to space research. You've set a fine example for all our young people, who represent our hope for the future.
Now, I know that this call came—I caught you on your way to your bunks for some well-deserved sleep, so I better cut this short. I just wanted to let you know that we're all looking forward to another successful mission and to your safe landing here in California on Labor Day. God bless all of you.
Commander Truly. Mr. President, thank you so much. We appreciate your taking the time to call us. And we're very pleased and proud to be here. And thank you for calling, very much.
The President. Well, it's my pleasure, and I know I'm speaking on behalf of all your fellow countrymen when I say good flying and a happy landing on Labor Day here, here in the USA. Again, God bless you. Carry on.
Commander Truly. Thank you, Mr. President.
Note: The President spoke at 8:58 a.m. from Rancho del Cielo, his ranch near Santa Barbara, Calif
Ronald Reagan, Remarks by Telephone to Crewmembers on Board the Space Shuttle Challenger Online by Gerhard Peters and John T. Woolley, The American Presidency Project https://www.presidency.ucsb.edu/node/245743