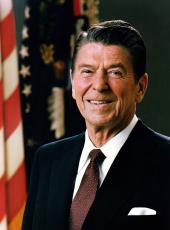 Remarks by Telephone to Columbia Astronauts Following Completion of the Third Flight of the Space Shuttle
The President. Hello.
Colonel Lousma. Good afternoon, sir. This is Colonel Lousma, sir, and Colonel Fullerton on the line, sir.
Colonel Fullerton. How do you do, sir?
The President. Colonel Lousma, Colonel Fullerton, don't ask me how I do—how are you feeling?
Colonel Lousma. We're just fine, sir. We just came booming over your ranch at about mach 13.
The President. I know, I heard you say that. We were watching you come in for that perfect landing. Then everybody in America started breathing again when you made that landing.
But I wanted to ask you, when you went over the ranch there, I've been worried about one of the horses. How did they look?
Colonel Fullerton. Well, sir, we saw a few running around in the pasture there, but they looked up and just went on grazing when we went by.
The President. Well, I can't tell you how thrilled I am sure everyone in this country is about what has happened. And we were all watching to see you come in, and really, our thoughts and prayers have been with you every second that you've been up there. And again, just our heartfelt congratulations and our thanks for all that you've done and all that it means to America.
Colonel Fullerton. It's our thanks to America. It's been a privilege and an honor for us to be involved. This is the only country that this can really happen.
The President. Well, I think a lot of us feel that way.
Colonel Lousma. I hope that all Americans everywhere consider the Columbia their spacecraft and these two guys that happened to have the great good fortune to have a ride in it. It's really a beautiful machine.
The President. Well, we feel that way. This is the third successful flight, and I think the very fact of the delay and then having to choose an alternate landing space has again contributed a great deal to the awareness of the flexibility and the potential that there is in that aircraft. And again we thank you all for being willing to do this.
Colonel Fullerton. Yes, sir. Thank you.
Colonel Lousma. It was all our pleasure, I assure you, every minute of it.
The President. Well, now go see your families, and God bless you.
Colonel Fullerton. Yes, sir. Same to you, sir. Thank you for calling, sir.
The President. A great pleasure. Goodby.
Reporter. Mr. President, any special thoughts on this anniversary of the assassination attempt?
The President. No, I realize it was a year ago. It seems a lot longer, and I feel fine.
Q. Some of your friends, sir, say that you have a feeling of—you need to hurry with your programs, feeling the mortality. Is that right?
Mr. Gergen. 1 Press conference tomorrow.
The President. Yeah, there's a press conference, but that question—because it ties in with this same question here. No, it's not so much from that, I think. And I remember the same feeling when I was a Governor, that government does seem to move so slowly and there is so much to be done that I think you'd have that feeling even without getting shot.
Q. Well, today's turning out a lot better than last March 30th, isn't it?
The President. So far. [Laughter]
Mr. Gergen. Thank you very much.
Q. Do you feel good?
The President. Great, yes. I've really even never felt better.
Q. Do you feel as good as you look?
The President. How good do I look? [Laughter]
Q. Pretty good, pretty good.
The President. Thank you.
Q. I've seen worse. I have seen a lot worse.
1 David R. Gergen, Assistant to the President for Communications.
Note: The President spoke at 12:17 p.m. from the Oval Office to astronauts Col. Jack R. Lousma and Col. C. Gordon Fullerton following their landing at White Sands Missile Range, N. Mex.
Ronald Reagan, Remarks by Telephone to Columbia Astronauts Following Completion of the Third Flight of the Space Shuttle Online by Gerhard Peters and John T. Woolley, The American Presidency Project https://www.presidency.ucsb.edu/node/244704