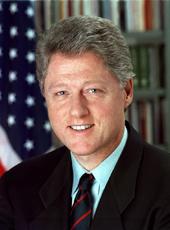 Remarks at a "Take Our Daughters to Work" Luncheon
Well, first, let me join the First Lady and the Vice President in welcoming you here. It's delightful to look out at this sea of faces, to see the daughters of members of the White House staff, people who work for the National Government, people who work for the press, people who have come in from various schools around the Washington area and from other places. I know we've got a group here from Chicago over here, and I just had some pictures taken and shook hands with them.
When I was a much younger man, I was Governor of my State. And my daughter went to school one day, and she was 5 or 6 years old, and they said, "What does your father do for a living?" And she said, "He makes speeches"—which she pronounced "peaches" then— [laughter]—"drinks coffee, and talks on the telephone." And you know, that's about it. [Laughter] That's a pretty good description of it. And that's when she told me she wanted to be a scientist. [Laughter]
I am so pleased to see all of you here, and I especially want to thank the people who've come in from other places, too, to bring their children. I thank the Ms. Foundation and People magazine and everyone who is responsible for this lunch. The real message of this day, I think, is twofold: One is that we have to find a way to make it possible for all Americans to be successful as workers and successful as parents at the same time. We don't want there to be a division between our obligations to our children and our obligations to our work. And the second is, we want to say to the young women of our society: You can grow up to do anything, to be anything, to achieve anything that your imagination and your effort and your talent will let you achieve.
And so, I hope you have a wonderful day today. I hope this is something you'll always remember. And at the very least, I can say what this young lady, who is the daughter of one of our White House photographers and is working here—I said, "Are you having a good day today?" She said, "Sure, I got out of school." [Laughter]
Thank you very much.
NOTE: The President spoke at approximately 12:45 p.m. on the South Lawn at the White House.
William J. Clinton, Remarks at a "Take Our Daughters to Work" Luncheon Online by Gerhard Peters and John T. Woolley, The American Presidency Project https://www.presidency.ucsb.edu/node/219226