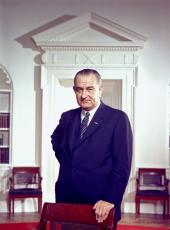 Remarks at a Swearing-In Ceremony for Several Government Officials.
Ladies an d gentlemen:
I think that we might dedicate this ceremony this morning to Kermit Gordon.
Over the past months, Kermit, as Director of the Budget, has been preaching to me the virtues of consolidation. Today, as he finally takes leave of public service, it seems to me that we are putting into practice what Kermit has been preaching, in consolidating this swearing in.
This is an occasion to make any President very proud and very glad--proud to have men and women of this quality and this caliber willing to serve in positions of highest trust and glad that we are able to make all of these gains with relatively few losses.
Considering the numbers present this morning, I expected to have a long list of farewells but actually other than in two instances, there is no incumbent departing from Government service.
We shall miss both of those who are, or who think they are, or who say they are returning to 'private life--Budget Director Kermit Gordon and Under Secretary of Commerce for Transportation, Clarence Martin. These men have told their wives that this is the end of their public service, and I never dispute publicly what a man tells his wife, but in these instances I suspect that their information to their wives is only temporarily correct.
Clarence Martin has written for himself and for his country a most outstanding record in a most challenging position. His leadership has afforded us a strong and solid start for the monumental task of meeting this Nation's transportation needs. We are sorry to see him depart Washington. But few of his friends, other than perhaps his wife, believe that this is really the end of his public service.
As for Kermit Gordon, I would not--I just could not express in any words of mine just how much this most able and dedicated public servant has meant to me as President, or has meant to this Nation which I try so hard to lead.
There have been many distinguished men in the office of the Director of the Budget which Mr. Gordon now holds, but I genuinely and sincerely believe his record must be ranked as one of the most, if not the most outstanding ever made.
The office of the Director of the Budget is not the best base from which to win friends here in Washington, but Kermit Gordon has won both friendship and respect throughout the Government for his fair, his objective, his always just, his always reasonable and intelligent handling of this job--a job in many ways the most single vital position in the executive branch of the Government.
I hope that I will have other opportunities to express myself on the subject of Kermit Gordon. I would like though to say to him and to his wife today that I am very glad they won't be leaving Washington. It will save them moving expenses when we find some way to lure him back to public duty where he really belongs.
The departure of these men is offset by the qualities of those who are taking up their duties and other duties throughout the executive branch. Time does not permit me to speak as I might like about all of those who are taking up new challenges and opportunities this afternoon--Alan Boyd, Franklin D. Roosevelt, Jr., Charles Murphy, Dr. John Schnittker--all have my deep personal gratitude for their willingness to assume new positions, for their willingness to continue their fine public service to this country.
The fields that they enter are among the most dynamic and decisive in our contemporary society--transportation, agriculture; most vital of all, the field of human rights. By experience, by instinct, by conscience, by conviction, each man we believe, and we have made a good many investigations with the help of Mr. Hoover across the street, is peculiarly suited for the office that he is now assuming. Much is asked of each of them in these posts. And they wouldn't be there if I didn't believe that each has much to give and if I thought that I could find a better in the Nation.
Mr. Charles Schultze returns to public life after only the very briefest interlude outside. I suppose I might as well admit that before allowing him to leave in the first place, I felt that he just had to return at a very early date.
Now if I may put it frankly, I would say no one that I have appointed has a harder act to follow than Kermit Gordon. But Kermit, as well as I, think Charlie is the right and the best choice for this undertaking.
The management and the direction of an organization as large as our executive branch necessarily cause us to focus on fiscal matters, but the heart and the soul of this Government has never been and must never be just money and management. It is, and it always will be, assuring the rights and the dignity and the opportunities of all Americans.
I am very proud today to welcome the members as well as the Chairman, Franklin D. Roosevelt, Jr., my longtime friend, of the Equal Employment Opportunity Commission-Mrs. Hernandez, Mr. Graham, Mr. Jackson, and Dr. Holcomb. These men and women under the leadership of Chairman Roosevelt will represent a broad cross section of America. They reflect, I believe, a strong and sure cross section support of the Nation's dedication to the simple justice of equal opportunity. The task they undertake, the work they shall do, ranks at the top of our national priorities.
So this is a very proud occasion, a very happy occasion, and a somewhat crowded occasion. In all these fields there is much work to do, so we shall now proceed to clear the way for this vital work to be carried forward.
I am quite honored that my old and beloved friend, Justice Black, has consented to come here and distinguish this occasion. Justice Black.
Note: The President spoke at 12:47 p.m. in the Rose Garden at the White House. Justice Hugo L. Black, Associate Justice of the Supreme Court, administered the oaths of office to the following officials: Alan S. Boyd as Under Secretary of Commerce, Charles S. Murphy as Chairman of the Civil Aeronautics Board, John A. Schnittker as Under Secretary of Agriculture, Charles L. Schultze as Director of the Bureau of the Budget, and Franklin D. Roosevelt, Jr. (Chairman), Mrs. Aileen Hernandez, Richard Graham, Samuel C. Jackson, and Rev. Luther J. Holcomb as members of the Equal Employment Opportunity Commission.
During the course of his remarks the President referred to J. Edgar Hoover, Director of the Federal Bureau of Investigation.
Kermit Gordon served as Director of the Bureau of the Budget from December 28, 1962, through June 1, 1965. The text of his letter of resignation, dated May 26, 1965, and the President's reply was released on June 2, 1965.
Clarence Martin served as Under Secretary of Commerce for Transportation from February 9, 1961 through June 1, 1965.
The President's letter accepting the resignation of Charles L. Schultze as Assistant Director of the Bureau of the Budget was released by the White House on February 9, 1965.
Lyndon B. Johnson, Remarks at a Swearing-In Ceremony for Several Government Officials. Online by Gerhard Peters and John T. Woolley, The American Presidency Project https://www.presidency.ucsb.edu/node/241346