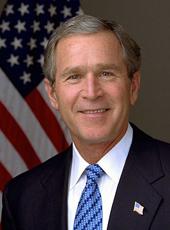 Remarks at a Swearing-In Ceremony for John J. Danilovich as Chief Executive Officer of the Millennium Challenge Corporation
Thank you all. Thanks for the warm welcome. It's nice to be back here at the State Department. I'm glad to be with my friend, Condi Rice, who's doing a fabulous job as our Secretary of State. It's also good to be here with the Board and staff of the Millennium Challenge Corporation. And I'm proud to be here to congratulate the new Chief Executive Officer, Ambassador John Danilovich.
This is a vital program for our country and for my administration, and that's why I've come. The MCC is an integral part of our strategy to fight poverty and to encourage economic development. And leading this organization requires a combination of idealism and managerial skill and diplomatic savvy and economic expertise. John Danilovich has those qualities. That's why I picked him, and that's why he's going to be a great executive leading this important corporation.
I'm also proud to be standing up here with Irene, and I'm glad to be with his three children, J.C., Alice, and Alex, proud members of the Danilovich family. I appreciate Ambassador Negroponte being here today. Thank you, John. He's doing a fine job as the Director of National Intelligence. In order to defeat the enemy, we have got to have the best intelligence possible. Thanks for your leadership.
Deputy Secretary Bob Kimmitt of the Treasury is with us. I see my friend, Mosbacher, here, from OPIC. Thanks for coming, Rob. Members of the administration too numerous to mention are here, and I want to thank the ambassadors, members of the diplomatic corps, Your Excellencies, thanks for being here today.
America is founded on the belief that every life has dignity and every life has value, and we have long felt a special responsibility to help the less fortunate. For decades, our country sent aid to developing—to the developing world with the best of intentions, but we did not ask if we were getting the best of results. Too often, American aid was squandered by inept leaders, pocketed by corrupt officials, and swallowed up by rampant inflation. Without insisting on accountability in exchange for generosity, we were not serving the people of the developing countries, and we were not serving the American taxpayers.
And so my administration decided to do something about it. We decided to insist upon results. Almost 2 years ago, we launched the Millennium Challenge Account as an entirely new way to provide aid. The MCA is based on clear principle: Countries that seek our aid must demonstrate a record of performance. I don't think that's too much to ask on behalf of the taxpayer, nor is it too much to demand on behalf of people living in the countries we're trying to help.
Specifically, countries seeking MCA assistance have got to show results in three key areas. They must govern justly; that makes sense. They must invest in their people; that's a wise use of money. And they must encourage economic freedom.
Poor countries that prove a commitment to these sound policies are eligible to apply for an MCC compact. That's an interesting word, "compact." It means we're working together. It means these countries have to design a proposal that will reduce national poverty and stimulate economic growth. We consider each proposal through a rigorous process—sometimes too slow and too rigorous—and then award compacts to countries with wise proposals that include a way to measure results. By requiring countries to create and implement their own strategies, they have a stake in their own success, and we're giving Americans reason to be confident as we spend their money.
The Millennium Challenge Account has the potential to transform the way the world delivers aid. So far, we have signed compacts with five nations and committed to deliver nearly a billion dollars in assistance. That money is making life-changing difference in some of the poorest countries in the world. In Madagascar, where 80 percent of the people live on less than $2 a day, the MCA compact is helping to modernize the national land registry, which will help secure property rights for more than 60,000 families. In Honduras and Nicaragua, MCA compacts are helping farmers improve their business plans to grow more profitable crops and to get the crops to the markets faster. In Georgia, where I visited last spring, an MCA compact is helping to rebuild a gas pipeline that will provide reliable heat and electricity for more than a million people. And in Cape Verde, off the Atlantic coast of Africa, an MCA compact is funding the construction of new roads and bridges that will connect some of the nation's key islands. These small nations are making big commitments, and America is proud to stand by their side.
We support people who fight corruption. We support people who invest in the health and education of their children. We support people who understand that economic freedom is the way to improve the lives of their citizens.
We have more to do to fight poverty. I believe central to our foreign policy must be, "To whom much is given, much is required." That's why we're leading the fight against HIV/AIDS. That's why we're feeding the hungry. And we're going to continue to help eradicate poverty around the world. John Danilovich is the right person to take on this part of our efforts to fight poverty. He knows how to set priorities. He knows how to solve problems. He knows how to cut through bureaucracy.
In his first 6 weeks on the job, he has taken steps to streamline the administration at the Corporation and to expedite the application process for eligible countries. John and the MCC Board will now consider the applications of nearly two dozen countries that were recently selected as eligible for compacts. Many of these countries have made good progress on their proposals. I've asked John to complete and sign several more compacts in the coming months.
It's a good program. Let's get it moving, and let's implement it for the sake of eliminating poverty around the world. The success of the MCA is reinforcing our belief that lifting nations out of poverty requires partnership, not paternalism. In the 21st century, America is willing to be a partner with every nation that works to advance the prosperity, equality, and liberty of its people.
This is a commitment I've carried across continents from the United Nations in New York to Europe, to South America, to Africa and Asia. It is a commitment I have urged leaders of other developed nations to adopt, by insisting on measurable results for their own foreign aid. It is a commitment that I urge the United States Congress to continue to support by funding our requests for MCC funding. And it is a commitment that I am honored to entrust to Ambassador John Danilovich as he becomes the second Chief Executive Officer of the Millennium Challenge Corporation.
Congratulations, John. Thanks for your willingness to serve.
NOTE: The President spoke at 10:06 a.m. in the Benjamin Franklin Room at the U.S. State Department. In his remarks, he referred to Robert A. Mosbacher, Jr., president and chief executive officer, Overseas Private Investment Corporation (OPIC). The transcript released by the Office of the Press Secretary also included the remarks of Ambassador Danilovich.
George W. Bush, Remarks at a Swearing-In Ceremony for John J. Danilovich as Chief Executive Officer of the Millennium Challenge Corporation Online by Gerhard Peters and John T. Woolley, The American Presidency Project https://www.presidency.ucsb.edu/node/214868