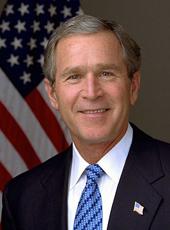 Remarks at a Swearing-In Ceremony for John D. Negroponte as Deputy Secretary of State
Thank you, Madam Secretary. Madam Secretary, thanks for the introduction. Thanks for the really fine job you're doing.
I'm pleased to be with you today, and I'm really honored to stand with a personal friend and a man I admire a lot, the new Deputy Secretary of State, John Negroponte.
I, too, welcome John's family—all five of them here, as well as his wife Diana. I appreciate all his friends who have shown up. Thanks for coming to pay honor to this good man.
American diplomacy is really critical to ensuring the safety and the security of our citizens. Terrorist enemies follow an ideology of hatred and death. In the long run, the only way to defeat them is to offer a vision that is hopeful and positive and optimistic. Spreading that vision requires strong leadership here at the State Department, and John Negroponte has the talent and the experience our Nation needs in a Deputy Secretary of State. He's going to do a superb job for the American people.
I appreciate very much Congresswoman Jane Harman for joining us. It's a great tribute to a good man. I appreciate the former Deputy Secretary of State, Rich Armitage, for being here. I'm honored that other members of my administration have come. I want to thank the members of the diplomatic corps. I'm proud to see you all here. Thanks for coming, distinguished guests, the folks who serve our Nation here at the State Department.
As the Deputy Secretary of State, John Negroponte is going to play a key role, an important role, in shaping our foreign policy. He's going to help guide diplomats deployed around the globe. He will act as the chief operating officer of the State Department. He will work with Secretary Rice and the leaders of other Federal Agencies to ensure that America speaks with one voice.
John is uniquely qualified. As America's first Director of National Intelligence, John took on one of the most demanding assignments in Government. His work was to ensure that all our intelligence agencies function as a single, unified enterprise. He handled this vital task with skill and determination. His leadership of the intelligence community improved our ability to collect, analyze, and share intelligence. His vigilance has helped keep the American people safe from harm.
One of my regrets is that, in him coming back to the State Department, is, he won't be in the Oval Office every morning to share his wisdom with me. And he has plenty of wisdom to share. I strongly urge the young Foreign Service officers to get on his calendar so he can explain to you how best to do your job. [Laughter] I did the same thing. [Laughter]
As he moves over to the State Department, he knows this building really well. As Condi mentioned, he became a Foreign Service officer in the administration of Ike. Like, some of you weren't even born then. [Laughter] Diana and I were barely born then. [Laughter]
Over the course of more than four decades, he's held eight Foreign Service posts, three different continents. He served as the Deputy National Security Adviser to President Ronald Reagan. He represented America at the United Nations during my administration. He was our first Ambassador to a free Iraq. In these and other posts, he has shown diplomatic skill and devotion to our country. He really has set a great example for the people who work here.
Over the past 6 years, I know him to be a man of vision and character. He understands the importance of fighting the extremists with all elements of national power. He is a good negotiator. It doesn't hurt that he can play a mean game of poker. [Laughter] As one of our Nation's— as our Nation's second-ranking diplomat, he's going to be a strong and confident advocate for our interests and, equally importantly, our ideals around the world.
John is going to build upon the work done by his predecessor, Bob Zoellick. Bob helped lead the State Department during a challenging time for our Nation. He upheld the high standards and the proud tradition of this Department. I appreciate his dedicated service.
As John takes up his duties, he's going to benefit from the talent and professionalism of the men and women in our foreign and civil service, folks who serve in this building and in our Embassies around the world. The work done here and the work done abroad helps sustain America's position; it fosters freedom and helps advance the cause of peace.
I want to thank you for your willingness to serve our country. I appreciate the sacrifices you make on behalf of the American people.
You're going to have a fine leader in John Negroponte. One thing is for certain: He knows we live in challenging times; we live in dangerous times. He also knows that this is a moment of great hope and opportunity. John's broad experience and sound judgment and unquestioned integrity will make him an outstanding Deputy Secretary of State.
And so, John, I thank you once again for agreeing to serve our Nation. Congratulations.
And now Secretary Rice will administer the oath.
NOTE: The President spoke at 10:27 a.m. at the U.S. Department of State. In his remarks, he referred to former Deputy Secretary of State Robert B. Zoellick. The transcript released by the Office of the Press Secretary also included the remarks of Deputy Secretary Negroponte.
George W. Bush, Remarks at a Swearing-In Ceremony for John D. Negroponte as Deputy Secretary of State Online by Gerhard Peters and John T. Woolley, The American Presidency Project https://www.presidency.ucsb.edu/node/271231