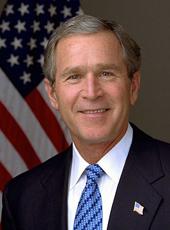 Remarks at a Swearing-In Ceremony for James A. Nussle as Director of the Office of Management and Budget
Thank you all. Please be seated. I thank you for joining us as I welcome the new Director of the Office of Management and Budget, Jim Nussle. I congratulate Jim. I thank him for agreeing to serve.
Public service is a family commitment. And I want to thank Karen, Sarah, and Mark and all the members of Jim's family for supporting him as he takes on this important duty.
I appreciate the Vice President being here to swear in the newest member of the Cabinet. I appreciate the members of my Cabinet for joining us. Thank you all for taking time out of your busy schedules to be here. I know Jim appreciates it.
I appreciate Paul Ryan, a Member of the House of Congress—a Member of Congress from Wisconsin and the ranking member of the House Budget Committee. He's here because he understands that the man I picked to run the OMB knows what he's doing.
The Director of OMB is one of the most important jobs in Government. It's a vital assignment. I picked a man who knows how to count—[laughter]—and knows how to work with Congress to get the job done.
This Agency oversees the broad range of operations essential to the day-to-day operations of the Federal Government. It requires a leader who believes in the people, who cares about the people of the United States. Jim is such a person. It also requires a leader who knows how to keep taxes low, because that's what we intend to do.
When it came time to search for a new OMB Director, it wasn't hard to find in Jim Nussle the kind of person I was looking for: somebody who can get a tough job done, and somebody who has a solid record of fiscal restraint. For 6 years, Jim served as chairman of the Budget Committee in the House of Representatives. He accomplished his tasks with a lot of skill. He was able to work with people from both parties and with the administration, I might add, handling the tough job. He understands that the Federal dollars don't come out of thin air. In other words, when we spend money up here, we're spending the people's money. He understands every dollar spent in Washington is a dollar that cannot be used by a small-business owner or a farmer or the families trying to save for their children's future.
It's our responsibility to ensure that we run our Government wisely and to spend the people's money wisely. Jim Nussle understands that. He also understands that cutting taxes has helped our economy grow. We've overcome some tough times in America. When you lower taxes in the face of a recession or uncertainty, it enables people to have more money to spend, save, or invest. And the tax cuts that we passed have worked. The economy is—grew at over 3 percent the last quarter. Our national unemployment rate is 4.6 percent. Inflation's low. The best way to make sure our growth continues is not to raise the taxes on the people.
And so we've submitted a budget that keeps taxes low and will enable us to achieve balance by 2012. And Jim Nussle understands this is a realistic budget. And I look forward to working with him to get our budgets passed through the United States Congress. I understand it's going to be tough work, Jim, because people up there want to raise taxes. We can't let them do so, for the sake of our families, for the sake of economic vitality.
I appreciate very much the fact that he knows what I know, that the OMB has got some highly professional, hard-working people who are serving the country. And I thank the good folks who work at the Office of Management and Budget. I thank you for your service to the country. And I'm looking forward to you getting to know Jim Nussle. He, like me, will appreciate what you're doing for the United States.
And so, Jim, I congratulate you on assuming this important position. I appreciate your family supporting you. And now I ask the Vice President to swear you in.
NOTE: The President spoke at 1:11 p.m. in Room 450 of the Dwight D. Eisenhower Executive Office Building. The transcript released by the Office of the Press Secretary also included the remarks of Director Nussle.
George W. Bush, Remarks at a Swearing-In Ceremony for James A. Nussle as Director of the Office of Management and Budget Online by Gerhard Peters and John T. Woolley, The American Presidency Project https://www.presidency.ucsb.edu/node/276501