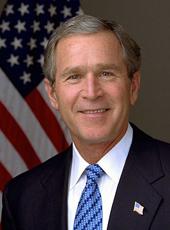 Remarks at a Swearing-In Ceremony for J. Michael McConnell as Director of National Intelligence
Thank you all. Please be seated. Thanks for the warm welcome. Good morning. I'm proud to be here at Bolling Air Force Base to congratulate Mike McConnell on becoming our Nation's second Director of National Intelligence. I'm really pleased that Mike's wife Terry, his four children—Erin, Mark, Jennifer, and Christine—their grandchildren, his sister—[laughter]—and other family members have joined us. It's a big deal to watch your dad and granddad get sworn in to a position of this importance.
I appreciate members of my administration who have joined us, in particular the Secretary of Defense, Bob Gates; General Michael Hayden, Director of the CIA; Bob Mueller, Director of the FBI; and other important figures too numerous to mention. Thank you for serving our country.
I appreciate the members of the intelligence community who have joined us. Part of the reason I have come is to honor this good man, and part of the reason I have come is to honor your good work. This Nation owes you a debt of gratitude.
The Director of National Intelligence holds one of the most difficult and important positions in our Government. In this time of war—and we are a nation at war— the President and his national security team must have the best intelligence about the plans and purpose of the enemy. And the job of the Director of National Intelligence is to ensure that we do. The Director of National Intelligence is the President's principal adviser on intelligence matters. He is also the leader of our entire intelligence community. He advises me about the national intelligence budget. He oversees the collection and analysis of intelligence information. He works to ensure that all of our intelligence agencies and offices work together as a single, unified enterprise.
These are enormous challenges, and Mike McConnell has the experience and the character and the talent to meet them. He spent most of his adult life working in the intelligence world. He served as the executive assistant to the Director of Naval Intelligence, as the chief of naval forces division at the National Security Agency, as director of intelligence for the Joint Chiefs of Staff during Operation Desert Storm, and as the Director for the National Security Agency. He's got a solid resume.
He also earned our Nation's highest award for service in the intelligence field. He not only has got a good resume, he backed it up with good action. His work over a career spanning three decades is earning the admiration of his colleagues, the respect of the intelligence community, and a reputation in Washington for personal integrity and effective leadership. In short, you're going to like working with him—[laughter]—and so am I.
Mike's long experience gives him a unique understanding of the threats we face in this new century. He knows that the terrorists who struck America on September the 11th, 2001, are determined to strike our Nation again. He understands that the enemy uses the tools of our modern economy—from rapid transportation to instant communications to global finance— to spread their extremist ideology and facilitate new attacks.
He knows that his task as the Director of National Intelligence is to make certain that America stays ahead of this enemy and learns their intentions before they strike. He knows that we must stop them from harming our citizens, that the most important task of this Government of ours is to protect the American people.
In his new position, Mike builds on the work of an outstanding leader of our intelligence community, Ambassador John Negroponte. The creation of the Director of National Intelligence was one of the most important reforms enacted in response to the attacks of September the 11th. John Negroponte was the first person to fill this new and essential position. He did so with talent and distinction.
During his time in office, John established the DNI as a core member of my national security team. He increased the unity of our intelligence community. He helped strengthen our national counterterrorism capabilities and improved information sharing between our intelligence and law enforcement communities.
John's vision and vigilance helped keep the American people safe from harm. I appreciate his leadership as America's first Director of National Intelligence, and I thank him for agreeing to continue to serve our country as Deputy Secretary of State.
Mike McConnell will expand on the vital reforms that John Negroponte set in motion. I've asked Mike to focus on several key areas. I've asked him to better integrate the intelligence community, making our different intelligence agencies and offices stronger, more collaborative, and better focused on the needs of their customers.
I've asked him to improve information sharing within the intelligence community and with officials at all levels of our Government, so everyone responsible for the security of our communities has the intelligence they need to do their jobs. I've asked him to ensure that our intelligence agency focus on bringing in more Americans with language skills and cultural awareness necessary to meet the threats of this new century. I've asked him to restore agility and excellence to our acquisition community and ensure that our Nation invest in the right intelligence technologies. I've asked him to ensure that America has the dynamic intelligence collection and high-quality analysis that we need to protect our country and to win this war against these extremists and radicals.
As he carries out his new duties, Mike McConnell will be relying on the thousands of dedicated intelligence professionals who work day and night to keep us safe. They are America's first line of defense against the terrorists. And while many of their accomplishments must remain secret to our fellow citizens, those accomplishments are known to me. And they're doing good work. You're doing good work. And the American people owe you a strong debt of gratitude. I appreciate your willingness to take on the difficult and dangerous assignments. And you just need to know, you've got the full support of this Government and the American people.
Our intelligence community is going to have an able leader in Mike McConnell. I want to thank Congress for swiftly confirming Mike to this vital position. I look forward to working with him as a key member of my national security team. I'm anxious to have him in that Oval Office every morning. [Laughter] I hope he's anxious to show up. [Laughter]
He'll find that I value the intelligence products that you create. He's going to find that the intelligence product is an important part of my strategic thought and important part of helping me get this Government to respond to do our most important duty, which is to protect you. I look forward to working with Mike. I'm comfortable in knowing this is a good man who cares about one thing only, and that's his country. And I thank his family for supporting him as he returns to Government service.
And now I ask my Chief of Staff, Josh Bolten, to administer the oath of office.
NOTE: The President spoke at 10:16 a.m. at Bolling Air Force Base. The transcript released by the Office of the Press Secretary also included the remarks of Director McConnell.
George W. Bush, Remarks at a Swearing-In Ceremony for J. Michael McConnell as Director of National Intelligence Online by Gerhard Peters and John T. Woolley, The American Presidency Project https://www.presidency.ucsb.edu/node/271082