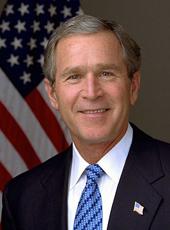 Remarks at a Swearing-In Ceremony for Brett Kavanaugh as a United States Circuit Judge for the District of Columbia
Please be seated. Thanks for coming. Welcome to the Rose Garden where, in a few moments, Brett Kavanaugh will be sworn in as a judge on the United States Court of Appeals for the District of Columbia Circuit.
Today, a court that is often considered the second highest in our land gains a brilliant and talented new member. The staff of the White House celebrates a friend they admire and a colleague they will miss. I congratulate a good man and a fine public servant on a job well done.
I'm especially pleased to be with Brett's wife, Ashley—[laughter]—whose face I know well and whose marriage was the first lifetime appointment I arranged for Brett. [Laughter]
We welcome Brett's parents, Martha and Ed, and his mother-in-law and father-in-law, Nancy and John Estes from Abilene, Texas.
I welcome the star of Brett's most recent televised hearing, Margaret Murphy Kavanaugh. [Laughter] Margaret has his mother's—has her mother's good looks and her dad's preference for hearings that do not last too long. [Laughter]
We're honored this afternoon by the presence of Justice Anthony Kennedy, who hired Brett as a law clerk more than a decade ago. He now welcomes him as a fellow judge. And I'm also pleased that Mary Kennedy is with us today. Thanks for coming.
The Vice President has joined us. Mr. Vice President, welcome. Appreciate Al— Attorney General Al Gonzales for being here, and former Attorney General John Ashcroft is with us as well. I want to extend a warm welcome to Brett's new colleagues on the DC Court of Appeals. Thank you all for coming.
The power to nominate judges is one of the most serious responsibilities the Constitution gives the President. Our Founders thought carefully about the role they wanted judges to play in the American Republic. They decided on a court system that would be free of political and public pressure, with judges who are prudent in exercising judicial power and firm in defending judicial independence.
When a President chooses a judge, he owes it to the Constitution and to the country to choose with care, and I have done so in choosing Brett Kavanaugh. I chose Brett because of the force of his mind, his breadth of experience, and the strength of his character.
Brett grew up in Maryland. In high school, he distinguished himself both in academics and athletics. He graduated from Yale with honors. What did that feel like? [Laughter] He stayed at Yale to earn his law degree. Brett was an editor of the Yale Law Review and impressed all around him with his mastery of the law and his strong work ethic.
After Yale, he embarked on a law career that has spanned judicial—on a career that has spanned the judicial branch, the executive branch, and the private sector. He clerked for Judges Walter Stapleton and Alex Kozinski on the Federal appellate courts and for Justice Kennedy on the Supreme Court. He served in the Solicitor General's Office and in the Office of the Independent Counsel. He was a partner in a leading national law firm. For the past 5 years, he has served in the White House as Associate Counsel, a senior Associate Counsel, and as Staff Secretary.
Over his career, he's argued cases before the Supreme Court, appellate courts, and trial courts. He has given his time and talent to provide legal services for those in need. He's earned a reputation for integrity and independence. Brett's abilities and professionalism have been recognized by members of both political parties. After I nominated Brett, a bipartisan group of his law school classmates wrote a letter of support saying Brett would bring credit to the distinguished court to which he has been nominated.
Brett's nomination also earned the backing of many leaders of the bar, including former Attorney Generals of both parties. And in three separate evaluations by the American Bar Association, all 42 reviewers rated him as well-qualified or qualified to serve on the Federal bench.
In the history of the DC Circuit, no judge has undergone a more thorough and rigorous confirmation process. And all who watched this process saw what I know: that he's a man of fairness, humility, and a reverence for the laws and the Constitution of our country.
Brett Kavanaugh is one of the many highly qualified men and women I've nominated to the Federal courts. These nominees come from many different backgrounds, and they bring different experiences to the bench. Yet they all have met the same high standards of legal ability, temperament, and judgment. I'll continue to fulfill my responsibility to nominate men and women of character and integrity who administer the law and not legislate from the bench. And I call upon the United States Senate to meet its responsibility to give every nominee a fair hearing and a timely up-or-down vote.
When Brett Kavanaugh takes his oath this afternoon, he will carry on a fine family tradition. His mother, Martha, was a public school teacher in the District of Columbia and went on to serve as a prosecutor and a State judge in Maryland. Martha instilled in her son a passion for service and raised him to be true to the motto of his Jesuit high school: "Men for Others."
Throughout his life, Brett has used his many talents to serve others, and today he walks a new path of service: to administer justice equally, impartially, without fear or favor. Our Nation is fortunate that Brett Kavanaugh has accepted these responsibilities, and I'm proud to stand with Brett as he takes his place as a judge on the DC Circuit Court of Appeals.
And now I ask Justice Kennedy to administer the oath.
NOTE: The President spoke at 1:06 p.m. in the Rose Garden. In his remarks, he referred to Mary Kennedy, wife of U.S. Supreme Court Associate Justice Anthony M. Kennedy. The transcript released by the Office of the Press Secretary also included the remarks of Judge Kavanaugh.
George W. Bush, Remarks at a Swearing-In Ceremony for Brett Kavanaugh as a United States Circuit Judge for the District of Columbia Online by Gerhard Peters and John T. Woolley, The American Presidency Project https://www.presidency.ucsb.edu/node/217233