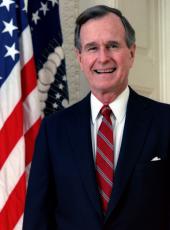 Remarks to Students at Washington University in St. Louis, Missouri
Thank you, Chancellor Danforth; Chairman Liberman; our distinguished Governor, John Ashcroft; and Senator Bond; Congressman Buechner here; and to your student body president, Cynthia Homan; and other student leaders that have given me this warm reception. I really am pleased to be here, and I've looked forward to sharing this occasion with you.
Mark Twain once wrote: "In Boston, they ask, How much does he know? In Philadelphia, Who were his parents? In New York, How much is he worth?" [Laughter] But Mark Twain was a Missourian. He would agree with me that you couldn't put a pricetag on this morning. Believe me, I'm delighted to be here, back in St. Louis and back at this university of excellence; the home of the State of Missouri; the home of ragtime and aerospace, agriculture; the State whose native sons include Omar Bradley and Harry Truman and that master linguist, Yogi Berra -- [laughter] -- the State -- oh, I love to quote Yogi. Do you remember when he said: "Let's pair 'em off in three's"? -- [laughter] -- and, nevertheless, this State whose citizens embody the best of America and know that the heart of America is good, working, serving others, hoping and dreaming.
For 136 years your excellent university has played a part in that effort. Your community has built a pioneering effort in science and math. Your teaching, research, and soaring admission applications tell a story summed up best by two words: academic excellence. But there's another side of it, another side of the story that Washington University has to tell, a story from which all America can learn. It's a story about investing in America's future, how as students and faculty, administrators and alumni, you have shown that service and voluntarism can enrich education and enrich America. You work with the Special Olympics. Sunday's Special Olympics is but one chapter in that wonderful story. And around the Nation, other chapters are being written every day. And we're writing another chapter -- trying to -- in Washington, by opening in the White House the Office of National Service, which will lead my administration's community and national service programs. And our goal is simple: more Americans helping others by effectively serving their communities and the Nation. And these symbols, these signs around this room, I think, sum up what I talk about when I talk about a Thousand Points of Light: It is neighbor helping neighbor. It is kid helping kid. It is friends holding out their hand to other friends.
From now on, in America any definition of a successful life must include serving others -- in a child care center, the corporate boardroom, in the Rotary or Little League or a tutoring program or a church or a synagogue. Our new initiative will reflect that spirit, once called America's genius for great and generous deeds. And I take special pride in our YES, our YES program, Youth Entering Service, which I proposed last fall to encourage American youth to give of themselves to help others in need. And I'm convinced that we can help alleviate many national problems by substantially increasing the involvement of young Americans in voluntary service. And the establishment of the YES Foundation will help lead that effort. Together, we can show that what matters in the end are not possessions. What matters is engaging in high moral principle of serving one another. And that's the story of America that we can write through voluntary service.
Eight days ago, in a joint session of Congress, I proposed a budget to complement voluntary efforts to help serve the gentler impulses of mankind. I listed four national objectives: to bring the deficit down, to invest in America's future, to find solutions to an urgent set of national priorities, and no new taxes. And our budget curbs the growth of Federal spending while providing for the most vulnerable among us. It is responsive and responsible, and it will ensure a strong and stable economy. Our budget balances social concern with fiscal sanity and leaves power in the hands of the people. It shows that we can have a government with a heart as well as a head.
And when it comes to reducing the deficit, some people say it can't be done without neglecting our urgent social needs. It can be done, but it can't be done with business as usual. Next year alone, thanks to economic growth -- it's essential we keep the economic growth going in this country -- but thanks to economic growth next year alone, Federal tax revenues under existing law will rise by more than $80 billion -- more than $80 billion in new revenues under existing law in 1 year alone. And our job is to allocate these new resources wisely: to reduce the Federal deficit by more than 40 percent, with no new taxes, and yet investing in key priorities.
Budget consultations with the Congress, as some of you may have read, are already underway; and we are making progress. And yesterday I called the five congressional leaders and invited them to come to the White House for another round of budget talks next Tuesday morning. I am committed to working closely with my friends on the Hill to help them meet the target date set by Gramm-Rudman-Hollings for an April 15th budget resolution. And together, we've got to make the process work.
There are certain priorities that demand attention. And, yes, we can afford to increase spending -- modestly, selectively, but only after tough choices are made. And we must spend enough to protect our national security, and that is a chief responsibility of every President of the United States. And certainly we must not fall back on the tax-and-spend policies of the past. But programs that can work must be protected and, in some cases, funding increased. Our budget is fair to recipients, fair to taxpayers, and fairminded in its strategy. It embodies two qualities which are always in season: the common sense that Justice Learned Hand termed "the eventual supremacy of reason" and America's capacity to care.
Most Americans believe that in the America of the 1990's our challenges must be met in several ways -- by government, by thousand upon thousands of other institutions, and by the people themselves working together -- or they won't be met at all. The Government's contribution is critical, but by itself is insufficient to solve all of our national problems. And yet most Americans believe that our efforts must reach beyond government to care about our communities and to assist our neighbors. I called it, in a speech earlier on, a Thousand Points of Light; and some of the columnists have had fun with that, interpreting it as a Thousand Pints of Lite. I'm surprised you didn't get that one here in Missouri. But I think people are beginning to understand what I mean by a Thousand Points of Light. And if they'd look at these signs and talk to some of you responsible for them, I think they'd understand it without contradiction. I believe that government can be an important catalyst in that process of helping individuals, helping our communities, helping our nation.
And our budget does more, for instance, for environment, more for the space program, invests almost $2.2 billion for the National Science Foundation -- a lot of that going to universities to help basic research. It increases funding for the Head Start Program and allocates $1 billion more in additional outlays to stop the deadly scourge of drugs. We have got to fight the drug fight on two fronts -- supply and demand -- to reclaim the lives of addicts who want help, educate young people about the dangers of drugs, and then enforce our laws. All this is what I mean when I speak of investing in the future.
To minority Americans, this budget says: Education means opportunity, and bigotry will not be tolerated anywhere in the United States of America. To the homeless, this budget targets $1 billion, saying: Our nation must leave no one out. To the elderly, this budget vows: Your dignity and concerns will be respected. And to the Nation's youth, the budget says: The promise of tomorrow lies in the children of today.
Consider this: We've proposed a new child care initiative. It's not going to take care of everybody. It's targeted at low-income families. We've restored and doubled the tax deduction for adopting special-needs children. We want those kids in families of love. And even more, we've made education the Gateway Arch of the Bush administration. For our pursuit of excellence is central to the future of America; and if excellence breeds achievement, then excellence must be rewarded in grade school, in high school, and in the colleges and universities of America.
Last Thursday, I asked Congress to begin a $500 million program to reward America's best schools, merit schools, and to establish a special Presidential award for the best teachers in every State. I urged expanded use of what are known as magnet schools, giving families and students a choice in education. And I proposed a new program to encourage what we call alternative certification. It is wrong if one of you guys who graduate from this school of excellence, one of you wants to go and give of yourselves to teach in some urban area in a public school -- it is wrong to have this excellence go to waste because of some hidebound restrictions having to do with too many certifications that keep idealistic young people for [from] teaching. I want to change that and have alternative certification.
We must bring more of our best minds back to the teaching profession. And through a new program of National Science Scholars, we can inspire their students, also giving America's youth a special incentive to excel in science and mathematics. In short, I wish to achieve nationally what this university has done historically: to make excellence in learning a national way of life. Education can ennoble the American story. It's the best way to invest in our future and to make this better, more selfless, and a more tolerant world.
And, yes, in some areas, I've got to confess, I wish we did have more money to spend -- key areas like drugs and education. I will candidly admit that the Federal Government could use more resources to bring to bear on these problems. But we've had to set priorities; we've had to make the tough choices. And I believe we have set the right priorities in this budget. Ours isn't the total answer, but in this budget, we've made a good beginning. And now I've asked the Congressmen to come -- the leaders to come -- meet with me and, in a spirit of bipartisanship, get on with the Nation's business of getting a quick and early resolution to this budget crisis. And now we have work to do. There are many problems that must be solved in America today, and I remain confident that our nation can solve them. But America must go far beyond the Federal budget to achieve its goals. We've got to forge strong partnerships between all levels of government and voluntary organizations and business corporations and individuals, to lend a hand and mend a wound and help the less fortunate.
Next week, Barbara and I are going to embark on a long journey. We're going to be trying to pursue peace and friendship, a journey that's going to take us across the Pacific to Japan and China and to Korea. And we go to attend the funeral of the late Emperor and to consult with the leaders of many of America's allies and friends there in Tokyo, who will be attending those ceremonies. And my visit to China is a bit of a sentimental journey to a country where I served as America's equivalent then of Ambassador 14 or 15 years ago. And several days ago, preparing for our trip, I came across these words of an old Chinese proverb: "One generation plants the seed; another gets the shade." Think of the investments that we make in our future as America's seeds. And we can lift hearts; we can change lives. And we can shape the 1990's, just one decade before a whole new century.
It's a tall order, but it has been the American story for over 200 years. And let's write it together. And let me say in conclusion, just being here, just seeing these symbols of voluntarism, make me absolutely convinced that if we take this spirit evident in this gym here today and then multiply it by those thousands we can do the job. Let's write the next chapter together. Thank you all for this wonderful welcome, and God bless you all. Thank you very much.
Note: The President spoke at 10:33 a.m. in the university field house. Following his remarks, the President returned to Washington, DC.
George Bush, Remarks to Students at Washington University in St. Louis, Missouri Online by Gerhard Peters and John T. Woolley, The American Presidency Project https://www.presidency.ucsb.edu/node/247861