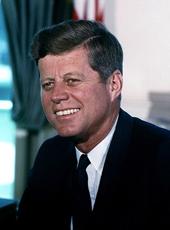 Remarks to Student Volunteers Participating in Operation Crossroads Africa.
Ladies and gentlemen, members of the White House Photographers Association, Reverend Robinson:
I want to welcome you all to the White House. I thought that this was such an extraordinary group that you deserved the best orator in the Senate to speak to you and, therefore, I brought along as a reserve Senator Hubert Humphrey who has been very interested in this program and who is a member of the African subcommittee of the foreign Relations Committee.
I was just looking over--and I apologize to you for keeping you waiting--we were just looking over the areas that you are going to and the functions that you are going to perform. This group and this effort really were the progenitors of the Peace Corps and what this organization has been doing for a number of years led to the establishment of what I consider to be the most encouraging indication of the desire for service not only in this country but all around the world that we have seen in recent years.
This is a voluntary effort. Most of you, I understand, pay, to the extent you can, your way overseas. You spend your time in a good many countries, living under conditions of hardship. All of you go to a continent about which we know very little.
I have been the host of more than a dozen rather extraordinary leaders of African countries who have come to the United States in the last 12 months. I would suppose that most of them have been imprisoned at one time or another in their fight for freedom. Most of them come from countries where there is almost no higher education except in a few exceptional cases. They are faced with, in a sense, the far more pedestrian but more difficult challenge after the fight for independence has been won, which carries its own built-in enthusiasm. They are faced with the job of building a new country, lacking skilled administrators, lacking the traditions of self-government, and they represent an extraordinary group of people.
I am constantly impressed by the great convulsion which a fight for revolution brings, the extraordinary talent it brings to the surface. But the problems they face today in every case, they have told me, were far more difficult than the problems they faced in the fight for independence. Now the problem is to maintain that national sovereignty and independence and make it worthwhile, because disillusionment is the second wave that comes after the wave of enthusiasm.
Now, you cannot change the face of Africa any more than the Alliance for Progress can immediately change the face of Latin America. But you can begin. And you can demonstrate our interest and concern, and we in this country know very little about Africa.
In 1957 we had more people in Bonn, Germany, than we had in all of Africa in our foreign Service. This has been an unknown continent to us because it was dominated by Europe. Now it is opening up and we want to be part of it, and our interest is wholly disinterested. We have no great commercial history, we have no record of exploitation. We have supported the United Nations' effort in Africa. We want them to be independent. We recognize they face staggering problems. We recognize they are dependent upon the finest shifts in international trade whether there is going to be prosperity or not.
So, I want you to know that in going to Africa you represent the best of our country, and I know they will welcome you. And I think that you will have the feeling of having served this country and, in a broader sense, the free community of people in a very crucial time. So that is why you are particularly welcome here today.
There is an old saying that only in the winter can you tell which trees are evergreens. It is very easy to make speeches about what ought to be done about this country and how it can be improved. I hear them all the time, but you at least are picking up your bags and going some place and doing something, and that is why we are glad to have you.
Note: The President spoke at 10 a.m. on the South Lawn at the White House. The group was made up of 292 students who were about to spend the summer in Africa, teaching and working in hospitals and schools and on roads. Operation Crossroads Africa is a privately financed interracial, nondenominational organization.
In his remarks the President referred to the Reverend James H. Robinson, Director, Operation Crossroads Africa, and Senator Hubert H. Humphrey of Minnesota, both of whom also spoke. The text of their remarks was made public by the White House.
John F. Kennedy, Remarks to Student Volunteers Participating in Operation Crossroads Africa. Online by Gerhard Peters and John T. Woolley, The American Presidency Project https://www.presidency.ucsb.edu/node/235916