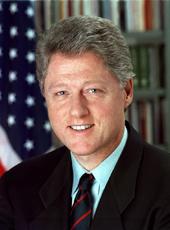 Remarks at a State Luncheon in Manila
President and Mrs. Ramos, former President Macapagal, former President Aquino, distinguished members of the Philippine Government, members of the business community here, members of the diplomatic corps, my fellow Americans who are here: Let me begin by thanking President Ramos and Mrs. Ramos for making Hillary and me and all of our delegation here feel so very welcome on our all too brief but very enjoyable and very important visit to the Philippines.
One hundred thousand Americans call the Philippines home, and now about 1 1/2 million Filipinos call the United States home. Indeed, I was trying to count up all the Philippine-Americans I brought with me on this trip, and I lost count. But we have people here from the Agency for International Development; we have three of my Navy stewards; my personal physician, Dr. Connie Mariano; and of course, the executive with the Export-Import Bank, a long-time friend of yours, Mr. President, Maria Louisa Haley. We're all glad to be here, but those with roots here in the Philippines are the happiest of all to be home. You have made us all feel at home, and we thank you for that.
We have worked together in many ways over a long period of time. President Ramos just described the 50th observation of our partnership in the Second World War. I have heard a very moving account of the events of last October from Secretary of Defense Perry and General Shalikashvili. General Ramos' Philippine soldiers also fought side by side with Americans in Korea and in Vietnam. And you were there, sir, in both conflicts. We thank you for that individually and for your country.
During the cold war, the United States led an effort to stand against the tyranny of communism. You were our partner then. In the last several years, you have led the world in the sweeping resurgence of democracy, beginning 8 years ago when you and others exposed yourselves to considerable risks to stand up for freedom here in your own country, following through with the remarkable people power movement of President Aquino, where people held flowers in the face of tanks and captured the imagination of the entire world.
And now, sir, under your leadership we see the Philippines moving forward, respecting the dignity, the rights of all people and aggressively pursuing a modern economic program designed to bring prosperity to all the tens of millions of people who call these wonderful islands their home.
You know, President Ramos is a fitting leader for this time. We know in America that in 1946—he doesn't look that old—[laughter]—but in 1946, he won the only Filipino scholarship to the United States Military Academy. I met several others of you who graduated from West Point here today, and all of you know that when one graduates from West Point, he—and now she—becomes a member of the Long Gray Line, linked forever with all of those who went before and all of those who will come after.
Well, Mr. President, you symbolize the link between our two nations, which is equally as strong and will always exist. We are linked by our history; we are linked by the populations that we share, the Americans here, the Filipinos there. But most of all, we are linked by our shared values, our devotion to freedom, to democracy, to prosperity, and to peace.
And for that common devotion, I ask all of you to stand and join me in a toast to President and Mrs. Ramos, to all the people of the Philippines, to their health, to their prosperity, and to their eternal partnership with the United States.
NOTE: The President spoke at approximately 3:40 p.m. in the Ceremonial Room at the Malacanang Palace. In his remarks, he referred to President Fidel Ramos of the Philippines and his wife, Amelita; and former Philippine Presidents Diosdado Macapagal and Corazon Aquino.
William J. Clinton, Remarks at a State Luncheon in Manila Online by Gerhard Peters and John T. Woolley, The American Presidency Project https://www.presidency.ucsb.edu/node/218476