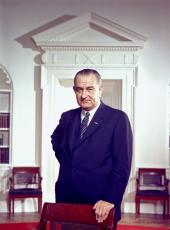 Remarks to State Governors After President Kennedy's Funeral.
Gentlemen:
I want to tell you how deeply I feel in your debt for not only your coming to Washington on this tragic occasion but for your being so understanding of me and being willing to come here and visit with me this evening.
I am sorry I am late. General de Gaulle had to return to Paris. He has had a long day of it and he is flying back tonight. We talked a little longer than I anticipated. Even then we did not finish, so we have another meeting set up for early in the year when he comes back to this country.
Prime Minister Ikeda of Japan was among the cabinet ministers who were en route between Honolulu and Tokyo when they got word of the assassination of the President. They had to turn around and come back, and they had to make a few explanations there.
Canada is such a close neighbor and such a good neighbor that we always have plenty of problems there. They are kind of like problems in the hometown.
So, I am later than I expected to be, and I apologize for delaying you.
Circumstances over which I had no control brought me into this position that I occupy tonight. The difficulties and the tribulations are great, and this is the time when our whole system could go awry, not just the Republican Party and the Democratic Party but the American system of Government.
From the standpoint of population, we have less people than the Soviet Union. From the standpoint of resources, in many respects she has greater resources than we have. She has 8,600,000 tillable acres of land while we have 3 million. She has 208 million people while we have 180 million people. She has greater water resources and greater potential oil and power, but the thing that is really to determine whether we win or lose in this struggle of philosophies is how well our system works. We think we have the best system.
We think that where a capitalist can put up a dollar, he can get a return on it. A manager can get up early to work and with money and men he can build a better mousetrap. A laborer who is worthy of his hire stands a chance of getting attention and maybe a little profit-sharing system, and the highest minimum wages of any nation in the world.
Those three together combine to give us the end product that we call free enterprise.
I think continuity without confusion has got to be our password and has to be the key to our system. For that reason, I am going to address the Congress on Wednesday. That is the earliest day that they could receive me and I could meet these 70-80 heads of state who have come here from all over the world.
I am going to tell that Congress that we intend to honor the commitments we have made at home and abroad, and I am going to tell them I understand my own limitations, but I am going to do the best I can with your help and God's.
[Excerpt of further remarks as released by the White House]
We live under a system of checks and balances. We do so because our Founding Fathers figured properly that the only sure method of preventing tyranny was a political system in which no one person or no one group of persons can have power without limitations.
The Congress, the Executive, and the courts all have powers to check each other. This is taken for granted so completely that every schoolboy knows about our "tripartite system of government." But what is not realized as commonly is that there is another check--the division of our government into Federal, State, and local systems. Each level of government has proper responsibilities and proper prerogatives. And our democracy is richer and more enduring because of this division.
However, there is one point that must always be borne in mind. It is that a government by checks and balances will work only when people are willing to cooperate and work together for the common good. If they insist on glaring at each other, refusing to work together, and standing firmly on prerogatives and forgetting responsibilities, the Nation will quickly be paralyzed.
For these reasons, I consider it vitally important to ask for your help. I want you to cooperate. I need your heart and your hand. Our country has suffered a grievous shock. The transition while a term is still going on is always a difficult test for democracy. It is doubly difficult in these days of quick decisions on matters that involve the fate of humanity.
I hope to keep in constant touch with you. My permanent purpose is to maintain the fabric of your Nation intact and in the days that lie ahead I hope to work with you to this end.
Note: The President spoke at 8:30 p.m. in his temporary office in the Executive Office Building to the group of Governors who were in Washington to attend the funeral of President Kennedy.
Lyndon B. Johnson, Remarks to State Governors After President Kennedy's Funeral. Online by Gerhard Peters and John T. Woolley, The American Presidency Project https://www.presidency.ucsb.edu/node/241320