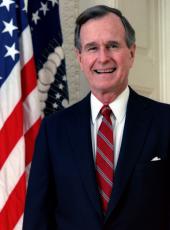 Remarks at a State Dinner Hosted by President Roh Tae Woo of South Korea in Seoul
Mr. President, Mrs. Roh, distinguished guests, tonight we have much to celebrate, first and foremost our solid alliance. Many think that our partnership was born that moment 40 years ago when we joined forces against aggression. But it dates back over a century. When your nation looked outward for diplomatic and commercial opportunity, it looked then first to the United States. Today, our alliance has grown into a political, economic, and security partnership. I assure you, our commitment will continue well into the 21st century.
As you said, Mr. President, during your visit to the White House, "Democracy in Korea is on course and is moving inexorably forward." Through hard work and commitment, the Republic of Korea has moved from a war-ravaged past to a prosperous present and an enviable future.
This republic's progress in resolving differences with your brothers in the North is a great step in the journey toward the day when all of Korea is free. I admire your steadfastness and commitment to a peaceful resolution. The many successes of your Nordpolitik policy, your enhanced relations with Russia and China, your active dialog with North Korea, move us closer to that day. If North Korea can truly abandon not only its nuclear weapons program but its belligerence as well, that ribbon of land at the 38th parallel will no longer divide this nation.
Mr. President, we know each other well; I know you are a modest man. Your leadership of the Republic of Korea during this period of incredible change has earned you an honorable place in the wonderful history of this nation. You've knocked down trade barriers, opened markets, and your nation's economy has prospered. With each election your country holds, at least three this year, free ideas and opinions flourish. Under your leadership, at long last South Korea took its rightful place in the United Nations.
So, Mr. President, with many thanks for a visit that we will long cherish and long remember, I raise my glass and ask all of you to join me, a glass to peace and unification for Korea, to your leadership of the Republic of Korea, to peace and prosperity, to the wonderful people of this land that we treasure as true friends. To you, sir, Mrs. Roh. And thank you all for a magnificent time. To your health, sir.
Note: The President spoke at 7:30 p.m. at the Blue House.
George Bush, Remarks at a State Dinner Hosted by President Roh Tae Woo of South Korea in Seoul Online by Gerhard Peters and John T. Woolley, The American Presidency Project https://www.presidency.ucsb.edu/node/266409