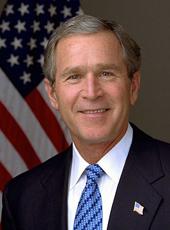 Remarks at a State Dinner Hosted by President Pervez Musharraf of Pakistan in Islamabad
Mr. President and Mrs. Musharraf and distinguished guests, Laura and I thank you for the warm and gracious welcome. It's such a pleasure to be here in Pakistan. We've had a fantastic day. I was fooled by a googly. [Laughter] Otherwise, I'd have been a better batsman. But it's been a full day, Mr. President, and your hospitality has overwhelmed us, and thank you.
I bring greetings from my fellow citizens, in particular the thousands of Pakistani Americans who call my land home, folks who have really made a tremendous contribution to the United States of America.
Our nations are strong allies, Mr. President. We're allies in the war on terror, and we're allies in laying the foundation of lasting peace. In the struggle in the war on terror, Pakistan and America has lost many good citizens. And we ask for God's blessings on their families. Pakistan's efforts to enhance peace and security have earned the respect and the admiration of the American people. When the terrorists are defeated and when the peace is won, our two nations will share the peace together.
The American people care deeply about the people of Pakistan. We watched with horror and great sorrow as last year's earthquake devastated this ancient land. Americans have experienced the trauma of natural disasters in our own country, and we've witnessed the power of friendship to rebuild lives and to restore hope. I'm proud of the U.S. relief efforts. I want to thank those officials who are here to help the people of Pakistan.
I'm pleased that our helicopters earned the name "angels of mercy" from those who were anxious for help in the mountains. I'm proud that our Government and businesses and private organizations and individual families also saw your need and gave their time and treasures to help rebuild this vital nation. Our donations reflect the compassion of our country, the respect we have for Pakistan. And we will make good on our donations, Mr. President.
America and Pakistan have confronted great challenges together, and we will continue to do so. Americans will support the Pakistani people as they take further steps toward democracy, expand educational opportunities for boys and girls, and create prosperity through innovation and global trade. Pakistan has a bright future because of its proud people and because of the hard work of a strong leader. President Musharraf, you've proved yourself to be a man of courage and vision. I appreciate the honor of being your partner in working for peace and security.
And so, Mr. President, with gratitude for what we've accomplished and with optimism for what we will yet accomplish, I offer my respect to you, to your gracious wife, and to the people of Pakistan.
NOTE: The President spoke at 8:10 p.m. at the Aiwan-e-Sadr. In his remarks, he referred to Sehba Musharraf, wife of President Musharraf. The transcript released by the Office of the Press Secretary also included the remarks of President Musharraf.
George W. Bush, Remarks at a State Dinner Hosted by President Pervez Musharraf of Pakistan in Islamabad Online by Gerhard Peters and John T. Woolley, The American Presidency Project https://www.presidency.ucsb.edu/node/214579