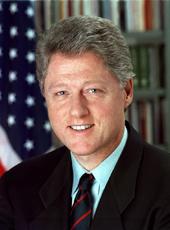 Remarks at a State Dinner Hosted by President Olusegun Obasanjo of Nigeria in Abuja
President Obasanjo, to the President of Niger, to the distinguished leaders of the legislative and judicial branches of the Nigerian Government, and all our friends from Nigeria who are here, I believe I can speak for the entire American delegation when I say thank you all for an unforgettable day.
And on a very personal basis, I want to thank you for enabling me to say something no previous American President has been able to say: It is good to be back in Africa for the second time.
I will say, Mr. President, I was very moved by your generous remarks, and I was very glad to have a Nigerian name. [Laughter] But now, you will have to give me a copy of your remarks so that when we go out tomorrow, I can introduce myself properly to the people of your country. [Laughter]
Mr. President, it's a great honor for all of us to be here. I wish that my wife could come, and your remarks indicated you understand why she could not. But I am grateful for her interest in Africa as well, and especially in the Vital Voices program that so many Nigerian women have been a part of.
We meet at a pivotal moment in your history. The long-deferred dreams of your people finally can and must be realized. I spoke about it in detail to the members of the Senate and the House today. I will only repeat that it is a daunting challenge, requiring both rigorous effort and realistic patience.
Nigeria is poised to do great things for its own people and for Africa's democratic destiny. We in the United States have long known Nigeria as an economic partner and an important supplier of energy. But now, more than ever, we and others throughout the world will know and honor Nigeria for its greatest energy resource, the people of this great nation.
We have come to appreciate it in many ways: the musical genius of King Sunny Ade; the brilliant writing of Chinua Achebe; and your Nobel laureate Wole Soyinka. We also think rather highly of the basketball feats of Hakeem Olajuwon. And we're coming more and more to appreciate the football brilliance of the Super Eagles. Indeed, every 4 years a growing number of people in the United States actually cheer for the Super Eagles in the World Cup. After all, the eagle is America's national bird, too. [Laughter] And more importantly, tens of thousands of Nigerians work and study in the United States, and we are honored to have them.
I was quite interested, Mr. President, in the presentation before your remarks showing all the similarities between you and me. I would also like a copy of that. [Laughter] I don't know if I could persuade people back home with a case without all that evidence.
For all our differences, even in a larger sense, we are not so different after all. Our Capital— Washington, DC—like yours here, was created as a compromise between North and South. Though I must say, ours took much longer to become a respectable city. And as I saw today when I addressed your legislative branch, your Government, like ours, often displays what might charitably be called a creative tension between its different branches. [Laughter] Finally, our greatest strength, like yours, comes from the fact that we are many peoples striving to work as one.
Mr. President, the hope we celebrate this evening owes much to you, for you have twice answered the call to restore civilian government. The United States will stand by a nation, any nation, and especially Nigeria, that faces its responsibility as bravely as the people of this nation have in the last few years.
We outlined today our commitments, and we will keep them, to help you economically, educationally, in the struggles against AIDS and other public health problems and the struggles to rebuild your infrastructure in our common cause to restore peace in Sierra Leone and to support Nigeria as a leader for peace throughout the continent. And we look forward to fulfilling those commitments.
I listened again to the case you made tonight, a case that I also heard from your legislative leaders this afternoon and first in our meeting this morning and, of course, even earlier when you and I first met. I will do my best to help Nigeria succeed economically. You must do so.
When Nigeria became independent in late 1960, almost 40 years ago now, the American people were also quite happy, because it was a time of great hope for us at home and around the world. We felt it in the new beginnings of President Kennedy's election and the progress of the civil rights struggle in our own country and with the crumbling of colonialism here and around the world.
We were proud that some of your early independence leaders, like Nnamdi Azikiwe, studied in America. In 1959 this is what he told an American audience. He said, "We struggle toward the same ultimate objective: to revive the stature of man so that man's inhumanity to man shall cease. Your success shall be our success, and your failure shall be our failure."
Since he said those words to Americans, there have been great achievements and profound setbacks in both our nations. But those words are as true today as they were when they were spoken. And today, we have the best chance since the early 1960's to make them come true.
And so tonight Mr. President and all our distinguished Nigerian friends, let me repeat your hero's words back to you: Now and forever, your success shall be our success.
I ask you to join me in a toast to the President of Nigeria and to the people of Nigeria, to the success of the democratic experiment here, to the friendship between our peoples, and to our common commitment to seize the future together.
[At this point, the President offered a toast.]
NOTE: The President spoke at approximately 8:30 p.m. at the International Conference Center. In his remarks, he referred to President Mamadou Tandja of Niger. The transcript released by the Office of the Press Secretary also included the remarks of President Obasanjo.
William J. Clinton, Remarks at a State Dinner Hosted by President Olusegun Obasanjo of Nigeria in Abuja Online by Gerhard Peters and John T. Woolley, The American Presidency Project https://www.presidency.ucsb.edu/node/228527