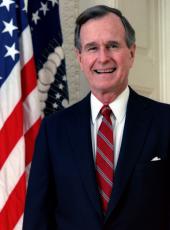 Remarks at a State Dinner Hosted by Emperor Akihito of Japan in Tokyo
Your Imperial Majesties and honored guests, on behalf of the American people, we wish to thank you for the warmth of this reception and for your tireless efforts in support of the relationship between our two great nations.
The United States and Japan today stand on the threshold of a new era of cooperation in which our nations seek to build a new world of freedom and democracy. The task before us is daunting, one which will require vision and courage. But it is one from which we cannot shrink. Too much depends on us.
As leaders of this new world, we face several challenges together, addressing the new security requirements of a changed world, promoting freedom and democracy, and generating world economic growth and prosperity.
Tonight, we celebrate the essence of this new world order and the opportunity to be true partners in its construction. We see how former enemies can become close allies and friends, real friends, each supporting, competing, growing, dreaming. Each understands that we must resolve our differences fairly and constructively.
Our people both believe in work, community, faith, and family. We know how democracy supports the cause of peace among nations. We realize that although half a world may separate us, great ties unite us, ties that are economic and military, moral, and intellectual.
Your Majesty, the name you have chosen for your reign can be translated as "achieving peace." That choice signifies your deep personal commitment to this noble aspiration and your resolve not to revisit the tragedies of the past. We are now closer to achieving the blessings of peace than we have been at any time in this century.
When the great Japanese novelist Kawabata received the Nobel Prize in literature, the citation praised him for "building a spiritual bridge spanning East and West." In this changing world where the walls that once divided whole nations from each other are crumbling, we all must become both bridges to and partners in a new world order.
In that spirit and with heartfelt thanks, Your Majesty, for your wonderful hospitality, I ask all of your guests to raise their glasses. To your health, sir, and to the bridge of friendship and common purpose uniting our countries, to those who built it and cross it still, and to the prosperity of our two great peoples.
Note: The President spoke at 8:10 p.m. at the Imperial Palace.
George Bush, Remarks at a State Dinner Hosted by Emperor Akihito of Japan in Tokyo Online by Gerhard Peters and John T. Woolley, The American Presidency Project https://www.presidency.ucsb.edu/node/266466