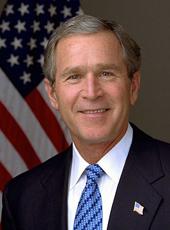 Remarks at a State Dinner Honoring Prince Charles and Duchess Camilla of the United Kingdom
The President. Your Royal Highness, it is a great honor for Laura and me to host you and Her Royal Highness the Duchess of Cornwall at the White House. Your visit is a reminder of the unique and enduring bond between the United Kingdom and the United States. Americans know that we have no greater friend than the United Kingdom. And it's my sincere hope that the United Kingdom knows it has no greater admirer than the United States.
Our nations are intimately linked through deep historical and cultural ties, through active commercial and political bonds, and through shared values. Nowhere are those shared values more nobly expressed than in our common commitment to expanding freedom in this world.
In the first part of the 20th century, our nations stood together to ensure that fascism did not prevail in Europe. In the second half of the 20th century, we worked tirelessly to defeat the totalitarian ideology of communism. And today, we're fighting side by side against an ideology of hatred and intolerance to ensure that the 21st century will be one of liberty and hope.
The people of the United States draw great strength from having the United Kingdom as an ally. The nation that defied bombardment from the air in 1940 once again refused to cower when its people were bombed from underground this summer. Your courage and fortitude are an inspiration to people throughout the world.
Just as Britain is a leader in the effort to spread freedom and opportunity abroad, Your Royal Highness is a leader in creating greater opportunity at home. Your compassion and charitable efforts such as the Prince's Trust continue to help more of Britain's young people and entrepreneurs pursue their dreams in life.
Your Royal Highness, your generous spirit, your steadfast leadership, and your devotion to your people are an inspiration. Laura and I are honored to have you and Her Royal Highness as guests this evening, and I'd now like to offer a toast to the enduring friendship between the United Kingdom and the United States.
Prince Charles. Mr. President, Mrs. Bush, ladies and gentlemen, can I just say what a joy it is for both my wife and myself to be with you here in the White House. It brings back many fond and happy memories of my first visit here with my sister. I think it was in 1970, when we came to stay at the White House for the weekend with President and Mrs. Nixon, at the time when the media were busy trying to marry me off to Tricia Nixon. [Laughter] And it's very interesting to see the same sort of thing happening to my eldest son. [Laughter] So it seems to be an entirely hereditary feature. [Laughter]
Mr. President, Sir Winston Churchill, whose mother was, of course, American, and whose bust you have in a place of honor in the Oval Office, once said, after one of his 16 visits to the United States over some 66 years, "The friendliness of the Americans to the traveler from Britain, their unfailing kindness, their generous hospitality are something to marvel at." Well, nothing has changed, Mr. President. We have both most certainly experienced the same generosity and friendliness since our arrival yesterday. And this has been the case on every previous visit I have ever made to this remarkable country.
It is an indication, if I may say so, Mr. President, of how very important and special our close, warm, and enduring relationship with the United States of America is to all of us in the United Kingdom. Our two nations have much in common. We share so much history and tradition, language and culture, and a commitment to democracy and liberty. These enrich the spirit and are founded on those greatest of all gifts—friendship and loyalty.
On Friday, we will meet veterans of our struggle together against evil and tyranny in the Second World War. The selfless service that our parents' generation gave, including, of course, both our fathers—and how wonderful it is, if I may say so, to see President Bush 41 here this evening— and the selfless service that we commemorate in this 60th anniversary year will always stand as a measure of the commitment, courage, and comradeship of our two great nations.
On Thanksgiving Day in 1944, while we were Allies in arms in that global struggle, Sir Winston Churchill looked forward to what he called "a lasting union of sympathy and good feeling and loyalty and hope between all the British and American peoples." Well, that is a vision all of us here share.
And, indeed, that lasting union of sympathy has been so amply demonstrated in our own day when we shared with you the full horror of September the 11th, 4 years ago, and more recently, when following the terrorist attacks in London, so many of us in the United Kingdom were profoundly touched by the many messages of steadfast support and solidarity from across the United States.
But our visit is not focused only on the misfortunes that have united our nations. We were particularly pleased to have had the chance this afternoon to go with Mrs. Bush to the inspiring SEED School in Anacostia, a school that offers young people from underprivileged backgrounds the chance to fulfill the potential that each person has. And this, incidentally, is what my Prince's Trust has been seeking to do for very nearly 30 years in the United Kingdom, and which has led to over half a million young people being assisted to develop their individual talents and abilities.
And, Mr. President, I am also very conscious of the extraordinary social progress this country has achieved. On the day Rosa Parks is laid to rest, there is a powerful message, I think, here about tolerance and inclusion that has relevance for the whole international community.
My wife and I are deeply grateful to you, Mr. President, and Mrs. Bush for your generous hospitality towards us, but more so, as I am only too conscious of the enormous challenges and responsibilities which face the 43d President of the United States. And I need hardly say that so many people throughout the world look to the United States of America for a lead on the most crucial issues that face our planet and, indeed, the lives of our grandchildren. Truly, the burdens of the world rest on your shoulders.
In conclusion may I propose a toast to you, Mr. President, to Mrs. Bush, and to the people of the United States of America.
[At this point, the President and Prince Charles offered a toast.]
NOTE: The President spoke at 7:55 p.m. in the State Dining Room at the White House.
George W. Bush, Remarks at a State Dinner Honoring Prince Charles and Duchess Camilla of the United Kingdom Online by Gerhard Peters and John T. Woolley, The American Presidency Project https://www.presidency.ucsb.edu/node/211892