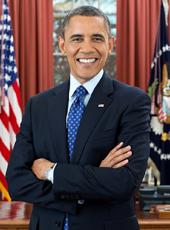 Remarks at a State Dinner Honoring Prime Minister Shinzo Abe of Japan
President Obama. Well, Michelle and I are honored to welcome you to the White House as we host our friends, Prime Minister and Mrs. Abe, and as we celebrate the enduring alliance and great friendship between the United States and Japan.
I want to begin by paying tribute to two leaders in their own right, and I know Shinzo agrees: two women who are passionate about the causes they believe in, who speak their minds, who are better dancers than us—[laughter]—and an inspiration to so many women and girls, including the students they met today. And I have to say, the First Lady is more responsible for the beautiful room tonight than I am. So thank you, Michelle and Akie.
On my last visit to Tokyo, the Prime Minister and I went to what is reputed to be the best sushi place in Tokyo. [Laughter] And I have to confess that you could not have the sushi if you did not have some excellent sake to go with it. [Laughter] Michelle just revealed that today, on her recent visit to Tokyo, she and Mrs. Abe also indulged in sake. So tonight we're breaking with tradition a little bit and serving sake from Shinzo's home Prefecture of Yamaguchi. And please enjoy yourselves, but not too much. [Laughter]
It's appropriate that we have a Japanese theme to our dinner this evening. This morning I mentioned the Japanese Americans who were such important friends and parts of my community in my youth in Hawaii. And tonight I'm thinking about one of them in particular, a man who called himself Freddy, who ran a small market near our house. And he became great friend of my grandfather's. And part of the reason he was such a great friend is because he saved us the best cuts of tuna and toro for sashimi, and then, he'd also slip in some rice candy with edible wrappers, which was fascinating to me as a child. [Laughter] And they were small gestures, but they always remained with me as an example of how Japanese culture was woven into my upbringing and spoke to the ties of friendship and family that bring us here together tonight.
In 1957, Shinzo's grandfather, Prime Minister Kishi, addressed our Senate and our House of Representatives. He said that he hoped his visit would lead to "a strong and enduring partnership that will open the door to a new era of Japanese-American relations." Tomorrow his grandson will continue to carry our partnership forward when he makes history as the first Japanese Prime Minister to address a joint meeting of Congress.
So in honor of this historic occasion, I want to welcome all of you outstanding leaders from our two countries. You represent the friendship and the bonds that we carry forward into this new century. And in celebration of the progress that we've achieved today, I'm going to attempt a haiku. [Laughter] Here goes:
Spring, green, and friendship
United States and Japan
Nagoyaka ni!
——which means "harmonious feeling." That's certainly how I feel. I am sure that I'm the first President ever to recite a haiku. [Laughter] Basho has nothing to worry about. With that, let me propose a toast, with some sake. Be careful, people. [Laughter] To our guests, Prime Minister Abe and Mrs. Abe, to the friendship between our two peoples, and to our magnificent alliance. It does so much not just for our two countries, but for peace and prosperity in the world. May it endure for all seasons and all time. Cheers! Kanpai!
[At this point, President Obama offered a toast.]
Let me present to you the Prime Minister of Japan, Shinzo Abe.
Prime Minister Abe. Mr. President, Mrs. Obama, ladies and gentlemen, let me start by thanking you for arranging this wonderful dinner tonight. During my visit to Washington, DC, last time, I declared the revival of the alliance between Japan and the United States. Two years have passed since then, and Japan is now regaining its resilience and will continue our path together with the United States.
Today Barack and I had an excellent summit meeting in the morning. On the occasion, both of us reaffirmed how robust the alliance is and issued a joint vision statement taking into account the path of the alliance for the past 70 years, since the end of World War II. This was an extremely meaningful achievement. By working hand in hand with President Obama, we, the two nations, will continuously make proactive contribution to global peace and prosperity.
Tomorrow I will address a joint session of U.S. Congress for the first time as Japanese Prime Minister. Taking that opportunity, I would like to send out a strong message that both Japan and the United States, which once fought with each other, now achieved reconciliation; and that we will make contribution to addressing challenges that mankind faces.
I have to confess that the day before yesterday, and yesterday, I was seriously practicing the speech that I'm going to give at the joint session tomorrow. But my wife unfortunately told me that she is getting tired of listening to the speech. [Laughter] So last night we ended up in a separate room. [Laughter]
Ladies and gentlemen, the current Japan-U.S. alliance shows extremely close ties, forming a foundation for our economic growth and economic prosperity. For instance, Japan's Kawasaki Rail Car built new metro rail parts in Nebraska, which run through Washington, DC. Boeing 787 is flying everywhere in the world. And guess what, more than a third of its parts were made in Japan. Barack, you are an enthusiastic fan of sushi. And last, but not least, I have to confess something about myself too. I am one of the hardcore fans of the American TV drama, "House of Cards." [Laughter] But I would like to draw your attention to my commitment that I am not going to show this "House of Cards" to my fellow minister, Deputy Prime Minister. [Laughter] In any case, you won't find another bilateral relationship like ours.
Mr. President, Mrs. Obama, ladies and gentlemen, when the United States stands up to fight against various challenges of the world, and when Barack stands at the forefront to tackle with the variety of global challenges, you will not be alone. Next to you, there is always Japan. Japan has been and will be always standing side by side with the United States in addressing global challenges, such as the outbreak of the Ebola disease and climate change.
The partnership between Japan and the United States is simply unparalleled in building the future of Asia and the world. I know everyone here knows that famous song by Diana Ross, "Ain't No Mountain High Enough." The songs goes, "Ain't no mountain high enough; ain't no valley low enough to keep me from you." [Laughter] The relationship of Japan and the United States is just like this. [Laughter]
So with that, I'd like to propose a toast, and also I'd like to acknowledge First Lady, Mrs. Obama, for choosing the sake from Yamaguchi, where I am from.
Last year, when Barack visited Japan, we went to a very, very popular sushi restaurant. And because of the facts that the two leaders enjoyed—ordered sushi, now they become more and more popular in Japan. But there was slight—one problem that involved in this arrangement of sushi dinner together with Barack. I actually prepared one brand of sake from Hiroshima, not my district. This was actually arranged by the Minister of Foreign Affairs. And probably because of the fact that the Minister for Foreign Affairs, Minister Kishida is from Hiroshima, he intentionally chose a brand from Hiroshima instead of Yamaguchi. And because of that selection, I got so much pressure and criticism from the local people in Yamaguchi that I actually could share this wonderful story with Mrs. Obama when she visited Japan. So probably because of that selection before last year, maybe Mrs. Obama intentionally chose the brand of Yamaguchi just for this occasion.
So with that, I'd like to note the kind conservation of First Lady, Mrs. Obama, and also I'd like to acknowledge the help that I always receive from my wife Akie. And I'd like to propose a toast for good health and prosperity, as well as the further development of the Japan-U.S. relationship tonight. Kanpai!
President Obama. Kanpai!
[Prime Minister Abe offered a toast.]
NOTE: The President spoke at 8:14 p.m. in the State Dining Room at the White House. In his remarks, Prime Minister Abe referred to Deputy Prime Minister Taro Aso of Japan. Prime Minister Abe spoke in Japanese, and his remarks were translated by an interpreter. The transcript was released by the Office of the Press Secretary on April 29.
Barack Obama, Remarks at a State Dinner Honoring Prime Minister Shinzo Abe of Japan Online by Gerhard Peters and John T. Woolley, The American Presidency Project https://www.presidency.ucsb.edu/node/310553