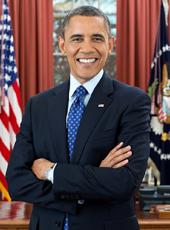 Remarks at a State Dinner Honoring President Xi Jinping of China
President Obama. Well, good evening, everyone. On behalf of Michelle and myself, welcome to the White House. President Xi, Madame Peng, members of the Chinese delegation: Once again, I want to welcome you as we honor the ties between our nations and our peoples.
In our visits to China, Michelle and I have experienced the traditions, the culture, the cuisine of a civilization that spans thousands of years. And I understand that in China there's a saying, "Food is heaven." [Laughter] I dare not stand in the way of the divine, so I will be brief. [Laughter]
Today President Xi and I agreed to expand our cooperation between our two nations. I know that some—in both countries and around the world—question whether we can sustain the cooperation that we need and the world needs. I think we can draw encouragement from the ties that have long connected our peoples.
I think of the American airmen during the Second World War who went down over China. Chinese villagers sheltered them, fed them, clothed them, and treated their wounds. And decades later, one Chinese man said of the American he saved: "He is like the thumb on the hand . . . and I am like the finger. . . . We are brothers together."
I think of the ties that are forged every single day and that we've worked to expand in our work today: American tourists in China visiting the Forbidden City and the Great Wall, Chinese tourists visiting our Statue of Liberty and Independence Hall, our students who cross the Pacific to learn from each other, our scientists who discover new treatments together, our health workers who fought Ebola together.
There will be times where there are differences between our two countries. That's inevitable. There will be times where our interests entirely overlap. But what I think will be sustaining is the friendship between our peoples, the foundation of the ties between our nations. And just as you say in China that a "sea accepts a hundred rivers," our countries together are stronger as—when we accept the diversity and the views and contributions and uphold the rights of all of our peoples.
And so I propose a toast: To the people of China and the people of the United States, may they work together, like fingers on the same hand, in friendship and in peace. Ganbei!
[At this point, President Obama offered a toast.]
President Xi. Mr. President and Mrs. Obama, ladies and gentlemen, dear friends: Good evening. It gives me great pleasure to attend this grand dinner. On behalf of the Chinese delegation and in the name of my wife and myself, I wish to extend heartfelt thanks to you, Mr. President, and to Mrs. Obama.
I also extend my cordial greetings to all the friends present and, through you, to all those across American society who take a strong interest in China-U.S. relationship and support its growth. My state visit to the United States is an unforgettable journey. From the West Coast to the East Coast, what strikes me most is that the American people have a lot of good will toward the Chinese people. And they hope much more can be accomplished through enhanced China-U.S. cooperation. I want to assure you that such good will is fully reciprocated by the Chinese people.
Since yesterday evening, I have had three meetings with President Obama. We had candid and in-depth exchange of views on China-U.S. relations and the major issues that are vital to world peace and development. And we reached broad and important agreement. Our discussion has yielded many positive outcomes.
Thirty-six years ago, during his visit to the United States, Mr. Deng Xiaoping predicted that China-U.S. relations would make major progress under new, historical conditions. Bracing against wind and rain, our relations have forged ahead and have made extraordinary achievements in the past 30 years and more. I am convinced that the future of U.S.-China relations will be even more bright.
This morning my wife and Mrs. Obama visited the panda house at the National Zoo. [Laughter] She later told me that she was deeply touched by the American kids' love of panda and their curiosity about and a fondness for China, the home of panda. My wife said at the event, the seeds of China-U.S. friendship have already taken root in the hearts of the kids. I cannot agree more with her.
Mr. President and Mrs. Obama, ladies and gentlemen, dear friends, as an ancient Chinese saying goes: "Only those who take actions can achieve their goal. Only those who stride forward can reach their destination." President Abraham Lincoln once said, "The best way to predict the future is to create it." Let us continue to respect and learn from each other, turn our blueprint into reality, and write in a creative way a new, historic chapter in China-U.S. relations.
In closing, let me propose a toast: To the friendship between Chinese and American peoples, to the prosperity of China and the United States and the happiness of our two peoples, and to the health of President and Mrs. Obama and all the friends present. Cheers!
[President Xi offered a toast.]
NOTE: The President spoke at 8:19 p.m. in the State Dining Room at the White House. In his remarks, he referred to Peng Liyuan, wife of President Xi. President Xi spoke in Chinese, and his remarks were translated by an interpreter.
Barack Obama, Remarks at a State Dinner Honoring President Xi Jinping of China Online by Gerhard Peters and John T. Woolley, The American Presidency Project https://www.presidency.ucsb.edu/node/310685