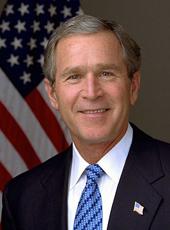 Remarks at a State Dinner Honoring President Vicente Fox of Mexico
It's my honor to offer a toast to the— our guests from Mexico. After I do so, President Fox will offer a toast, and then Cardinal Mahony of Los Angeles, California, will offer to bless the meal.
Mr. President and Mrs. Fox, on behalf of the American people, Laura and I welcome you to the United States and to the Casa Blanca. [Laughter]
This is not only a state dinner; it's like a family gathering. The most important ties between your country and mine, Mr. President, go beyond economics and politics and geography. They are the ties of heritage, culture, and family. This is true for millions of Mexican and American families, including my own.
The Mexican people have changed and enriched America. Together, our nations are now working to strengthen the Americas. A long border lies between us, but it does not divide us. Nearly one million people cross that border every day; a quarter-trillion dollars worth of trade crosses it every year. Because of the visionary NAFTA agreement of 1994, the trade between us crosses in ever greater freedom. That's a benefit to both our peoples and a model to the world.
A sound foreign policy begins by ensuring the safety and security of the neighborhood we share. A good neighborhood is made by good neighbors. And good neighbors work as we are working, with shared obligations and mutual respect.
Mr. President, you and I are keeping the pledges we made in Guanajuato this past winter to expand the freedom of trade, to build an equitable prosperity, and to honor the rule of law.
We have before us a great prospect, an era of prosperity in a hemisphere of liberty. In this task, our cooperation is broad and unprecedented. Our sense of trust is strong, and it's growing.
A century and a half ago, another occupant of this house, Abraham Lincoln, paused in the darkest hour of this country's history to send a word of hope to Mexico. Lincoln knew how closely the fates of our two countries were linked. And he never lost faith in the character of our two people. In April of 1861, he directed his Secretary of State to tell Mexico of his high respect for the heroism of their people, and above all, their inextinguishable love of civil liberty.
My message to the Mexican people is the same. The respect of my Nation endures, and it deepens. The United States has no more important relationship in the world than our relationship with Mexico. Each of our countries is proud of our independence, our freedom, and our democracy. We are united by values and carried forward by common hopes.
And so, Mr. President, speaking friend to friend, partner to partner, neighbor to neighbor, I offer a toast to you, to your gracious wife, and to your great nation.
NOTE: The President spoke at 8:30 p.m. in the State Dining Room at the White House. In his remarks, he referred to Roger Cardinal Mahony, Archbishop of Los Angeles; and Martha Sahagun de Fox, wife of President Fox. The transcript released by the Office of the Press Secretary also included the remarks of President Fox.
George W. Bush, Remarks at a State Dinner Honoring President Vicente Fox of Mexico Online by Gerhard Peters and John T. Woolley, The American Presidency Project https://www.presidency.ucsb.edu/node/212404