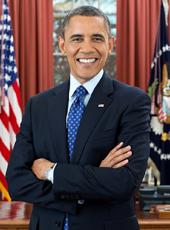 Remarks at a State Dinner Honoring President Sauli Niinistö of Finland, Prime Minister Erna Solberg of Norway, Prime Minister Stefan Löfven of Sweden, Prime Minister Lars Løkke Rasmussen of Denmark, and Prime Minister Sigurður Ingi Jóhannsson of Iceland
President Obama. Good evening, everyone. On behalf of Michelle and myself, welcome to the White House. And welcome to this very special dinner as we celebrate the great ties and longstanding friendship between the United States and our five Nordic partners.
Please join me in welcoming President Niinistö and Mrs. Haukio of Finland, Prime Minister Solberg and Mr. Finnes of Norway, Prime Minister and Mrs. Löfven of Sweden, Prime Minister and Mrs. Rasmussen of Denmark, and Prime Minister Jóhannsson and Mrs. Ingjaldsdóttir of Iceland.
Now, we all know that our Nordic friends share a pride in their common Viking heritage. But I think we can all admit that the Vikings could be a little rough. [Laughter] They didn't always have the best manners at the dining table. [Laughter] Their outfits were not always appropriate. [Laughter] But times have changed, and tonight our Nordic friends are much better behaved. [Laughter] We are honored to have you here. And as you can see from our decor, winter is coming. [Laughter]
This evening we have three toasts. So I'm going to be brief. And I don't want things to get out of hand. One of the great Old Norse poems, the Hávamál from Iceland, offered advice on how to welcome a guest, sort of like a Miss Manners for Vikings. [Laughter]
Less good than they say for the sons of men
Is the drinking oft of ale
For the more they drink the less they can think
And keep a watch o'ver their wits. [Laughter]
Good advice. It's perhaps easier said than done. It is true that our Nordic friends have a reputation today, unlike the past, for modesty and propriety. But don't let them fool you. In these Nordic countries, things actually can get a little wild. I understand that in Norway, for example, one of the big hits on TV is—[laughter]—"National Firewood Night." [Laughter] This is true. A video of logs burning for hours—[laughter]—and hours and hours. That's crazy. [Laughter] Another show involved a video camera being strapped to the front of a train, so viewers could watch the rails for 7 hours. [Laughter] This sounds like riveting entertainment. [Laughter]
So we're not going to do anything that crazy tonight. [Laughter] But we are grateful for our friendship with the Nordic peoples, even if we do sometimes get a little jealous about how perfect they seem to be.
If you've visited any of these Nordic countries, everything is orderly. Everything is clean. Everybody is well behaved. It even prompted a best selling book called "The Almost Nearly Perfect People." But there were some shockers. Apparently, Nordic countries can sometimes get into heated arguments about which country is happiest. [Laughter] They also do get into arguments about who has the better hockey players, until America steals them away. [Laughter] And they also have arguments about who has the honor of being the true hometown of Santa Claus. So these are fierce debates that take place among our Nordic friends. [Laughter]
But our work today actually does remind us of why we so value our Nordic partners so much. In each other, we find those who we work with in pursuit of common values that we cherish the most. We stand together so that citizens can live in security and peace. We labor so our economies can create opportunity where prosperity goes not just to the top, but to the many. Together, we're on the forefront of the fight against climate change, to preserve our glaciers, our fjords, to protect indigenous peoples of the Arctic. And in our own countries and around the world, we stand for the dignity and equality of all people.
And many of our Nordic friends are familiar with the great Danish pastor and philosopher Grundtvig. And among other causes, he championed the idea of the folk school: education that was not just made available to the elite, but to the many; training that prepared a person for active citizenship that improves society. Over time, the folk school movement spread, including here to the United States. And one of those schools was in the State of Tennessee; it was called the Highlander Folk School.
At Highlander, especially during the 1950s, a new generation of Americans came together to share their ideas and strategies for advancing civil rights, for advancing equality, and for advancing justice. We know the names of some of those who were trained or participated in the Highlander School: Ralph Abernathy, John Lewis, Dr. Martin Luther King, Jr. They were all shaped, in part, by Highlander and the teachings of a great Nordic philosopher. And they ended up having a ripple effect on the civil rights movement and ultimately on making America a better place. We would not have been here had it not been for that stone that was thrown in a lake and created ripples of hope that ultimately spread across an ocean to the United States of America. And I might not be standing here were it not for the efforts of people like Ella Baker and others who participated in the Highlander Folk School.
So that's just one small measure of the enormous positive influence that our Nordic friends have had on our country. It's part of the reason why we so value their friendship. I've said before—and I will repeat—they punch above their weight. And their values, their contributions not just to making their own countries function well, but making the whole world a better place makes them one of our most valuable partners everywhere in the world. And we are very grateful for the outstanding work that they do.
So I propose a toast: To the friendship between us and the values that we share. May our nations keep standing together and bending that arc of the moral universe in the direction of justice and peace and equality for all. Skål! Cheers!
[At this point, the President offered a toast.]
And with that, I want to welcome Prime Minister Jóhannsson of Iceland, to be followed by Prime Minister Rasmussen of Denmark.
Prime Minister Jóhannsson. Mr. President, Mrs. Obama, let me begin by expressing my pleasure of being here tonight, for your gracious hosting of the Nordic leaders and for the warm welcome you have extended to Iceland. We are honored to be here as allies, as partners, and most importantly, as friends of the United States. We bring with us the warm greetings and good wishes of our people. Relations between Iceland and the United States have always been strong. Our initial and ongoing defense partnership has blossomed into a broad friendship that includes deep commercial, academic, and cultural ties. And yes, that does sometimes include artists in swan dresses. [Laughter]
Our friendship is based on solidarity and cooperation on some of today's most complex problems. Building on our 2013 meeting in Stockholm at today's summit, I am pleased, we have recognized the excellent Nordic-U.S. cooperation and shared achievements. I'm also pleased that we have committed in our joint statement to further deepen and broaden our cooperation on several key international issues.
Our world views and interests align. We share the same values: respect for freedom and democracy, an unshakeable commitment to justice, human rights, and the rule of law. We are committed to the principles of gender equality and women's empowerment. We work together for peace and security.
As we near the end of your time in office, Mr. President, I would like to use this opportunity to commend your leadership, not least on the challenges of climate change, the conclusion of the Paris climate agreement, and on the Arctic.
The population of Iceland is a thousand smaller—a thousand times smaller than that of the United States. As you might expect from Viking-descended Northmen, we do not hide behind our apparent lack of superpower status. [Laughter] What we lack in manpower we make up in volcanoes. [Laughter] We are still figuring out how to aim them—[laughter]—however, so bear with us. [Laughter]
Ladies and gentlemen, I would like to propose a toast: To the President, to the First Lady, to the people of the United States of America, and to the enduring friendship between our peoples. Skål!
[Prime Minister Johannsson offered a toast.]
Prime Minister Rasmussen. Mr. President; First Lady; dear colleagues from my neighboring countries; distinguished guests; ladies and gentlemen: "Once, I was 7 years old, my mama told me, go make yourself some friends or you'll be lonely." [Laughter] Those lyrics are from the Danish singer Lukas Graham's number-one hit song here in the U.S. And I'm a lucky guy because my predecessors didn't wait for this song to be released before they actually followed this advice.
And therefore, I'm so privileged and happy to be here tonight, surrounded by friends from the Nordic countries, but first and foremost, you, Mr. President, and your fantastic and dedicated wife, Michelle, and all of your fellow Americans. The United States is truly one of Denmark's closest friends.
The first time you invited me into the Oval Office, Mr. President, you said that Denmark is punching above our weight. It made me proud. It made us Danes feel a little special. Now, some 6 years later, I understand that not only Denmark, but all the Nordic countries punch above our weight. [Laughter] But nevertheless, I'm still proud. [Laughter]
And I truly believe the same goes for my colleagues. So you can count on us. And you know that. And that's probably why we are all invited here tonight, because we punch above our weight. And we will continue to do so. And after tonight's splendid dinner, we will definitely step up into a whole new weight class. [Laughter] The ties between the United States and the Nordics are strong and go way back. As you said, Nordic Vikings cross the Atlantic centuries ago and discovered amazing America. And ever since, millions have—and ever since, millions left our rainy and windy countries looking for a new start in America. Many of them settled in Minnesota. [Laughter] I guess the weather there made them feel right at home. [Laughter] And the Nordic settlers took part in making America bright and beautiful.
Scarlett Johansson, of Danish descent, is just a living proof of that. [Laughter] And the Swedes and the Finns and the Icelanders did their part too, contributing to the gene pool that gave you Julia Roberts, Matt Damon, and Uma Thurman. And the Norwegians, well, they gave you Karl Rove—[laughter]—among many other things. [Laughter]
So I guess it's true to say that we have had a certain impact on America—[laughter]—in many different ways. So the good question is, can we Nordics still contribute to America? And the answer is a simple as it is famous: Yes, we can!
Nordic architects like Bjarke Ingels contribute to transforming American cities with projects like the New York Dryline and the redesign of the Smithsonian here in Washington, based on a vision of making urban areas more livable, smart, and sustainable. Both the U.S. and the Nordic countries try to set positive standards for the world of tomorrow, taking the lead, so to speak.
And speaking of taking the lead, speaking of leadership, it is easy to see the importance and value of your leadership, Mr. President. So without interfering in American politics, I can truly and without a doubt say that you have been the best President Europe never had.
Now your Presidency is coming to an end. And I have something to admit. I'm very fond of Donald too. [Laughter] I support him as a President. He's really smart, shows great leadership skills, a true visionary. And I'm, of course, talking about Donald Tusk, our Polish President of the European Council. [Laughter] Which, in your absence, is the best President Europe could have. [Laughter]
Well, being a role model is not always easy, so I've heard. But you, Mr. President, have come to represent a dream for millions of Americans and people across the world. We share a common vision of securing good, affordable health care to all. And I greatly respect your achievement in this regard. Your leadership was also key to the Paris Agreement on climate change last year. And we continue—well, both of us were disappointed after Copenhagen, but then, we worked hard, and finally, in Paris, we succeeded. And we continue our work together on the green transition.
And recently, Mr. President, you swept the White House in the rainbow colors. Being the first country on Earth to allow same-sex partnership, Denmark admires and supports your fight for diversity and equal rights.
Nevertheless, your Presidency is slowly coming to an end. So Congress will probably try to block both of your initiatives in the time to come. I guess that can be frustrating. Believe me, being leader of a very small minority Government, I know that from personal experience. [Laughter] And if I may, allow me to give you a piece of personal advice. When I get too frustrated, I let off steam by cooking. [Laughter] And I can recommend that. And if you do take my advice, I think you could be inspired by the new Nordic cuisine. It already involves edible rarities such as moss, bark, and living ants. [Laughter] But maybe you could be helpful in our search for a recipe for lame duck. [Laughter] Mr. President, you are a great friend and ally. Sólrun and I will always be very happy to welcome you and your family in Copenhagen. And Denmark would, as all the Nordic countries, I believe, be honored to receive one of the most inspirational and charming figures in America—along with her husband, of course. [Laughter]
So, dear Michelle, dear Mr. President, ladies and gentlemen, let me propose a toast for the strong relations between our nations, the very special cross-Atlantic friendship between U.S. and the Nordic countries. To friendship. Skål! Cheers!
[Prime Minister Rasmussen offered a toast.]
President Obama. The dinner is now served. But I think we've just identified the next comic for the White House Correspondents' dinner. [Laughter]
Enjoy, everybody. Thank you!
NOTE: The President spoke at 8:54 p.m. on the South Lawn at the White House. In his remarks, he referred to Rep. John R. Lewis. Prime Minister Jóhannsson referred to musician and actor Björk Guðmundsdóttir. Prime Minister Rasmussen referred to musician Lukas Graham Forchhammer; actors Scarlett Johansson, Julia Roberts, Matt Damon, and Uma Thurman; and Karl Rove, former Deputy Chief of Staff and Senior Adviser to President George W. Bush.
Barack Obama, Remarks at a State Dinner Honoring President Sauli Niinistö of Finland, Prime Minister Erna Solberg of Norway, Prime Minister Stefan Löfven of Sweden, Prime Minister Lars Løkke Rasmussen of Denmark, and Prime Minister Sigurður Ingi Jóhannsson of Iceland Online by Gerhard Peters and John T. Woolley, The American Presidency Project https://www.presidency.ucsb.edu/node/317282