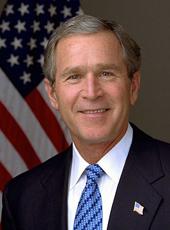 Remarks at a State Dinner Honoring President Gloria Macapagal-Arroyo of the Philippines
Welcome. Madam President, Attorney Arroyo, it is a high honor for Laura and me to welcome you and host you at the White House. Madam President, I know you attended college here in Washington, so perhaps I ought to say welcome back or, as they say at Georgetown, Hoya Saxa. [Laughter]
With your visit, the Philippines and the United States affirm our strong friendship, our common commitment to fighting terror, and our shared determination to promote freedom.
Our nations are natural partners. We are connected by an ocean, united by a shared history, and sustained by the bonds of family and culture. More than 2 million Americans have family ties to the Philippines. And some are with us tonight, and you're welcome. Filipino Americans strengthen America's culture, our economy, and our Government. And we are privileged that they call this country their home.
The United States and the Philippines are also joined by common values, especially the value of human freedom. And when freedom comes under attack, our countries respond.
Madam President, you've been a fierce fighter of terrorism in your own country. You've earned the respect of the American people for your resolve. And after September the 11th, you were one of the first leaders to contact me and express your strong support for the war against terror, and you have not wavered.
The President was also a strong and persuasive voice on the need to disarm Saddam Hussein and to liberate the Iraqi people.
Madam President, for your leadership and for your friendship, I thank you.
Seventeen years ago, the Filipino people restored their nation's democratic tradition and inspired lovers of freedom across the globe. In the years since, the Philippines has emerged as a stronger and more confident nation. The Philippines is building its prosperity on the foundation of markets and building its future on a foundation of democracy. These commitments are opening new opportunities for the Filipino people and setting a hopeful example for other nations traveling the road to freedom.
President Arroyo is playing a large role in her nation's success. Her bold and determined leadership has opened a new chapter in the friendship between our countries and is responsible for revitalizing our strong alliance.
In his last poem, Jose Rizal, one of the founders of the Filipino independence, referred to his native land as the "Pearl of the Orient Seas." More than a century later, this "pearl" is admired the world over for its beauty, its progress, and its wonderful people.
Madam President, it will be my pleasure to visit the Philippines later this year, with you as my host. And Laura and I and the American people are honored to have you and your husband as our guests here tonight. Would you please join me in a toast to the enduring friendship between the Philippines and the United States.
NOTE: The President spoke at 8:33 p.m. in the State Dining Room at the White House. In his remarks, he referred to Jose Miguel Arroyo, husband of President Macapagal-Arroyo; and former President Saddam Hussein of Iraq. The transcript released by the Office of the Press Secretary also included the remarks of President Macapagal-Arroyo.
George W. Bush, Remarks at a State Dinner Honoring President Gloria Macapagal-Arroyo of the Philippines Online by Gerhard Peters and John T. Woolley, The American Presidency Project https://www.presidency.ucsb.edu/node/216092