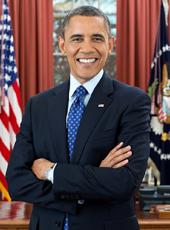 Remarks at a State Dinner Honoring Chancellor Angela Merkel of Germany With the Presidential Medal of Freedom
The President. Good evening. Guten Abend. Michelle and I are honored to welcome you as we host Chancellor Merkel, Professor Sauer, and the German delegation for the first official visit and state dinner for a European leader during my Presidency.
Angela, you and the German people have always shown me such warmth during my visits to Germany. I think of your gracious hospitality in Dresden. I think back to when I was a candidate and had that small rally in Berlin's Tiergarten. [Laughter] So we thought we'd reciprocate with a little dinner in our Rose Garden.
Now, it's customary at these dinners to celebrate the values that bind nations. Tonight we wanted to do something different. We wanted to pay tribute to an extraordinary leader who embodies these values and who's inspired millions around the world, including me, and that's my friend Chancellor Merkel.
More than five decades ago, in 1957, the first German Chancellor ever to address our Congress, Konrad Adenauer, spoke of his people's "will of freedom" and of the millions of his countrymen forced to live behind an Iron Curtain. And one of those millions, in a small East German town, was a young girl named Angela.
She remembers when the wall went up and how everyone in her church was crying. Told by the Communists that she couldn't pursue her love of languages, she excelled as a physicist. Asked to spy for the secret police, she refused. And the night the wall came down, she crossed over, like so many others, and finally experienced what she calls the "incredible gift of freedom."
Tonight we honor Angela Merkel not for being denied her freedom or even for attaining her freedom, but for what she achieved when she gained her freedom. Determined to finally have her say, she entered politics, rising to become the first East German to lead a united Germany, the first woman Chancellor in German history, and an eloquent voice for human rights and dignity around the world.
The Presidential Medal of Freedom is the highest honor a President can bestow on a civilian. Most honorees are Americans; only a few others have received it, among them Pope John Paul II, Nelson Mandela, and Helmut Kohl. So please join me in welcoming Chancellor Merkel for the presentation of the next Medal of Freedom.
[At this point, Maj. Reginald McClam, USMC, Marine Corps Aide to the President, read the citation, and the President presented the medal.]
The President. You can all applaud. [Laughter]
[Chancellor Merkel moved to the podium, but the President then returned to the podium and continued his remarks as follows.]
I've got to do the toast. [Laughter] I want to conclude by inviting all of you to stand and join me in a toast. And I want to do so with the words that Angela spoke 2 years ago when she became the first German leader to address our Congress since Chancellor Adenauer all those decades ago.
Her words spoke not only to the dreams of that young girl in the East, but to the dreams of all who still yearn for their rights and dignity today: To freedom, which "must be struggled for, and then defended anew, every day of our lives."
Cheers. Zum Wohl.
[Chancellor Merkel then gave brief remarks.]
Note: The President spoke at 7:31 p.m. in the Rose Garden at the White House. In his remarks, he referred to Joachim Sauer, husband of Chancellor Merkel; former President Nelson R. Mandela of South Africa; and former Chancellor Helmut Kohl of Germany. The transcript released by the Office of the Press Secretary also included the remarks of Chancellor Merkel.
Barack Obama, Remarks at a State Dinner Honoring Chancellor Angela Merkel of Germany With the Presidential Medal of Freedom Online by Gerhard Peters and John T. Woolley, The American Presidency Project https://www.presidency.ucsb.edu/node/290428