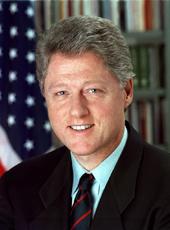 Remarks at a State Dinner for President Nelson Mandela of South Africa
President Mandela, members of the South African delegation, distinguished guests, my fellow Americans. Mr. President, the American people welcome you to the White House on this, the occasion of your first state visit to the United States. You've been an inspiration to the American people. You have been a genuine inspiration to the American people and to freedomloving people around the world, people who still marvel at the price you paid for your conviction, a conviction that our country embraces but still struggles to live up to, the conviction that all men and women are created equal and therefore ought to have a chance to live up to the fullest of their God-given potential and to have an equal say in the affairs of their land.
Your captivity symbolized the larger captivity of your nation, shackled to the chains of prejudice, bigotry, and hatred. And your release also freed your nation and all its people to reach their full potential, a quest too long and so cruelly denied.
But your story, thankfully, for all South Africans and for the rest of us as well, does not end with your freedom; it continues into what you have sought to do with your freedom. Because you've found within you the strength to reconcile, to unite, to make whole a country too long divided, you are giving real life to the magnificent words that begin the Freedom Charter you helped to draft nearly 40 years ago: "South Africa belongs to all who live in it, black and white."
Now, instead of focusing on the past 342 years, when South Africa did not belong to all who lived in it, you are building a future of trust and tolerance. White South Africans might have fled in fear of retribution, but instead, they have had the courage to stay and to join you in building a new future for all the people of your land. I would say to a world too often torn apart by racial and ethnic and religious strife: Watch South Africa as it comes together, and follow South Africa's example.
As an American, and as a child of the southern part of our country who grew up in a segregated environment and saw firsthand its horror and its debasement of all of us who lived in it, I must add that, as you well know, Mr. President, your presence here has special significance for Americans. We have been especially drawn to the problems and the promise of South Africa. We have struggled, and continue to struggle, with our own racial challenges. So we rejoice, especially, in what you have accomplished, and we hold it out. And as we hold it out as an example to others, so we also hold it out as an example to ourselves.
Mr. President, I know how proud you are to have your daughter, Zinzi, with you on this trip, and I am proud to have her as my dinner partner tonight. I know that during your years in captivity you were a prodigious letter writer and your daughter was one of your favorite correspondents, not least because of her own writing talent. In one letter, written from your cell at Robben Island Prison, you counseled her as follows: "While you have every reason to be angry with the fates for the setbacks you may have suffered from time to time, you must vow"—excuse me. Let me read it again; it's so beautiful, it shouldn't be marred by my voice. "While you have every reason to be angry with the fates for the setbacks you may have suffered from time to time, you must vow to turn those misfortunes into victory. There are few misfortunes in this world you cannot turn into personal triumph if you have the iron will and the necessary skill."
President Mandela, you have shown us the iron will and the necessary skill. And I might add, you have done it with genuine compassion for others. We are honored by your presence here. We are honored by the promise that your leadership offers your country. We are committed to your success and proud of the partnership we have already established.
And so I ask all my fellow Americans to raise their glasses to you and to all those who have led South Africa into the bright light of freedom.
NOTE: The President spoke at 8:50 p.m. in the East Room at the White House.
William J. Clinton, Remarks at a State Dinner for President Nelson Mandela of South Africa Online by Gerhard Peters and John T. Woolley, The American Presidency Project https://www.presidency.ucsb.edu/node/218231