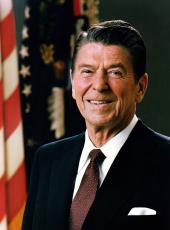 Remarks on St. Patrick's Day at the Irish Embassy
The President. Foreign Minister Barry and Ambassador O'Sullivan, Excellencies, on this day that is so special to all Americans, but especially to the 30 million of us that take pride in our Irish heritage, I want to thank you for the hospitality that you've again offered me here at the Irish Embassy.
Like the seeds of the shamrock, Ireland has scattered its sons and daughters to the four winds, and everywhere they've taken root they've made a unique contribution to their adopted country. Here in America the men and women whose patron saint we honor today have made an immeasurable contribution to the development of this nation. Even the White House has not been exempt from Ireland's spell. Many of our Presidents traced their roots to Ireland, and I'm proud to trace mine to Ballyporeen in County Tipperary.
And our links to Ireland are many and varied. We're grateful for the closeness of our historic heritage, just as we respect the proud independence of today's Ireland whose troops have worn the blue helmet of the United Nations in so many lands, including service today with the UNIFIL forces in Lebanon.
I've previously spoken about our concerns over the violence in Ireland and do not need to either elaborate nor in any way detract from what I and my predecessors in this office have already said, other than to emphasize again my support for a just and peaceful solution to the problems of Ireland and my strong condemnation of all acts of terrorism and violence. As I've said before, we believe that a lasting solution to the problems of Ireland can be found only in a process of reconciliation. And I again take this occasion on St. Patrick's Day to join with my fellow Americans who work and pray for an end to terrorism and violence.
The Bishop of Down and Connor, Bishop Daly, speaking at the funeral mass of Judge William Doyle, who was gunned down by the Provisional IRA on a Sunday morning as he left church in Belfast, told the assembled congregation, representing both Irish communities, "... we commit ourselves once more to work for peace and reconciliation. Our belief in peace is unshaken. Our hope for peace is irrepressible."
I'm told that in Armagh, the ecclesiastical capital of Ireland since the days of St. Patrick, that there are two great cathedrals on the hills of that town, each dedicated to St. Patrick. I understand that late last year the Archbishop of the Protestant Church of Ireland and the Primate of the Roman Catholic Church in Ireland, the incumbents of those cathedrals, came together in a spirit of brotherhood and reconciliation to jointly sponsor a town celebration dedicated to peace and harmony. It is that message that I wish my fellow Americans to hear on this St. Patrick's Day. I encourage Americans of all faiths to walk together in such a spirit of reconciliation, rejecting violence in any form.
Some few but vocal Americans believe that differences between Irishmen can only be solved by violence and intimidation. They are no friends of Ireland. They disgrace the principles for which both Ireland and America stand. I would urge my fellow Americans not to listen to such people. I know that Foreign Minister Barry joins me in calling upon people everywhere to turn away from the moral bankruptcy of the men of violence and to help or heed, instead, the call for peace and reconciliation that is the true message which St. Patrick himself first brought to Ireland.
Foreign Minister Barry. My friends, can I ask you to join with me in a toast to the President of the United States of America.
Ambassador O'Sullivan. To the President of the United States.
The President. And, Mr. Foreign Minister, Mr. Ambassador, those of Irish heritage and those not so fortunate— [laughter] —would you join me in a toast to the President and the people of Ireland.
Note: The President spoke at 2:31 p.m. in response to remarks by Irish Ambassador to the United States Tadhg F. O'Sullivan and Irish Minister of Foreign Affairs Peter Barry, who presented the President with the traditional gift of shamrocks from Ireland.
Prior to the remarks, the President spoke by telephone from the Embassy with Prime Minister Garret FitzGerald of Ireland.
Ronald Reagan, Remarks on St. Patrick's Day at the Irish Embassy Online by Gerhard Peters and John T. Woolley, The American Presidency Project https://www.presidency.ucsb.edu/node/261975