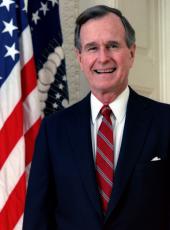 Remarks at a St. Patrick's Day Ceremony With Deputy Prime Minister Brian Lenihan of Ireland
The Deputy Prime Minister. Mr. President, it gives me great pleasure on behalf of my country, Ireland, to be present here today at the White House to present to you a bowl of shamrock from Ireland. Shamrock is the symbol of unity. St. Patrick, whose feast day we honor tomorrow, on the 17th of March, is a symbol of the values which we share with the American people. The shamrock itself, three leaves on one stem, is a symbol of unity, the essential unity between the American and the Irish peoples that has been celebrated in this manner since the time of the first President of the United States of America, George Washington.
It gives me great pleasure again to present the bowl of shamrock to President Bush.
The President. Well, Tanaiste [Deputy Prime Minister], we're delighted to have you here, you and Mrs. Lenihan. It's always good to see an old friend again. I will confess to something that I said in front of the Senate yesterday: Once you've had a glass of Guinness with a man in Ireland, as I have with Brian Lenihan, why, you're friends. And so, we're delighted to see you back here.
There is one thing all of us here -- all Americans -- are united in, and that is our desire for peace and tranquillity in Northern Ireland. We can't forget the suffering and the tragedy that plagues St. Patrick's island, and there's no place for violence in creating a new future for Northern Ireland.
Here in the United States, 43 million Americans are of Irish ancestry, and I expect many more wish that they were of Irish ancestry. And the millions of our people who share common ancestry form a bond between our nations which will never be broken. We have another bond: the beliefs and the values which hold us together as well. Ireland and America are committed to democracy, justice, and liberty.
Mention an Irish name to an American -- Colleen or Bridget, Patrick or Ronald, if you will -- Ronald as in Ronald Reagan -- and we think of the ones we know with the sparkle in their eye, the way with a story or a song that the Irish possess like no others. Your children are making Ireland young again, creating hope and opportunity for the future, rebuilding a strong economy and a peaceful existence.
So, long live the sons and daughters of Ireland, those at home and those who live here in America. And let me close with a saying of St. Patrick's: "May the wisdom of God instruct us, may the way of God direct us, and may the shield of God defend us."
Thank you, sir. God bless Ireland, and I'm so glad you came our way.
The Deputy Prime Minister. Thank you very much.
The President. Nice to see you. Brian, glad to see you again, sir.
Note: The President spoke at 9:51 a.m. in the Rose Garden at the White House.
George Bush, Remarks at a St. Patrick's Day Ceremony With Deputy Prime Minister Brian Lenihan of Ireland Online by Gerhard Peters and John T. Woolley, The American Presidency Project https://www.presidency.ucsb.edu/node/264772