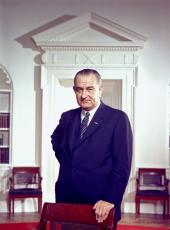 Remarks at St. Louis University
Father Reinert, Ambassador and Mrs. Alphand, Senator Symington, Senator Long, distinguished Members of the House of Representatives, Congresswoman Sullivan, Mayor Tucker, my good friend Mr. Busch, distinguished guests, ladies and gentlemen:
Out here in St. Louis you make the task of planting a tree very simple and very easy. If I thought it would have the same effect on all my other tasks, I would be in favor of that proposal that was made some years ago to move the Nation's Capitol from Washington to St. Louis. Without reflecting on my friends and colleagues along the Potomac, I am sure you would be just as happy if Gussie Busch and the Cardinals could move the National League pennant here.
It is a welcome privilege to be in your city and on your campus here at St. Louis University. for many years your city has been widely known for baseball, basketball, the Busch family, and I am a fan of all three. But those who know St. Louis well and know it affectionately as I have for many years, since I wore my first set of Buster Brown shoes, know that the strength of this city comes from its colleges and its churches, and the courageous civic leadership of its citizens.
I have little patience with those who dismiss this great region of mid-America as an intellectual desert. Those who say that don't know mi&America, don't know the Midwest and don't know St. Louis, and won't last very long in the company of Senator Symington and Senator Long!
This city and this campus and the other centers of higher learning are now and will continue to be in the forefront of our Nation's leadership in this new age of science and technology.
President Kennedy told us, and I most strongly agree, that our progress as a Nation can be no swifter than our progress in education. The human mind is our fundamental resource. This is the most fundamental truth of our system and our society and of every success that we have achieved or hope to achieve.
This is not always clearly seen. It is true today as when Thomas Jefferson first said it, that people generally have more feeling for canals and the roads than they do for education. But I hold the hope that Jefferson held, that we can advance them with equal pace. In our cities and in our counties, and in all of our country, there is a very great and urgent need for public works. But today more than any time in our history, America's most urgent work is educating its people, educating all the people, all the time, wherever they may have been born or wherever they may have chosen to live.
In the two hundred years since St. Louis was born we have done many things in this land men have not done before. But the greatest of these has been the accomplishment of learning to live together, learning to live together in freedom and fulfillment, all religions, all races, all heritages, German and Irish, Italian and English, french-yes, even Texans.
We have done much, but our work on this earth is not yet done; we walk a long road and we carry a precious trust. We are not looking for, we shall never look for, the short cuts. We shall never resort to battleship diplomacy or rely upon the umbrella of appeasement. We will be resolute but we will never be reckless. We will be restrained in the face of provocation because we know America's strength. We will never be reluctant in the face of peril because we trust that strength of America.
America works for peace. We work for freedom. We work for a world in which men can have peace and can also have freedom and can worship their God, not a godless state. So in this work I am sure that all Americans and all free men everywhere whatever their faith, welcome and are grateful for the leadership being offered so forcefully by His Holiness Pope Paul.
Like those who have come before us, we symbolize our faith in America's future and in freedom's future by this tree that we plant here this afternoon. I am deeply honored and grateful to you that you should permit me to share in this moment of dedication with you. I have talked to two of the greatest Senators in the United States Senate, Stuart Symington and Ed Long. I have talked to Congresswoman Sullivan and Congressman Karsten, and other members of your delegation.
And I now have a little announcement that I would like to make.
The President has today asked Stan Musial to serve his country as Special Consultant to the President to head the President's physical fitness program in the United States of America.
And Stan has already accepted. There are few men in America who serve as hero to a nation and serve that duty with such great dignity.
Stanley frank Musial is one of the great baseball players of this century. The record book is thickly crowded with his achievements. But the record books are only part of the Musial story, for Stan is more than a great player. He is the young man's hero who never lets him down. To every little boy who dreams of the big leagues, to every rookie eyeing that pitcher for the first time, to every young athlete who strives for triumph, "Start the Man" is the authentic champion. He has brought to his profession the simple disciplines of honesty and honor, of pride and of character.
There are millions of Americans who will benefit from our physical fitness program. Physical fitness and national progress are tied to each other. I am proud to have Stan Musial take charge of this important aspect of our Nation's work. I am prouder still of Stan Musial, "The Man," the athlete who has always been true to his friends, true to his family, true to his State, and most of all always true to himself.
Thank you very much.
Note: The President spoke following a tree-planting ceremony marking the 200th anniversary of the city of St. Louis. In his opening words he referred to the Very Reverend Paul C. Reinert, President of St. Louis University, Ambassador and Mrs. Herve Alphand of France, Senators Stuart Symington and Edward V. Long of Missouri, Representative Leonor K. Sullivan of Missouri, Mayor Raymond Tucker of St. Louis, and Col. August A. Busch, Jr., President of the St. Louis Bicentennial Corporation and President of the St. Louis Cardinals. Later he also referred to Representative frank M. Karsten of Missouri.
Lyndon B. Johnson, Remarks at St. Louis University Online by Gerhard Peters and John T. Woolley, The American Presidency Project https://www.presidency.ucsb.edu/node/239864