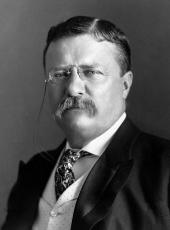 Remarks in Springfield, Massachusetts
Mr. Mayor, and you, my fellow Americans:
I thank you from my heart for your greeting, and I know you will not grudge my saying that of all those present I feel peculiarly pleased to meet here my comrades, the men of your Massachusetts regiment behind and beside whom I served at Santiago. Ladies and gentle men, the men who went to Cuba were your brothers, sons, kindred, neighbors. The men who served in the Philippines in the uniform of the American army have been again your brothers, sons and neighbors. Last night I spent at Northfield. Two centuries and over ago North field was the frontier, and we have Massachusetts now because we were not afraid to expand then, and we are not afraid to expand now.
Our destiny unexpectedly took us to the Philippines. I don't sup pose any of us, when you and I, my comrades, went down to Cuba, thought much of the Philippines, or knew much about them. I did not. We got there. We found that we had a job to do, and we did it. And did it well? Yes. That's good and much more; we have no apologies to make for it.
Our soldiers in the Philippines have been attacked because occasion ally one of them did something wrong. Wherever it has been possible to find them out the offenders have been punished. And I ask you, when they blame overmuch Uncle Sam's men in blue fighting for their lives against a treacherous foe in the heartbroken work of jungle warfare, if our critics remembered, in speaking of the occasional shortcomings of the men who did wrong under the stress of such terrible temptation, that we are not altogether immaculate at home. I would be sorry to have anyone of our cities, even the best, even Springfield, judged by the record of its police courts. If you paid attention purely to that you could make it a pretty bad showing for any city in the land.
Occasionally soldiers in the Philippines did wrong, but on the whole, the men who for three years in those islands have followed the flag of the United States have added a new page to the honor roll of the nation. I think, however, that troops of ours never warred under greater difficulties than those in the Philippines. Troops of ours have warred against more dangerous foes, but never in a climate under conditions which called for such resolute perseverance on the part of the men. In the steaming heat of the tropic jungles, starving, foot sore, so weary that they dropped to sleep in the mud wherever they happened to fall down; at every step fearing ambush from a foe who was felt before he was seen, and among a population that greeted with friendliness the oncoming troops and seized the stragglers and put them to death by treachery; those men had, indeed, a heavy burden to bear, and I think that the men who sat at home could have afforded to have been more lenient in bearing judgment against them.
Theodore Roosevelt, Remarks in Springfield, Massachusetts Online by Gerhard Peters and John T. Woolley, The American Presidency Project https://www.presidency.ucsb.edu/node/343536