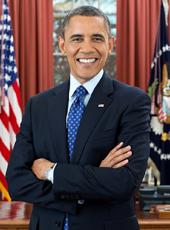 Remarks on Signing the Violence Against Women Reauthorization Act of 2013
The President. Thank you. Thank you, everybody! Thank you. Well, please, everybody, have a seat. Have a seat.
I want to thank all of you for being here. I want to thank Secretary Salazar, my great friend, for letting us into the building. Make sure everybody picks up their stray soda cans and stuff afterwards. [Laughter] I want to thank Attorney General Holder for joining us. He's doing a great job.
We usually host these bill signings over at the White House, but there were just too many of you who helped to make this happen. [Laughter] And you all deserve to be a part of this moment. I want to thank everybody on this stage. Joe just mentioned the extraordinary work that each and every one of these leaders, both advocates as well as legislators——
Vice President Joe Biden. And I left out Congressman Tom Cole.
The President. Well, there you go. Give Tom a big round of applause.
But everybody on this stage worked extraordinarily hard. Most of all, though, this is your day. This is the day of the advocates, the day of the survivors: This is your victory.
Audience member. We love you, Mr. President!
The President. I love you back!
And this victory shows that when the American people make their voices heard, Washington listens. So I want to join Joe in thanking all the Members of Congress from both parties who came together, got this bill across the finish line.
I want to say a special thanks to Pat Leahy and Mike Crapo as well. Thank you, guys, for your leadership. And I want to give much love to Gwen Moore, who worked so hard on this.
And I also want to take a minute before I begin to thank the Senators who, just a few hours ago, took another big step towards sensible gun safety reforms by advancing a Federal gun trafficking bill. That's real progress. Now, the Senate Judiciary Committee sent legislation to the Senate floor that would crack down on folks who buy guns only to turn around and funnel them to dangerous criminals.
It's a bill named, in part, for Hadiya Pendleton, who was murdered in Chicago earlier this year. You'll remember I told this story about how she had marched in the Inauguration parade and just a few weeks later had been gunned down about a mile away from my house.
So I urge the Senate to give that bill a vote; I urge the House to follow suit. And I urge Congress to move on other areas that have support of the American people, from requiring universal background checks to getting assault weapons off our streets, because we need to stop the flow of illegal guns to criminals and because Hadiya's family and too many other families really do deserve a vote.
Finally, I want to thank Joe Biden for being such an outstanding Vice President. That's right, you can stand for Joe. Stand for Joe: Give it up for Joe Biden! Joe is a hard-working Vice President.
Audience members. Yes, he is!
The President. And he told me when he agreed—when I asked him to be Vice President, he said, "Well, I don't want to just be sitting around." I said: "I promise you, I won't let you just sit around." [Laughter] And he has not. He has played a key role in forging the gun safety reforms that I talked about, largely by working closely with survivors of gun violence and their families. He forged the Violence Against Women Act 20 years ago, never forgetting who it was all about.
So on behalf of everybody here and all the lives that you've had a positive impact and touched through the Violence Against Women Act—the survivors who are alive today because of this law, the women who are no longer hiding in fear because of this law, the girls who are growing up aware of their right to be free from abuse because of this law—on behalf of them and all their families, I want to thank Joe Biden for making this one of the causes of his career.
Now, as Joe said earlier, we've come a long way. Back when Joe wrote this law, domestic abuse was too often seen as a private matter, best hidden behind closed doors. Victims too often stayed silent or felt that they had to live in shame, that somehow they had done something wrong. Even when they went to the hospital or the police station, too often they were sent back home without any real intervention or support. They felt trapped, isolated. And as a result, domestic violence too often ended in greater tragedy.
So one of the great legacies of this law is that it didn't just change the rules: It changed our culture. It empowered people to start speaking out. It made it okay for us, as a society, to talk about domestic abuse. It made it possible for us, as a country, to address the problem in a real and meaningful way. And it made clear to victims that they were not alone, that they always had a place to go, and they always had people on their side.
And today, because members of both parties worked together, we're able to renew that commitment. Reauthorizing the Violence Against Women Act is something I called for in my State of the Union Address. And when I see how quick it got done, I'm feeling—makes me feel optimistic.
Because of this bill, we'll keep in place all the protections and services that Joe described, and, as he said, we'll expand them to cover even more women. Because this is a country where everybody should be able to pursue their own measure of happiness and live their lives free from fear, no matter who you are, no matter who you love. That's got to be our priority. That's what today is about.
Today is about the millions of women, the victims of domestic abuse and sexual assault, who are out there right now looking for a lifeline, looking for support. Because of this bill, they'll continue to have access to all the services that Joe first helped establish 19 years ago: the national hotline, network of shelters, protection orders that carry across State lines. And because of this bill, we're also expanding housing assistance so that no woman has to choose between a violent home and no home at all. That's what today is all about.
Today is about all the law enforcement officials like Police Chief Jim Johnson. They're the first to respond when a victim calls for help. And because of this bill, we're continuing all the training and support that's proven so effective in bridging some gaps that were in actual enforcement of the law so that we can actually bring more offenders to justice. And we're giving our law enforcement better tools to investigate cases of rape, which remains a consistently underreported crime in our country. Helping police officers deliver on the most important part of their job—preventing harm and saving lives—that's what today is all about.
Today is about women like Diane. I'm so grateful Diane shared her story. That takes great courage. And tragically, it is a common story. I know we've got tribal leaders here today, and I want to thank all of you for fighting so hard on behalf of your people to make this bill a reality.
Indian Country has some of the highest rates of domestic abuse in America. And one of the reasons is that when Native American women are abused on tribal lands by an attacker who is not Native American, the attacker is immune from prosecution by tribal courts. Well, as soon as I sign this bill, that ends. That ends, that ends. Tribal governments have an inherent right to protect their people, and all women deserve the right to live free from fear. And that is what today is all about.
Today is about all the Americans who face discrimination based on sexual orientation and gender identity when they seek help. So I want to thank Sharon Stapel, who's here. Where did she go? There she is, right there—for the work she's doing, the great work she's doing with the Anti-Violence Project. But Sharon and all the other advocates who are focused on this community, they can't do it alone. And then now they won't have to. That's what today is all about. That's what today is all about.
Today is about the women who come to Rosie Hidalgo looking for support, immigrants who are victims of domestic abuse. I mean, imagine the dilemma for so many: If your immigration status is tied to a husband who beats you or abuses you, if you're an undocumented immigrant, you may feel there's too much to lose by coming forward. The Violence Against Women Act already had protections so that victims could call the police without fear of deportation, and those protections saved lives. And because we fought hard to keep them in place, they remain a lifeline for so many women. That's part of what today is all about.
Today is about young women like Tye, who brought—who was brought into the sex trade by a neighbor when she was 12 years old. Tye was rescued with the help of an organization led by trafficking survivors. Today she's enrolled in college. She's working full-time to help at-risk girls stay out of the sex trade. Couldn't be prouder of her—so proud. So with this bill, we reauthorize the Trafficking Victims Protection Act to help more girls turn out like Tye. That's what today is all about.
So today is about all the survivors, all the advocates who are standing on this stage. But it's also about the millions more they represent, that you represent. It's about our commitment as a country to address this problem in every corner of America, every community, every town, every big city, as long as it takes.
And we've made incredible progress since 1994. But we cannot let up, not when domestic violence still kills three women a day, not when one in five women will be a victim of rape in their lifetime, not when one in three women is abused by a partner.
So I promise you, not just as your President, but as a son and a husband and a father, I'm going to keep at this. I know Vice President Biden is going to keep at it. My administration is going to keep at it for as long as it takes.
And I know that all the advocates up here, all the legislators, Republican and Democrat, who supported this, I know they could not be prouder of the work that they've done together. And I think I speak for all of them when we say we could not have done it without you.
So with that, let me sign this bill.
[At this point, the President signed the bill.]
NOTE: The President spoke at 2:16 p.m. at the Department of the Interior. In his remarks, he referred to James W. Johnson, chief, Baltimore County Police Department; Diane E. Millich, executive director, Our Sister's Keeper Coalition, Inc.; Sharon Stapel, executive director, New York City Anti-Violence Project; and Rosemary Hidalgo-McCabe, director of public policy, Casa de Esperanza. S. 47, approved March 7, was assigned Public Law No. 113-4. The transcript released by the Office of the Press Secretary also included the remarks of Vice President Biden.
Barack Obama, Remarks on Signing the Violence Against Women Reauthorization Act of 2013 Online by Gerhard Peters and John T. Woolley, The American Presidency Project https://www.presidency.ucsb.edu/node/303965