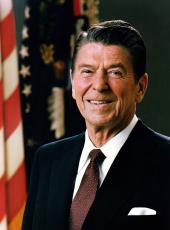 Remarks on Signing the Veterans' Benefits Improvement and Health-Care Authorization Act of 1986
Today I will sign the Veterans' Benefits Improvement and Health-Care Authorization Act. And let me start by expressing America's thanks to the Members of Congress who played so great a role in passage of this legislation: Senators Denton, Mattingly, Abdnor, Murkowski; Congressmen Montgomery, Hammerschmidt, McEwen. And let me also recognize the American Legion, the AMVETS, Paralyzed Veterans of America, the Veterans of Foreign Wars, and the Disabled American Veterans.
We are in Georgia, so without taking away from the contributions of anyone else, let me say a few words about Senator Mattingly's determination and hard work and devotion to America's veterans. Mack, I know you're an Air Force veteran yourself and that you know the sacrifices so many of our veterans have made to keep America free. And I know that you feel as I do, that America has a sacred duty to care for those who have borne the battle, for their wives and for their children. I also know your quiet kind of leadership. You're more interested in results than headlines, and you don't go around doing a lot of bragging. But you did great work here. And I thought the good folks would like to know that. Thanks, Mack, and thanks to every one of you.
Some of the proudest moments that I have had since becoming President have been when I've met with America's veterans. I spoke to a special group of them just a little more than 2 years ago at the top of a cliff overlooking a beach in Normandy in France. They were the boys who had sealed that cliff 40 years before on D-day as America and its allies began a crusade in Europe. Their story was heroic, but not unique. It was the story of millions of Americans who've served in uniform—the story of all of those who have been prepared to make the supreme sacrifice, should duty call, to protect liberty, to protect democracy, and to protect this blessed land that we call America.
Nor was it a new story. It began at Lexington and Concord, and, yes, it continues to this very hour. It's the story of Fort McHenry and San Juan Hill, of the Marne and Guadalcanal, the Chosen Reservoir and Khesanh and Grenada. It's the story of the spirit of freedom and the battle against tyranny, and part of the pride of every American is that it's the story of American spirit at its finest. Today we honor those who have given us all this legacy of devotion. And we honor what they have done, and we acknowledge our eternal debt to them. So, in closing, let me say to all you veterans who have come here to be part of this moment, I know I speak for all the Nation when I say thank you, and God bless you. And now I'd better start writing.
Note: The President spoke at 11:24 a.m. in the Jenkins Fine Arts Building in Columbus, GA. H.R. 5299, approved October 28, was assigned Public Law No. 99-576.
Ronald Reagan, Remarks on Signing the Veterans' Benefits Improvement and Health-Care Authorization Act of 1986 Online by Gerhard Peters and John T. Woolley, The American Presidency Project https://www.presidency.ucsb.edu/node/254314