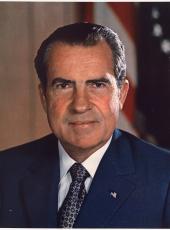 Remarks on Signing the Urban Mass Transportation Assistance Act of 1970
Ladies and gentlemen:
Having signed this bill, I would like to comment briefly about its significance. I note that every time I sign a bill I inevitably use the word "historical." Of course, any new action is historical. It will be part of the history of this office and of this Cabinet Room.
But this bill, I think, when we look at the record of this Congress and of this administration, will be one that will be one of the landmark pieces of legislation.
As we look back into the history of this country, we recall the development of the western frontier. It was made possible because of a massive program of transportation which enabled us to develop that new frontier in the West.
Now we have the challenge of the urban frontier. And it is through this bill and the support that it will provide for new programs in the field of mass urban transportation that we are going to be able to meet the challenge of the urban frontier. Just as the western frontier was the challenge of America in the 19th century, the urban frontier is the challenge of America in the last third of the 20th century.
We had this brought home to us again on our trip to Europe. We found that as we flew from the capital of Rome to Belgrade, from Belgrade to Madrid, and from Madrid to London, and London to Dublin, that the flight time had been cut to approximately an hour to an hour and a half or 2 hours in each case, depending on the distance. Over and over again, we found that, even without the motorcade, the time to get from the airport into the city was as great or greater than the time it took to fly hundreds of miles from one capital to another.
I think the story of Washington and New York is a pretty good one. Many of you, I know, will be flying back to New York after this ceremony. It will take you approximately 45 to 50 minutes to make that flight. If you go into Kennedy Airport and if you get there around 5 o'clock, it will take you an hour to an hour and 15 minutes to get from Kennedy Airport to any place downtown in New York City unless you try the helicopter and the weather won't allow for that. The same is true around the country.
That only highlights it in terms of air transportation versus ground transportation as far as the cities are concerned.
This bill goes far beyond that, as you know. It provides a very significant financial commitment on the part of the Government to mass urban transportation systems. And it will mean that we will find the methods whereby in the future we can move into the cities and through the cities of our country in a way that will enable life in those cities to be much more attractive than would be the case, when the cities are jammed with traffic, when the air is polluted because of what comes from the automobiles that is directly related to this, and where people, therefore, find cities becoming basically unattractive due in great part to the very fact that going from home to work is just too much of a chore.
This, we believe, is an historic step to meet that challenge. It isn't going to be met in a year, not in 2 years, not 3 years, not 4 or 5, but the action this Congress has taken and by the action that the Secretary of Transportation and his Department will take to implement this bill means that within 5 years, 10 years, as we move over the next decade that we are going to see a significant breakthrough in mass urban transportation.
Having made that statement, I wish to give credit where it is due: first, to the support that this bill has received in a bipartisan nature in both the House and in the Senate. This is one of those pieces of legislation which did go through both the House and Senate with overwhelming votes which indicates the unanimity of action behind this bill and which indicates also that this problem of transportation is not a partisan problem. It is a problem that all Americans are interested in, and we do not divide on partisan lines.
I express appreciation to the Members of the Democratic Party as well as the Republican Party in the House and Senate for giving bipartisan support to this legislation.
Also at this time I wish to pay tribute to the Secretary of Transportation, Mr. Volpe. I understand there are several other pieces of legislation in the transportation field that are on the way to the White House.
When the record of the Cabinet is written during this session of the Congress, my guess is that the highest batting average will be that of Secretary Volpe. I don't want him to get puffed up about it, because, as I have pointed out, it happens .that transportation is one area where there is no partisanship. Consequently, he has had a lot of assistance. But he has worked day and night along with the members of his staff in getting this legislation prepared and working it through the committees and getting support for it.
Finally, I want to pay a tribute to those who have supported this legislation in the nongovernmental sector. There are leaders of business, leaders of transportation, leaders of the great labor unions of this country, all of whom have given all-out support to this legislation. This is in a great American tradition, and the name I have now attached to this bill was of course the easiest and quickest action that could be taken. It could not have been taken if it had not been for a combined effort, a combined effort in which both parties participated, in which business and labor worked together, and in which we have fine cooperation particularly and leadership by the Secretary of Transportation, Mr. Volpe.
Thank you.
Note: The President spoke at 11:53 a.m. in the Cabinet Room at the White House.
As enacted, the bill (S. 3154) is Public Law 91-453 (84 Stat. 962).
Richard Nixon, Remarks on Signing the Urban Mass Transportation Assistance Act of 1970 Online by Gerhard Peters and John T. Woolley, The American Presidency Project https://www.presidency.ucsb.edu/node/241093