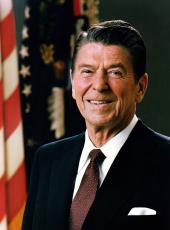 Remarks on Signing the Soviet-United States Nuclear Risk Reduction Centers Agreement
The President. I am very pleased. Today the United States and the Soviet Union will sign the agreement to establish Nuclear Risk Reduction Centers. This agreement is another practical step in our efforts to reduce the risks of conflict that could otherwise result from accident, miscalculation, or misunderstanding. Today's agreement goes beyond existing structures to establish the first new, direct channel for communications between Washington and Moscow since the creation of the hotline in 1963.
Nuclear Risk Reduction Centers will play an important role in further lessening the chances of conflict between the United States and the Soviet Union. They provide a means to transmit notifications required under existing confidence-building measures and could play a key role in exchanging the information necessary for effective verification of future arms control agreements.
For the United States, this agreement results from close cooperation among the executive, Congress, and private groups and individuals to produce a pragmatic agreement that advances our common goals of peace and security. I would like to make special mention of the excellent counsel and leadership that we have received over several years on nuclear risk reduction from Senators John Warner and Sam Nunn. I would also like to express my appreciation to the United States delegation on Nuclear Risk Reduction Centers—and especially its cochairman, former Assistant Secretary of Defense Richard Perle and my Special Assistant Robert Linhard—and to the Soviet delegation, headed by Ambassador Aleksei Obukhov, for their skill and dedication in successfully concluding the negotiations. This agreement complements our ongoing and promising efforts in Geneva to achieve—for the first time—deep, equitable, and effectively verifiable reductions in Soviet and American nuclear arsenals.
Mr. Foreign Minister, I am pleased to have you sign this agreement today and look forward to the day when General Secretary Gorbachev and I can sign even more historic agreements in our common search for peace.
Mr. Shevardnadze. Mr. President, ladies and gentlemen, comrades: In Soviet-American relations in recent times, events like this one are not too frequent; however, 1987 turns out to be relatively fruitful. In April, last April, during the visit of Secretary of State Shultz to Moscow, we signed an agreement on peaceful cooperation in space. Today, we are signing an agreement on Nuclear Risk Reduction Centers.
The signing, by us, today, of this agreement marks a tangible step in the practical implementation of the understanding which Mikhail Gorbachev and you, Mr. President, reached in Geneva. Nuclear war should never be fought, you both said. Let us hope that the agreement that we are signing today will help to move further toward that historic goal. This is a sign which may be a prelude to more important agreements, in particular, agreements on the reduction of nuclear arsenals, as the General Secretary of the CPSU Central Committee and the President of the United States agreed in Reykjavik. The most important thing is to do the utmost for this to happen to the gratification of our peoples and of the entire world community.
The sooner it happens, the better. Then, having done good work for our time, we will be able to hope that time, too, will work for us. Today, we have acted to try to ease somewhat the pressing burden of fears, uncertainties, and anxieties of which people have become tired. I would like to use this opportunity to cordially thank all those who, for 2 years, worked with perseverance and dedication to prepare this agreement. I would like to pay tribute to the diplomats and experts, and to the members of the U.S. Senate, particularly to Senators Nunn and Warner, who worked with a great deal of energy and persistence to promote this idea. I would like to hope that this small gulp of hope is a prelude to the quenching of the global thirst for peace and security. Thank you.
The President. And they will now sign the proclamation [agreement].
Note: The President spoke at 12:17 p.m. in the Rose Garden at the White House. Secretary of State George P. Shultz and Soviet Foreign Minister Eduard Shevardnadze signed the agreement. Following the ceremony, the President and the Foreign Minister met with Soviet and U.S. officials in the Cabinet Room and then had lunch in the Residence.
Ronald Reagan, Remarks on Signing the Soviet-United States Nuclear Risk Reduction Centers Agreement Online by Gerhard Peters and John T. Woolley, The American Presidency Project https://www.presidency.ucsb.edu/node/253593