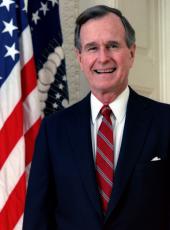 Remarks on Signing the Passover Message
Mr. Vice President, Mr. Secretary, and distinguished guests, welcome to the White House. Today we are marking Passover, known as the Festival of Freedom, a poignant occasion in the year that has seen freedom's lights begin to glow all over the world -- in Eastern Europe, in Central and South America, in Africa, and even in the Soviet Union.
"Let my people go." Those were the words of Moses nearly 4,000 years ago, when the Israelites took the first step on the march from captivity to freedom. All Americans share in the solemn pride of millions of Jewish men, women, and children everywhere as they commemorate the Exodus. It was a journey of courage and strength toward the dream of a better tomorrow.
And today, as well, people all throughout the world have continued that epic journey, a quest for a new life of liberty and peace. We support them in their struggle for democracy, we admire them for the strength of conviction, and we pray for their success.
This is a special time of rejoicing for the more than 15,000 Soviet Jews who have made their way to Israel this year. We are proud to have lent a helping hand, over the years, to make possible the historic emigration from the Soviet Union of those who have long sought to leave. The modern exodus is a great event for all those who delight in human freedom. The United States has worked hard to open up this lifeline, and we will continue to do everything necessary to make it possible for Soviet Jews to get to Israel, including continuing to press for direct and indirect flights. We are glad that so many will celebrate the Seder in Israel, and we're going to keep working so that many more can join them.
As we remember the Exodus, it is my deep honor to welcome Zev Raiz to the United States after 18 years of waiting. Zev and Karmella, may you and your children enjoy many years of happiness together in your new home in Israel. For nearly two decades of darkness, you've been a brave symbol for all refuseniks. And we acknowledge and then applaud the dramatic changes that have taken place in the Soviet Union, making possible the emigration of many who have long sought to leave. But we must not -- and I can assure you we will not -- forget those who are left behind.
And I'd also like to welcome Natasha Stonov to the White House. I admire the courage and determination that you and Leonid, your husband, have shown through 11 long years of waiting. You have become the voice of the refusenik community, and your steadfast efforts have been invaluable to us as we strive to convince the Soviet leadership to act on its promises.
I regret that another Passover is here with Leonid still in the Soviet Union. I wish that he were here with you in America so that he, too, could experience the freedoms we enjoy. And we ask that you convey a message to Leonid and all others who still await freedom: They are not forgotten.
The Nobel laureate -- a friend to so many in this room -- Elie Wiesel said: "Just as despair can come to one only from other human beings, hope, too, can be given to one only by other human beings." Zev, you have given us hope. For that, we admire you. And together, we look forward to the day when no nation interferes with the faith of any of its people.
So, thank you all for being here with us on this very solemn and special occasion. And once again, I rejoice in your happiness, and we're so pleased you're here. And now I will sign this.
Note: The President spoke at 10:50 a.m. in the Roosevelt Room at the White House. The Passover message was released by the Office of the Press Secretary on April 9.
George Bush, Remarks on Signing the Passover Message Online by Gerhard Peters and John T. Woolley, The American Presidency Project https://www.presidency.ucsb.edu/node/263872