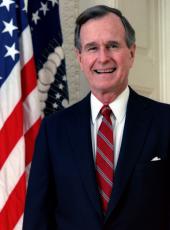 Remarks on Signing the Natural Gas Wellhead Decontrol Act of 1989
Thank you all very, very much, and thanks also to Jim Watkins, our distinguished Secretary, who is off to such an outstanding start as Secretary of Energy, and also, Martha, thanks to you -- Martha Hesse -- for her great efforts at the Federal Energy Regulatory Commission, and to the forward-looking leaders from both sides of the aisle.
Seeing this awesome array with my own two Senators, Lloyd Bentsen and Phil Gramm -- I'm going to get in serious trouble by exclusion -- but standing up here, of course, I'm delighted that Senator Bennett Johnston is here and Joe Barton, Phil Sharp, Don Nickles was -- there he is -- and all the rest of you. I want to single out, of course, John Dingell for his help and Norm Lent and Carlos Moorhead and so many others who have a keen interest in this subject.
Natural gas, methane, one of the best fuels on the world's energy menu -- it's clean, it's efficient, relatively abundant. But for 35 years, consumers and producers of natural gas have struggled under the burden of oppressive price regulations, and this was directly responsible, in my view, for the damaging natural gas shortages of the seventies and for gas market distortions that exist to this very day.
And it is instructive to look at what natural gas price controls brought us: shortages, not increased supplies; higher gas prices, not the lower consumer prices that their supporters promised. And what was true for oil deregulation in 1981 is also true for gas deregulation in 1989. Experience shows that deregulation works to serve consumers and to serve an expanding economy. And it's a tribute to the American political system that, after decades of disagreement over the merits of gas decontrol, we can gather here today to state a clear message for all to hear: We've learned from the past. We are united in the conviction that the best way to deal with our energy problems and serve the American people is to let our market economy work.
And so, today's legislation represents the bipartisan attainment of the administration's first major energy initiative: the elimination of an entire system of artificial price controls for one of America's cleanest energy resources. And this measure reflects a strong bipartisan belief that eliminating price controls will help this nation take full advantage of our plentiful domestic resources.
Even at today's prices, it's estimated that the United States has natural gas reserves that will take us to the year 2025 and beyond. And industry -- and I'm glad to see so many members of the industry here today, people that have been in the forefront for the battle of decontrol for many, many years -- industry and the Department of Energy are responding to this opportunity with imagination, seeking to tap new sources of clean-burning natural gas and then developing new uses, like powering cars and buses. With prices set by market forces and improvements in gas exploration production technologies, natural gas can help power this nation well into the next century.
And it may be said by some that this legislation could only have happened when energy prices are relatively low. Not true. Legislation like this, relying on market incentives to produce domestic energy, can help keep prices low. And it's the best way to assure consumers of adequate and reliable supplies of clean energy at the lowest reasonable price.
And this is not just economical legislation; it is also environmental legislation. Natural gas burns much more cleanly than other fossil fuels and produces little air or water pollution, and it can play a larger role in our efforts to clean up our air and our water. The environmental opportunities can be global. When a free market for this fuel exists, we can foresee America and the world using more of it. America and her allies must work together now to expand the infrastructure for this fuel. And on this continent, across the Atlantic, across the Pacific, these are opportunities for cooperation that can be helped by a freer market. Where we can add diversity and flexibility, economy and security to the world's energy picture, we ought to do it. And natural gas is an important element.
But despite today's good news, this is no time for complacency. Our energy security problem continues. Conservation achievements are leveling off, domestic oil production continuing its downward trend, and petroleum imports are increasing. And our need for a cleaner environment is obvious to all. And so, today I want to make this announcement which, like the deregulation of natural gas, is good news for America's energy future.
I'm directing Jim Watkins, our able Secretary of Energy, to take the lead in developing a comprehensive, national energy strategy. We cannot and will not wait for the next energy crisis to force us to respond. And so, I've asked Jim to craft this strategy in close consultation with the Cabinet, leading Members of the United States Congress, and then with our cities and our States. Our task -- our bipartisan task -- is to build the national consensus necessary to support this strategy and to make this strategy a living and dynamic document, responsive to new knowledge and new ideas and to global, environmental, and international changes.
And I should say on this one parenthetically -- and I don't, again, want to single out only the Texans here -- but our Governor, who is with us today, has been in the forefront of urging upon us a national energy strategy for a long, long time. A keystone of this strategy is going to be the continuation of the successful policy of market reliance. And it's not going to be easy. We must balance -- achieve balance -- our increasing need for energy at reasonable prices, our commitment to a safer and healthier environment, our determination to maintain an economy that is second to none, and our goal to reduce dependence by ourselves and our friends and allies on potentially unreliable energy suppliers.
One important step towards protecting America from foreign energy supply interruptions is to provide more incentives for drilling right here at home. And though it is unlikely that Congress will, or maybe even can, act on that this year, I will continue to work to put more incentive into the Tax Code for domestic wildcat drilling. The bottom line is: A strong domestic drilling and producing business is essential to the national security of the United States of America.
And I am confident that America's can-do attitude and scientific know-how and old-fashioned plain common sense will prevail. By acting now, we can bequeath a legacy to the next century of a cleaner, more prosperous and, yes, more secure America. Today's legislation is a good start down that path. Domestically, natural gas can now reach its fullest potential as an economic, clean, and convenient energy source.
And so, I congratulate all the Members of the United States Congress who have worked so hard and, in some cases, so long to bring this legislation to this desk. [Laughter] And with that, it is with great pride that I now sign the Natural Gas Wellhead Decontrol Act into the law.
Note: The President spoke at 2:12 p.m., in the East Room at the White House. In his remarks, he referred to Martha O. Hesse, Chairman of the Federal Energy Regulatory Commission; Senator Don Nickles of Oklahoma; Representatives Joe Barton of Texas, Philip R. Sharp of Indiana, John D. Dingell of Michigan, Norman F. Lent of New York, and Carlos J. Moorhead of California; and Gov. William P. Clements of Texas. H.R. 1722, approved July 26, was assigned Public Law No. 101 - 60.
George Bush, Remarks on Signing the Natural Gas Wellhead Decontrol Act of 1989 Online by Gerhard Peters and John T. Woolley, The American Presidency Project https://www.presidency.ucsb.edu/node/263165