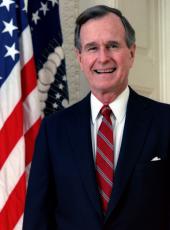 Remarks on Signing the National Volunteer Week Proclamation
Well, what a great privilege it is to have you here in the Rose Garden. You're taking on the most difficult challenges that we face as a nation. You're fighting poverty, drug abuse, illiteracy, teen pregnancy, the alienation of young and old. And you're winning because you refuse to believe that it can't be done. And so, I'm here to thank you. You've lived up to an ideal, once given voice by Horace Mann, that I've always admired: "Be ashamed to die," he said, "until you have won some victory for humanity."
Well, recently I received a letter from a man in Indiana who was forced to retire on disability because of heart problems. He was only 45 years old. And he wrote to explain that, while he couldn't take a job, he was giving his time to a nearby mental health center, a local school, and his county environment department. And he wrote this: "I guess what I'm trying to say is this: I'm disabled, but not an invalid. And I enjoy being able to be of help." Then he went on, "I hope in some small way that I'm still able to make a contribution to this great nation of ours and, indeed, to the world as a volunteer. I hope and pray that you and I and, indeed, millions of others will strive to truly make this a kinder and gentler nation. We need that very much."
What an inspiration! The good that voluntarism does in this country every year wins countless victories for humanity, large and small. And here at the White House, we benefit from the tireless efforts of volunteers. And seated to my right are people motivated much the way you are. And I include my wife, Barbara, in that. And then there's Ella Miller sitting in the front row, who continues to serve her community, her church, and in local schools. And she is 108 years old.
And I'm told that over half of adult Americans, 80 million, actively volunteer in some way in their communities. And last year that was worth almost $150 billion in man- and woman-hours. But what you're doing goes above and beyond dollars and cents. Your work and the work of many others as motivated as yourselves is a testament to a powerful idea: that along with the many rights and privileges that distinguish us as Americans is the shared responsibility to look after one another. I always like to remember that there is no exercise better for the human heart than reaching down and lifting someone else up. You understand that helping the less fortunate is in everyone's best interest; that the most powerful gift we can offer anyone is a sense of purpose, a path to self-esteem; that the fabric of the family, like that of society, must forever be renewed and rewoven.
At the Inaugural, I spoke of a new engagement in the lives of others. We must seek common points where the practical and the compassionate converge. Yours is an example we seek to spread across every community, every town, every city in America.
This week I challenge every American who cares about the future of this country to get involved. Find a place or an organization or even a single life where you can make a difference for someone else. From now on in America, any definition of a successful life must include serving others. It's not simply volunteering but the personal act of helping another individual in need which gives us membership in a community. Giving and expecting nothing in return is what it means to be a citizen. When you volunteer, you confirm your citizenship. Volunteering is an act -- it's an act of heroism on a grand scale, and it matters profoundly. It does more than help people beat the odds; it changes the odds. You might say it puts the unity in community.
And today I'll be signing a proclamation to make this National Volunteer Week. But week in and week out, it will be people like you who bring the era of the offered hand to life. And I'll be establishing a program encouraging youth enterprise and service to America. But it will be your challenge to open your organizations to young people seeking meaningful service to their communities; to match need with need; to find a calling for every volunteer; and to keep reminding us that each one of us has something to give, each one of us has a gift to give -- which reminds me of an old story that Barbara likes to tell about a minister who was given a jar of peaches soaked in brandy by one of his admiring parishioners.
This minister opens the jar, takes a whiff, and says, "Oh, dear lady, you don't know how grateful I am for this gift." "Really," says the lady, "it's such a small present." "Ah," says the minister, "it's not the gift that counts. It's the spirits in which it's given." [Laughter]
Well, the spirit of voluntarism in America is stronger than ever -- stronger than it's ever been. You know, Alfred North Whitehead once said, "With all its limitations, life in America is better and kinder than anywhere on Earth that I've ever heard of." And that's true, but we can make it better still. We must lift away more of the limitations that remain and tap the limitless potential of the American people through countless small victories for humanity. Together, let us give honor to the phrase, "I volunteered."
And now I'd like to ask Barbara and the group of kids and volunteers on the dais here to join me as I sign the proclamation making this National Volunteer Week. And I do it with great respect for everybody here and gratitude in my heart, as well. Thank you.
Note: The President spoke at 11 a.m. in the Rose Garden at the White House.
George Bush, Remarks on Signing the National Volunteer Week Proclamation Online by Gerhard Peters and John T. Woolley, The American Presidency Project https://www.presidency.ucsb.edu/node/248140