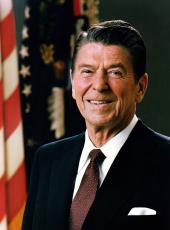 Remarks on Signing the National Tourism Week Proclamation
Welcome to the White House. We're here for the signing of a proclamation that is designating the week beginning May 27th as National Tourism Week. I know I speak for the entire travel and tourism industry in thanking the Congressional Tourism Caucus for making this event possible.
For Nancy and me, your industry's pretty close to home. The White House is part of our national inheritance, and last year alone, more than a million people came to visit. So, if you suddenly hear a lot of shuffling feet out there, it's just another tour group. Don't turn around. [Laughter]
Travel and tourism is an important industry. It's good business, and it's great for America. And to borrow a line, your industry does it in the old-fashioned way, through the hard work of thousands of small businesses. All Americans benefit from your profession, your calling. As our second largest retail industry, employing 4.5 million workers, you help bring about one of the best economic recoveries in decades. And it's going to get even better.
Now, today a working family earns $25,000 and has $1,500 more in purchasing power than if tax and inflation rates were still at their 1980 levels. Real after-tax income has increased—well, last year, increased by 5 percent. With inflation down from 13.5 to 3.2 percent and the prime rate cut almost in half, more and more Americans can afford to travel and see our beautiful country.
But I think the importance of travel and tourism goes far beyond economics. Experiencing America firsthand provides outstanding educational opportunities and is terrific for personal growth. And where in the world is there a more beautiful place to travel, have fun, and relax than in America? From our mountains, our beaches, our islands and plains, to our great cities and towns and to God's wonderful creations like the Grand Canyon, the redwoods of California, the great Smokey Mountains, America is "America the Beautiful."
It's no wonder that travel and tourism is such a growth industry. You're just selling the best product in the world. You make it possible for people all over the world to discover America. Foreign visitors may come for the Olympics or a World's Fair, a business conference, or just to enjoy our nation's beauty and its heritage. Whatever they do, or whenever they do, they come to know our values and vision, our system of government, and they can feel the spirit of a good and great country.
There's no better way to promote international understanding and good will, or to explain freedom and democracy, than through travel and tourism. And when you celebrate National Tourism Week, I hope you'll celebrate your achievements and use the opportunity to highlight what you are doing for America.
And now I'm going to sign that proclamation, and when I do, I'm also recognizing that travel and tourism is a partnership—a partnership of industry, labor, the Congress, and the administration. And we'll do everything we can to keep it that way. There's no doubt that the golden days of tourism are yet to come.
I can't quit without telling you a little story before I sign that—about the recent summit at Williamsburg. I was all set, I couldn't wait for my companions, the leaders of the other several states to come there. And then, when we gathered as we always do, the first meeting is at dinner the night before the conference actually starts. And I was waiting till the first moment of silence as we sat down. And then, I had planned to say to Margaret Thatcher, "Margaret, if one of your predecessors had been a little more clever, you would be hosting this gathering." [Laughter]
But never try to top a lady. As I said, the moment came, and I said, "Margaret, if one of your predecessors had been a little more clever "She said, "Yes, I know. I would have been hosting this gathering." [Laughter]

[At this point, the President signed the proclamation.]
Thank you very much.
Note: The President spoke at 2:48 p.m. in the East Room at the White House.
Ronald Reagan, Remarks on Signing the National Tourism Week Proclamation Online by Gerhard Peters and John T. Woolley, The American Presidency Project https://www.presidency.ucsb.edu/node/260554