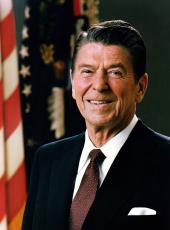 Remarks on Signing the Missing Children Act and the Victim and Witness Protection Act of 1982
Ladies and gentlemen, I am signing two bills that will provide peace of mind, I think, to many of our citizens. This first bill will begin to address the tragedy of America's missing children. Every year in this country thousands of children disappear from their homes. The Missing Children Act will reassure parents that every effort is being made to find, or in more tragic circumstances, to identify their children.
Finding missing children has become a national problem. Because of overlapping jurisdictions and the lack of centralized information, parents of missing children have faced frustration and anger in their attempts to locate their children. Furthermore, State and local officials are often unable to identify bodies simply because of restrictions on missing person reports from other jurisdictions.
The Missing Children Act attempts to lessen these problems by mandating a system to allow parents access to a central computer file designed to help trace missing children. The act also will aid in identifying deceased children and adults and at least ease the parents' pain of not knowing. I want to thank the Congress, and particularly Senator Paula Hawkins, Congressman Clay Shaw, for making it possible to sign this compassionate measure. And with me here today are some individuals who've committed their lives to the cause of missing children. John and Reve Walsh of Hollywood, Florida, came to the cause of all exploited children because of their own family tragedy. And their courage, in the face of what surely must be the most difficult grief imaginable, has rallied thousands of others to this noble effort.
I'm also pleased to sign this law in the presence of Sergeant Richard Ruffino, who is recognized as an expert in missing persons with the Bergen County, New Jersey, sheriffs office. Sergeant Ruffino has contributed countless hours of his own time in the effort to assist searching parents.
The second bill I will sign also deals with compassion—our compassion toward those Americans who are the victims of or witnesses to crime. It is high time the legal system showed the honest citizen as much concern as it does the criminal. Today it is not the wrongdoer who falls through the cracks of our criminal justice system; too often, it is the innocent victim and the dutiful witness.
As the bill states, without the cooperation of victims and witnesses, the criminal justice system would cease to function. Yet, with very few exceptions, these individuals are either ignored or simply used as tools to identify and punish offenders. All too often the victim of a serious crime is forced to suffer physical, psychological, or financial hardship, while the criminal justice system remains unresponsive to the victim's real needs. And while the defendant is provided with counsel who can guide him through the criminal process, the victim or witness is usually not even told when the defendant is released on bail, the case is dismissed, or the court date is changed. Neither is there accurate [adequate] protection from law enforcement agencies when a victim or witness is threatened or intimidated as a result of cooperating with authorities.
Common sense tells us something is not right there. Common sense tells us we should do something about it. And this legislation, the Victim and Witness Protection Act, seeks to return some balance to our criminal justice system without infringing upon the rights of the defendant.
The provisions of this act would require that a "victim impact statement" be filed to aid the judge in sentencing the criminal. The act makes it a Federal offense to intimidate or retaliate against victims or witnesses of Federal crime. It requires a Federal judge to order restitution when passing sentence for crimes involving bodily injury or property loss, or else to state for the record his reasons for not doing so.
These measures will go a long way toward treating victims and witnesses with the fairness and respect they deserve. And again, the Congress, and particularly Senators Heinz, Mathias, and Specter, and Congressmen Fish, McClory, and Rodino, deserve a vote of thanks from the American people for getting this bill to my desk.
And by the way, forgive me for continuing on another subject to spot hopeful news. I was mighty pleased to see another burst of sunshine this morning. Morgan Guaranty Trust has lowered their prime interest rate all the way down to 12 percent. I think that's one more confirmation that we're on course here.
But now, I'm going to sit down and get those bills signed so that they will become law. And hopefully, because this applies to Federal cases, let us hope that many States now will follow this pattern in regard to the second bill, particularly.
Note: The President spoke at 1:02 p.m. at the signing ceremony in the Rose Garden at the White House.
As enacted, H.R. 6976 is Public Law 97292, the Missing Children Act, and S. 2420 is Public Law 97-291, the Victim and Witness Protection Act of 1982, both approved October 12.
Ronald Reagan, Remarks on Signing the Missing Children Act and the Victim and Witness Protection Act of 1982 Online by Gerhard Peters and John T. Woolley, The American Presidency Project https://www.presidency.ucsb.edu/node/246266