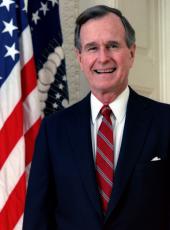 Remarks on Signing the Martin Luther King, Jr., Federal Holiday Commission Extension Act
Mrs. King. President Bush, Vice President Quayle, Members of the Cabinet and the Congress, and to all of my friends and supporters, ladies and gentlemen, this is a great occasion for those of us who have struggled to make a reality the dream of Martin Luther King, Jr., and this is a continuing effort in that direction to institutionalize his teachings and his great legacy. It is a great honor to join with you on this historic occasion in this ceremony today.
First, I want to thank Congressman John Conyers on the House side and Senator Sam Nunn on the Senate side for all of their outstanding leadership as sponsors of the Martin Luther King, Jr., Federal Holiday Legislation Extension Act, and all of the congressional cosponsors from both sides of the aisle who helped to pass this legislation extending the Martin Luther King Federal Holiday Commission. I can say that it was genuinely a great bipartisan victory in the spirit of President Bush's Inaugural Address, and I want to thank all of the Members who have cooperated so beautifully. With pride and the highest hopes for the future, it gives me greatest pleasure to thank our President for his outstanding leadership in helping to make our newest national holiday all that it should be, all that it must be if we are to fulfill the promise of democracy.
The observance of this holiday is both an important learning experience and a call to action to address injustice anywhere. Through the holiday, we can learn about the values and responsibilities of our democracy. We can learn about how a great vision and a great nation began to confront and nonviolently challenge institutional racism. We can honor our obligation to protest evil and injustice as one of the highest traditions of our American heritage. We can learn about the values of tolerance and compassion and develop a greater sense of responsibility to the poor and suffering, and even to each other. We can learn about the values of brotherhood and sisterhood, love, peace, reconciliation, community service, honesty, courage, freedom, and self-discipline. These values transcend politics, ideology, and national boundaries; for they speak to the essence of the human soul in a way that can only be universally uplifting and challenging.
May the Almighty God bless this occasion and all that it represents. May He enable us to apply the gifts and talents He has given us in the service to others. May His grace strengthen us to work with order and patience, with forgiveness, gratitude, and joy, as we seek to make this a better nation and world so that generations yet unborn will continue to sing with pride: America, God shed His grace on thee, and crown thy good with brotherhood and sisterhood from sea to shining sea.
The President. Coretta, thank you for those inspiring words. I know I speak for everybody in paying tribute to you for your steadfast support of this most worthwhile Commission. I planned on welcoming you all to the tropical rain forest -- [laughter] -- that we call the Rose Garden. But the East Room has an advantage: leakproof -- if anything in the White House can be leakproof. [Laughter] At least it's dry. And we're delighted that Coretta Scott King and Dexter and so many others are here.
I want to welcome the members of the Commission, the King Federal Holiday Commission; the Members of Congress that are here, the leadership in the Senate and in the House. And I'm just delighted that you all are here, and thank you for your important role in all of this. I salute the party leaders that are here. I see Lee and others -- Lee Atwater -- and everybody joining in a tribute to Dr. Martin Luther King, Jr., and his ideals.
The bill that I'll be signing shortly underscores the importance of honoring the memory and the shining ideals of a great American hero, Martin Luther King, Jr. And all of us know his creed of faith, centered firmly in the great heritage of American ideals. On the steps of the Lincoln Memorial, Dr. King issued his challenge in the words of Thomas Jefferson: "We hold these truths to be self-evident, that all men are created equal." And he was a reformer and a crusader. His mission was to move America closer to the ideal, to bring the promise of equality and liberty and justice for all within the reach of all.
The Martin Luther King, Jr., Federal Holiday Commission plays a central role in preserving a great national treasure. And over the past 5 years, the Commission's done a great deal to make observance of the King holiday a national and international event. And our agenda for the next 5 years must be to build on that beginning, to see to it that the third Monday of every January becomes a day of hope, renewal, and rededication to the ideals of Dr. King, those that he upheld -- a day dedicated to the memory, if you will, of a man who campaigned for peaceful change; of a man who stood for human dignity and certainly the fulfillment of individual excellence; of a man determined, committed, mind and heart, to march, to live, and to die for those -- America's ideals.
So, Reverend King once wrote: "Injustice anywhere is a threat to justice everywhere." And simple words expressing a great truth: Justice is indivisible. And all of us must draw on the best in ourselves to make justice for all our cause. We've made great progress. But the memory of all that Dr. King stood for reminds us that our work is not done. So, let's continue his work towards a society that treats all men and women, whatever their origin, whatever the color of their skin, with dignity and respect. Let's ensure that our communities, where our children can learn, live, and grow, are free from the fear of violence and, yes, the lure of drugs. And let's work together towards a society that extends great opportunities and awakens hope to build a better America for all of us. And let's pass the King legacy on to our children, whose ideals and attitudes will shape our society into the next century.
I want to share with you a few words from the prizewinning essay on Martin Luther King, written by a young man -- in this case, a fifth-grader -- in Seattle. He writes: "I am only 11 years old, so I cannot really stop the racism. But I can control what happens in my heart and what I do with my life." That kid may only be 11, but there's wisdom in those words for all of us: A truly free society is within reach if, in our hearts, we abolish bias and bigotry and discrimination. And so, let's make that society, one with freedom and equality for all, our living memorial to a great man and a great American.
And now, Coretta, Mrs. King, if you will join me, I will sign this bill formally reauthorizing the Martin Luther King, Jr., Federal Holiday Commission.
Note: The President spoke at 1:31 p.m. in the East Room at the White House. In his remarks, he referred to Dexter King, son of Martin Luther King, Jr., and president of the King Center in Atlanta, GA, and H. Lee Atwater, chairman of the Republican National Committee.
George Bush, Remarks on Signing the Martin Luther King, Jr., Federal Holiday Commission Extension Act Online by Gerhard Peters and John T. Woolley, The American Presidency Project https://www.presidency.ucsb.edu/node/262546