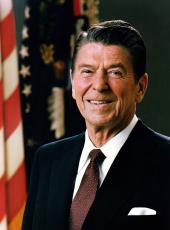 Remarks on Signing the Local Government Fiscal Assistance Amendments of 1983
Good afternoon. I learned in public speaking once that you were never supposed to open any remarks with an apology, but I also found out in this job, 9 times out of 10 you have to apologize for being late. So, I apologize for keeping you all waiting.
I'm delighted to see Members of Congress, the mayors, and the other local officials who are here in the White House this afternoon. It's good to have you in the house that belongs to all of us—from every city, county, and town.,
Like millions of Americans, I grew up in a small town. Back in Dixon, Illinois, government officials and the citizens they were serving knew each other. They were part of the same community, lived next door to each other, and went to the same high school football games, and bumped into each other at the grocery. Dixon officials knew what the people of Dixon needed, and they were able to meet those needs with efficiency and imagination.
Local government meeting local needs-that's a fundamental principle of good government. Many government workers here in Washington are diligent and dedicated; I've found that out. And yet they can't know the American people as well as you or Congressmen or mayors, county and local officials.
If those at the grassroots are to get their jobs done and get them done right, we must give them the resources they need. This bill will send $4.6 billion from Washington back to our cities, counties, and towns. The money will not be spent as Washington dictates, but as local officials choose. It will support police and fire protection, libraries, street maintenance, and other basic local services. And since less than 1 percent of the total will be used for administration, the general revenue sharing program will set a superb example of government efficiency for other Federal programs.
It took a lot of doing to hammer this bill together. But funding a program at this level will enable us to continue our partnership with local governments without fueling deficits.
My heartfelt thanks to all who helped build the wide and bipartisan support that this bill enjoyed. For my part, signing this bill represents a great personal pleasure. I pledged my support for revenue sharing to the United States Conference of Mayors back in 1980, and since then, I've repeated my—or restated my support before the National League of Cities, the National Association of Counties, the National Association of Towns and Townships, and many others.
The Federal Government never spent money more wisely than by devoting it to general revenue sharing. Today I'm delighted to reaffirm my support with a pen—two pens. Pens only write one word—government pens do. [Laughter]
So, I thank you all, and God bless you. I will now get my name on that piece of paper.
Note: The President spoke at 3:14 p.m. in the State Dining Room at the White House.
As enacted, H.R. 2780 is Public Law 98185, approved November 30.
Ronald Reagan, Remarks on Signing the Local Government Fiscal Assistance Amendments of 1983 Online by Gerhard Peters and John T. Woolley, The American Presidency Project https://www.presidency.ucsb.edu/node/261970